Recognizing the Dads Who Get It Done

by
SheSpeaksTeam
is this the date @ED : BlogVO [categoryId=70160, blogId=145875, blogTitle=Recognizing the Dads Who Get It Done, publishingDate=June 21, 2021 12:00 AM, maxResponses=null, noOfComments=null, fileId=41038, blogClosingDate=null, blogCommentClosed=null, blogCategoryId=70160, queryId=0, blogCategoryIdIndex=0, sharedCategoriesList=null, blogStatusId=34, commentsClosedFlag=false, categoryIdForLog=0, blogModuleCategoryId=0, blogFileVo=null, latestCommentsList=null, verticalCatSeoURL=null, currentDate=06/10/2023, blogLink=null, authorName=SheSpeaksTeam, authorLognId=SheSpeaksTeam, authorAcctId=67580, vosTypeid=3, searchTestId=0, searchStatusId=0, searchAuthorType=0, authorBlogNumber=0, surveyData1=null, surveyData1Desc=null, surveyData2=null, surveyData2Desc=null, pullQuoteMemberId=null, filePath=null, fileName=null, vosType=0, subhead=null, offerSubhead=null, description=null, creationTime=null, authorFname=SheSpeaks, verticalCategoryId=null, sectionId=0, imageFileVO=FilesVO [fileId=41038, filePath=null, fileName=null, fileLength=0, fileWidth=0, createdBy=0, createByUser=null, creationTime=null, lastModifiedBy=0, lastModifiedByUser=null, lastModifiedTime=null, mimeType=null, fileRef=null, fileSize=0, extension=null, title=null, body=null, completeFilePath=/pages/img/redesign/blogs/Untitled design_06212021131622.png, height=385, width=685, maxHeight=480, maxWidth=360, displayWidth=360, displayHeight=202, fileStatusId=0, searchKeyword=null, searchFlag=false, queryId=0, isExists=true], seoURL=Recognizing-the-Dads-Who-Get-It-Done, seoTitle=null, pullQuotesList=null, pullQuote=null, pullQuoteId=0, searchFlag=false, authorByLine=null, authorDesc=null, authorLink=null, authorFileVO=FilesVO [fileId=42371, filePath=null, fileName=null, fileLength=0, fileWidth=0, createdBy=0, createByUser=null, creationTime=null, lastModifiedBy=0, lastModifiedByUser=null, lastModifiedTime=null, mimeType=null, fileRef=null, fileSize=0, extension=null, title=null, body=null, completeFilePath=/pages/img/membersnaps/SheSpeaks_Logo_Symbol_Only_10182021080530.jpg, height=1777, width=1777, maxHeight=50, maxWidth=50, displayWidth=50, displayHeight=50, fileStatusId=0, searchKeyword=null, searchFlag=false, queryId=0, isExists=true], authorFileId=42371, authorType=0, storyImgFileVO=null, storyImgFileId=0, videoHtml=, authorImageFileId=0, authorImageFileVO=null, previousCategoryId=null, previousBlogStatusId=0, fromBlogDetails=0, blogCategoryName=Parenting, blogCategoryUrl=null, blogCategoryDesc=null, defaultImage=false, tags=null, optionIds=null, tagOptionId=null, tagId=null, tag=null, tagID=0, tagDetails=null, tagIds=null, testId=0, extBlogURL=null, extBlogStatus=0, bloggerSince=null, extBlogLimit=0, authorTestsList=[], blogURL=, blogName=, bloggerProfileId=0, sliderBlog=false, eventonHome=false, vosonHome=false, partyAndGiveawayDate=06/30/2021, imageCredit=https://www.instagram.com/p/CQTq-lgpZNo/, pullQuoteMemId=null, offerSubHead=null, subHead=null, displayOrder=0,includeInGoogleSearch=false]
Jun 21, 2021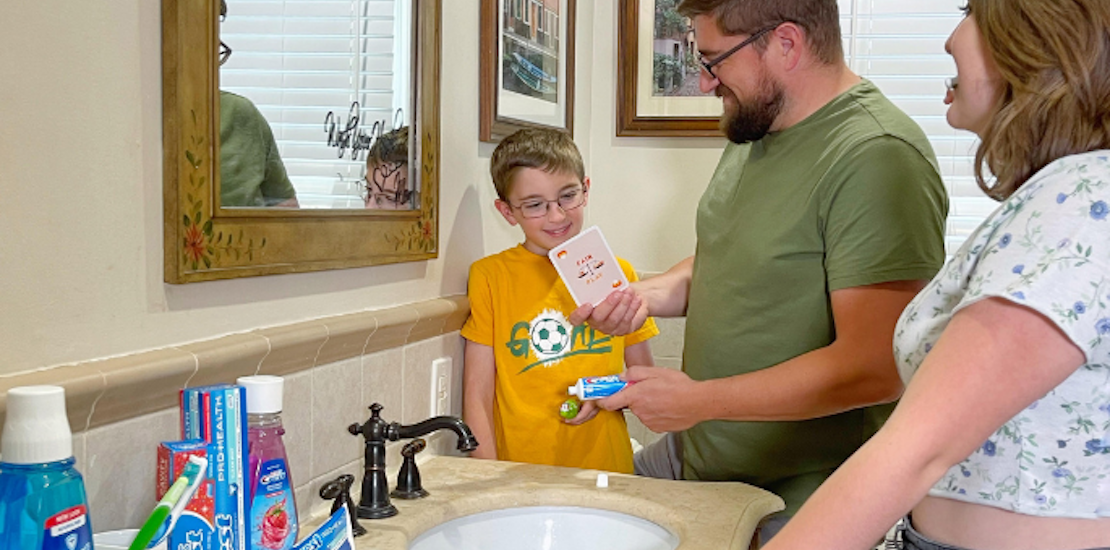 https://www.instagram.com/p/CQTq-lgpZNo/
This is a sponsored post for P&G /Hello Sunshine.
Father's Day (and every day!) we want to celebrate all the dads who are getting it done at home: from cooking and laundry to school drop offs and potty training. Did you know that if men took on at least 50 minutes more of care per day (and women did 50 minutes less), we would tip the scale to equality when it comes to balancing the work it takes to run a household? (Promundo 2019)
Check out these awesome influencer dads who are putting in their time on care tasks for their families, thanks to some of our favorite P&G products and the Fair Play Deck.


David Michael Frank says: "In my plan to be both the best dad & the best partnership, we started using the #FairPlay system to help balance our housework & responsibilities in the home and WE LOVE IT!"
Allen Evans
says "I try to tell my boys that while doing those things are important to do together and fun, fatherhood is more than throwing the ball or going fishing. It's also modeling good behaviors at home; which includes being an equal partner when it comes to housework!"

The Fair Play Deck is the gamification of divvying up all the tasks that go into running your household. The Fair Play Deck helps couples create a system to rebalance all of the work it takes to run a home and reimagine their relationship, time and purpose.
Click here to check out the Fair Play Deck and click here to commit to closing the chore gap.
Enter our giveaway below for a chance to win the Fair Play Deck, and a $50 Visa Gift card to shop for your favorite P&G products.
Recognizing the Dads Who Get It Done
One lucky winner will be chosen at random to receive the Fair Play Deck and a $50 Visa gift card. Giveaway is open to U.S. residents 18 years or older. Enter through June 30, 2021. Winner will be chosen randomly by July 2, 2021 and notified by email.