Join Us For The #ReadPARANOID Twitter Party 6/25 at 2 PM ET

by
SheSpeaksTeam
is this the date @ED : BlogVO [categoryId=70162, blogId=145569, blogTitle=Join Us For The #ReadPARANOID Twitter Party 6/25 at 2 PM ET , publishingDate=June 17, 2019 12:00 AM, maxResponses=null, noOfComments=null, fileId=34804, blogClosingDate=null, blogCommentClosed=null, blogCategoryId=70162, queryId=0, blogCategoryIdIndex=0, sharedCategoriesList=null, blogStatusId=34, commentsClosedFlag=false, categoryIdForLog=0, blogModuleCategoryId=0, blogFileVo=null, latestCommentsList=null, verticalCatSeoURL=null, currentDate=12/10/2023, blogLink=null, authorName=SheSpeaksTeam, authorLognId=SheSpeaksTeam, authorAcctId=67580, vosTypeid=3, searchTestId=0, searchStatusId=0, searchAuthorType=0, authorBlogNumber=0, surveyData1=null, surveyData1Desc=null, surveyData2=null, surveyData2Desc=null, pullQuoteMemberId=null, filePath=null, fileName=null, vosType=0, subhead=null, offerSubhead=null, description=null, creationTime=null, authorFname=SheSpeaks, verticalCategoryId=null, sectionId=0, imageFileVO=FilesVO [fileId=34804, filePath=null, fileName=null, fileLength=0, fileWidth=0, createdBy=0, createByUser=null, creationTime=null, lastModifiedBy=0, lastModifiedByUser=null, lastModifiedTime=null, mimeType=null, fileRef=null, fileSize=0, extension=null, title=null, body=null, completeFilePath=/pages/img/redesign/blogs/RP350_06172019112819.png, height=350, width=350, maxHeight=480, maxWidth=360, displayWidth=350, displayHeight=350, fileStatusId=0, searchKeyword=null, searchFlag=false, queryId=0, isExists=true], seoURL=ReadPARANOID-Twitter-Party, seoTitle=null, pullQuotesList=null, pullQuote=null, pullQuoteId=0, searchFlag=false, authorByLine=null, authorDesc=null, authorLink=null, authorFileVO=FilesVO [fileId=42371, filePath=null, fileName=null, fileLength=0, fileWidth=0, createdBy=0, createByUser=null, creationTime=null, lastModifiedBy=0, lastModifiedByUser=null, lastModifiedTime=null, mimeType=null, fileRef=null, fileSize=0, extension=null, title=null, body=null, completeFilePath=/pages/img/membersnaps/SheSpeaks_Logo_Symbol_Only_10182021080530.jpg, height=1777, width=1777, maxHeight=50, maxWidth=50, displayWidth=50, displayHeight=50, fileStatusId=0, searchKeyword=null, searchFlag=false, queryId=0, isExists=true], authorFileId=42371, authorType=0, storyImgFileVO=null, storyImgFileId=0, videoHtml=, authorImageFileId=0, authorImageFileVO=null, previousCategoryId=null, previousBlogStatusId=0, fromBlogDetails=0, blogCategoryName=Entertainment, blogCategoryUrl=null, blogCategoryDesc=null, defaultImage=false, tags=null, optionIds=null, tagOptionId=null, tagId=null, tag=null, tagID=0, tagDetails=null, tagIds=null, testId=0, extBlogURL=null, extBlogStatus=0, bloggerSince=null, extBlogLimit=0, authorTestsList=[], blogURL=, blogName=, bloggerProfileId=0, sliderBlog=false, eventonHome=false, vosonHome=false, partyAndGiveawayDate=06/26/2019, imageCredit=null, pullQuoteMemId=null, offerSubHead=null, subHead=null, displayOrder=0,includeInGoogleSearch=false]
Jun 17, 2019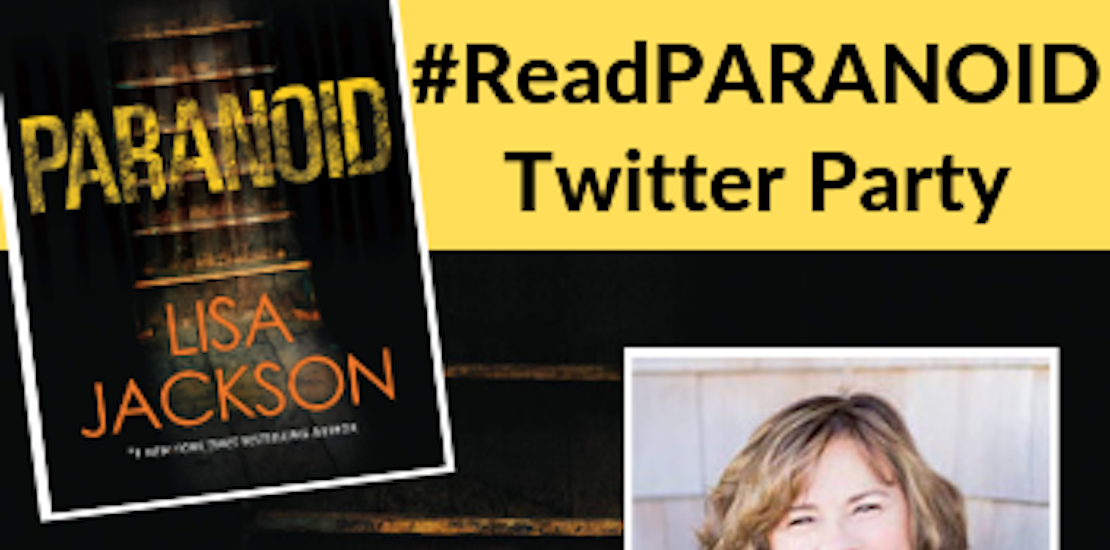 If you love the twists and turns of a suspenseful thriller, join us for the #ReadPARANOID Twitter party! We'll be discussing the summer's hottest thriller, PARANOID by #1 New York Times bestselling author, Lisa Jackson.
There are people in her claustrophobically small hometown who think that Rachel got away with murder 20 years ago. Now, as the anniversary of her brother's death approaches, strange things are happening. Rachel can't tell if her mind is playing tricks on her. Or if there's someone watching her, moving things in her home, sending her mysterious messages.
This book is hitting shelves on June 25th and we're having a Twitter Party to celebrate the launch! Join us as we chat about all things reading, this thrilling genre and the page-turning suspense of PARANOID. Haven't read the book yet? Don't worry, there won't be any spoilers at this party!
Prizes
We'll be giving away approximately $425 in prizes to 8 winners, including copies of PARANOID and gift cards. One door prize winner who will receive a $100 Amazon gift card.
RSVP to be eligible for the door prize by commenting on this post with your Twitter handle (e.g., @SheSpeaksUp). Feel free to also include any questions you might have for the author. We will do our best to include them in the chat.
Twitter Party Details:
Twitter Party Topics
You'll have the chance to share your thoughts about the book, characters and all things reading. Plus, you'll have the amazing opportunity to Tweet with the author herself.
Some SheSpeaks members have had early access to the book and here's what they have to say about PARANOID:
"This book is hard to put down!" - @lizzieinfluencer
"I adore Lisa Jackson!...If you love the twists and turns and edge of your seat, nail-biting thrillers check out her books." @lilith_moon83
"PARANOID is an amazing thriller...this book got me hooked!" - @Denise 99073183
"[This book] is suspenseful. You have to know more." - Ashley Smith
To get started, click HERE to Tweet:
Win books & gift cards! Join me at the #ReadPARANOID Twitter Party w/ @SheSpeaksUp TODAY at 2 pm ET #SheSpeaks RSVP: bit.ly/2XOvdZU
New to Twitter Parties?
No problem. Check out our Twitter Party tips and hints. Then get ready to jump into the conversation!
You can RSVP for the #ReadPARANOID Twitter party by commenting below on this post with your Twitter handle.
*Participants must be following @SheSpeaksUp on Twitter and participate in the discussion by using hashtag #ReadPARANOID on June 25th between 2 - 3 pm ET to be eligible to win. Open to United States residents at least 18 years of age only. One prize allowed per winner. No purchase necessary. Twitter Party prize winners must complete a form with mailing details within 48 hours of the party. The form will be DMed if you win a prize.
This post is sponsored by Kensington Books.