Podcast Launch: SheSpeaks How She Does It

by
SheSpeaksTeam
is this the date @ED : BlogVO [categoryId=70162, blogId=145773, blogTitle=Podcast Launch: SheSpeaks How She Does It , publishingDate=September 23, 2020 12:00 AM, maxResponses=null, noOfComments=null, fileId=38796, blogClosingDate=null, blogCommentClosed=null, blogCategoryId=70162, queryId=0, blogCategoryIdIndex=0, sharedCategoriesList=null, blogStatusId=34, commentsClosedFlag=false, categoryIdForLog=0, blogModuleCategoryId=0, blogFileVo=null, latestCommentsList=null, verticalCatSeoURL=null, currentDate=12/01/2022, blogLink=null, authorName=SheSpeaksTeam, authorLognId=SheSpeaksTeam, authorAcctId=67580, vosTypeid=3, searchTestId=0, searchStatusId=0, searchAuthorType=0, authorBlogNumber=0, surveyData1=null, surveyData1Desc=null, surveyData2=null, surveyData2Desc=null, pullQuoteMemberId=null, filePath=null, fileName=null, vosType=0, subhead=null, offerSubhead=null, description=null, creationTime=null, authorFname=SheSpeaks, verticalCategoryId=null, sectionId=0, imageFileVO=FilesVO [fileId=38796, filePath=null, fileName=null, fileLength=0, fileWidth=0, createdBy=0, createByUser=null, creationTime=null, lastModifiedBy=0, lastModifiedByUser=null, lastModifiedTime=null, mimeType=null, fileRef=null, fileSize=0, extension=null, title=null, body=null, completeFilePath=/pages/img/redesign/blogs/SheSpeaks How She Does It Podcast_10142020152028.jpg, height=415, width=685, maxHeight=480, maxWidth=360, displayWidth=360, displayHeight=218, fileStatusId=0, searchKeyword=null, searchFlag=false, queryId=0, isExists=true], seoURL=Podcast-Launch-How-She-Does-It, seoTitle=null, pullQuotesList=null, pullQuote=null, pullQuoteId=0, searchFlag=false, authorByLine=null, authorDesc=null, authorLink=null, authorFileVO=FilesVO [fileId=42371, filePath=null, fileName=null, fileLength=0, fileWidth=0, createdBy=0, createByUser=null, creationTime=null, lastModifiedBy=0, lastModifiedByUser=null, lastModifiedTime=null, mimeType=null, fileRef=null, fileSize=0, extension=null, title=null, body=null, completeFilePath=/pages/img/membersnaps/SheSpeaks_Logo_Symbol_Only_10182021080530.jpg, height=1777, width=1777, maxHeight=50, maxWidth=50, displayWidth=50, displayHeight=50, fileStatusId=0, searchKeyword=null, searchFlag=false, queryId=0, isExists=true], authorFileId=42371, authorType=0, storyImgFileVO=null, storyImgFileId=0, videoHtml=, authorImageFileId=0, authorImageFileVO=null, previousCategoryId=null, previousBlogStatusId=0, fromBlogDetails=0, blogCategoryName=Entertainment, blogCategoryUrl=null, blogCategoryDesc=null, defaultImage=false, tags=null, optionIds=null, tagOptionId=null, tagId=null, tag=null, tagID=0, tagDetails=null, tagIds=null, testId=0, extBlogURL=null, extBlogStatus=0, bloggerSince=null, extBlogLimit=0, authorTestsList=[], blogURL=, blogName=, bloggerProfileId=0, sliderBlog=false, eventonHome=false, vosonHome=false, partyAndGiveawayDate=10/18/2020, imageCredit=null, pullQuoteMemId=null, offerSubHead=null, subHead=null, displayOrder=0,includeInGoogleSearch=false]
Sep 23, 2020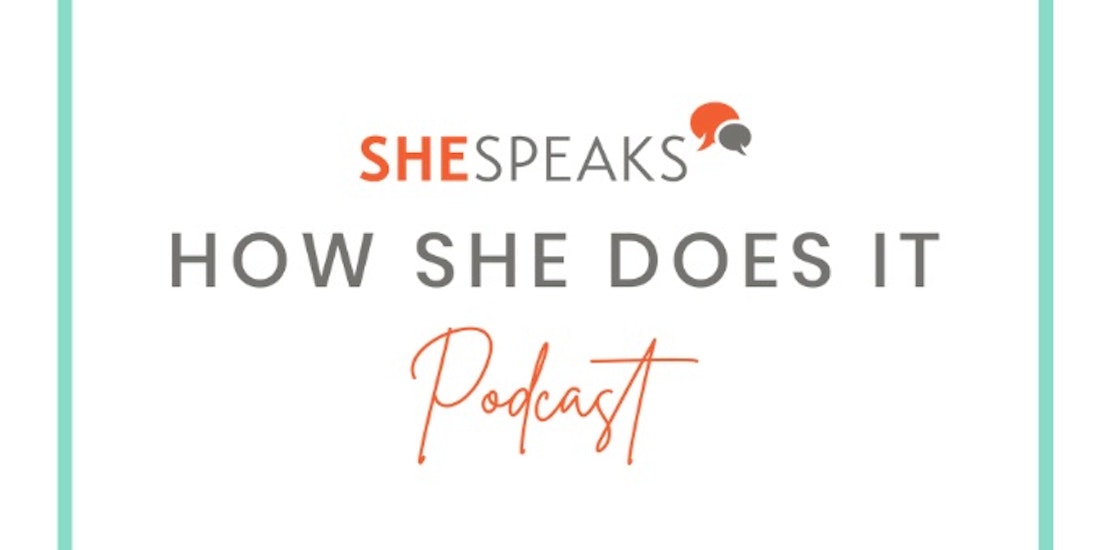 We're thrilled to announce the launch of our new podcast, SheSpeaks: How She Does It, a series that will lift us up and guide us on how to be more motivated and successful.
To celebrate, we're hosting a giveaway. Listen and enter for the chance to win a pair of Apple AirPods!
The guests of
SheSpeaks: How She Does It
will speak about the challenges they've encountered while finding their path to success and happiness. We'll hear remarkable stories and get helpful advice about topics such as navigating careers, balancing life, and achieving goals.
We know these interviews will leave you feeling as inspired as we are.
We will release new episodes, weekly on Tuesdays, so be sure to subscribe and follow along. You can listen on the following platforms:
Apple Podcasts | Stitcher | Spotify | Website | Libsyn


Episode 1 - Balance, Goal Setting & Success with Tabitha Blue: Fresh Mommy Blog creator, entrepreneur, and O! The Oprah Magazine Insider, Tabitha, gives tips for success, vision boards, motivation, and overcoming fears.


Episode 2 - Success, Growth, & Balance with Ashleigh Evans: Ashleigh Evans, owner of InBooze cocktail infusion kits, talks about starting a business, adapting to tough times, and balancing family life.


Episode 3 - Finding Your Path to Happiness with Melanie Notkin: Melanie Notkin is the founder of a multiplatform lifestyle brand called SAVVY AUNTIE: A Celebration of Modern Aunthood. She discusses success and the different paths women find to achieve happiness.
When do you listen to podcasts? During a drive, on a run, or maybe in your room? Let us know for the chance to win a pair of Apple AirPods!
Podcast Launch Giveaway
*One person will be chosen at random to receive a pair of Apple AirPods. Giveaway is open through October 18, 2020 to U.S. residents at least 18 years of age. Entrants must be a member of SheSpeaks. If you are not a member, click here to join. Winner will be notified by email.