Pink Ribbons, Pink Hair, and White Bras: The Many Ways We Raise Awareness

By
drodriguez
Oct 05, 2011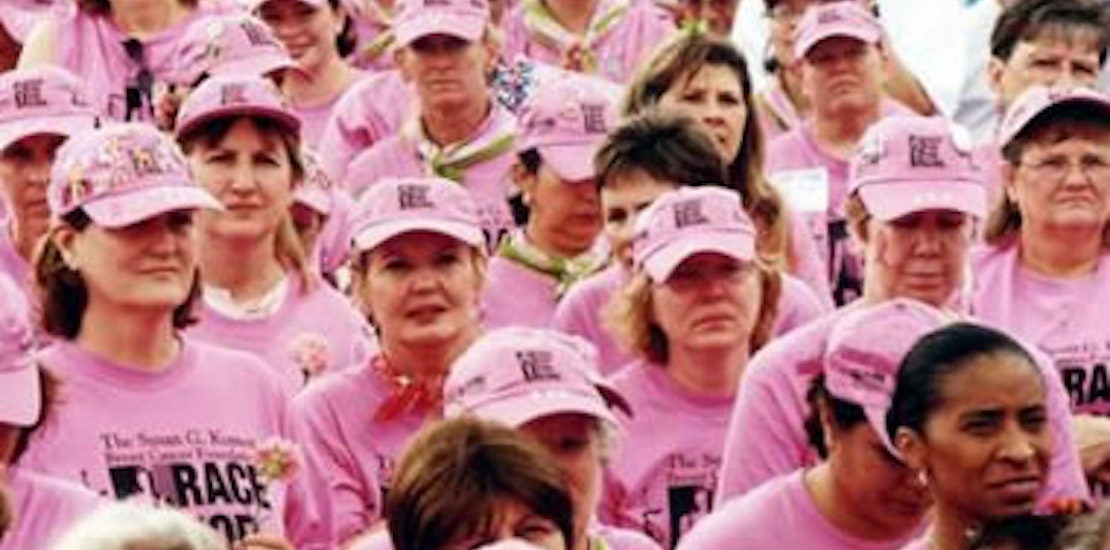 Whether you walk, run, swim, or bike…wear pink t-shirts, ribbons, and now even hair extensions we all show our support during Breast Cancer Awareness Month in different ways.
The Susan G. Komen for the Cure is an organization that puts together a wide variety of fund raising events each year and plays a major role in contributing to the fight against breast cancer. Komen events range from sponsored races to something a little more out of the ordinary like New Jersey's "Undress For Success".
During this event participants are instructed to leave their shirts at home and come clad in white bras (men in tank tops) to pose for professional photos. The goal of this event is to make a bold statement and encourage more women to take action and get mammograms. The tastefully done photos will be tinted pink, signed by award-winning photographer Elizabeth Fleming, and available for purchase with all proceeds going to the Susan G. Komen for the Cure.
Another bra-centric Susan G. Komen sponsored event that was scheduled to kick off October as Breast Cancer Awareness Month was set to take place in Broughton, Georgia but has since been banned by city officials deeming the event to be in bad taste. This event, dubbed "Bras Across Broughton", involved stringing up donated bras at several major intersections with a local car dealer agreeing to donate $1 to Komen foundation for each bra.
Broughton's City Manager, Rochelle Small-Toney, explains why the city made the decision to deny a permit for this particular Breast Cancer Awareness Month event. Small-Toney says, "We have always closely scrutinized for appropriateness any private use of our public spaces. In this case, we weighed the goal of increased breast cancer awareness with the appropriateness of hanging underwear across one of our main streets."
What types of Breast Cancer Awareness Month events do you have going on in your hometown?
Tell us how you plan to take part in raising breast cancer awareness this month!