Entertaining Ideas with a Bold Kick of Flavor: Enter our #EntertainingWithPace Giveaway

by
SheSpeaksTeam
is this the date @ED : BlogVO [categoryId=70164, blogId=145675, blogTitle=Entertaining Ideas with a Bold Kick of Flavor: Enter our #EntertainingWithPace Giveaway , publishingDate=January 22, 2020 12:00 AM, maxResponses=null, noOfComments=null, fileId=37413, blogClosingDate=null, blogCommentClosed=null, blogCategoryId=70164, queryId=0, blogCategoryIdIndex=0, sharedCategoriesList=null, blogStatusId=34, commentsClosedFlag=false, categoryIdForLog=0, blogModuleCategoryId=0, blogFileVo=null, latestCommentsList=null, verticalCatSeoURL=null, currentDate=03/25/2023, blogLink=null, authorName=SheSpeaksTeam, authorLognId=SheSpeaksTeam, authorAcctId=67580, vosTypeid=3, searchTestId=0, searchStatusId=0, searchAuthorType=0, authorBlogNumber=0, surveyData1=null, surveyData1Desc=null, surveyData2=null, surveyData2Desc=null, pullQuoteMemberId=null, filePath=null, fileName=null, vosType=0, subhead=null, offerSubhead=null, description=null, creationTime=null, authorFname=SheSpeaks, verticalCategoryId=null, sectionId=0, imageFileVO=FilesVO [fileId=37413, filePath=null, fileName=null, fileLength=0, fileWidth=0, createdBy=0, createByUser=null, creationTime=null, lastModifiedBy=0, lastModifiedByUser=null, lastModifiedTime=null, mimeType=null, fileRef=null, fileSize=0, extension=null, title=null, body=null, completeFilePath=/pages/img/survey/sizzlingeats_80425969_505962993459307_1010832414863455044_n_01212020135934.jpg, height=300, width=300, maxHeight=480, maxWidth=360, displayWidth=300, displayHeight=300, fileStatusId=0, searchKeyword=null, searchFlag=false, queryId=0, isExists=true], seoURL=Pace-Giveaway-Entertaining-Ideas-with-a-Bold-Kick-of-Flavor-Enter-our-EntertainingWithPace-Giveaway, seoTitle=null, pullQuotesList=null, pullQuote=null, pullQuoteId=0, searchFlag=false, authorByLine=null, authorDesc=null, authorLink=null, authorFileVO=FilesVO [fileId=42371, filePath=null, fileName=null, fileLength=0, fileWidth=0, createdBy=0, createByUser=null, creationTime=null, lastModifiedBy=0, lastModifiedByUser=null, lastModifiedTime=null, mimeType=null, fileRef=null, fileSize=0, extension=null, title=null, body=null, completeFilePath=/pages/img/membersnaps/SheSpeaks_Logo_Symbol_Only_10182021080530.jpg, height=1777, width=1777, maxHeight=50, maxWidth=50, displayWidth=50, displayHeight=50, fileStatusId=0, searchKeyword=null, searchFlag=false, queryId=0, isExists=true], authorFileId=42371, authorType=0, storyImgFileVO=null, storyImgFileId=0, videoHtml=, authorImageFileId=0, authorImageFileVO=null, previousCategoryId=null, previousBlogStatusId=0, fromBlogDetails=0, blogCategoryName=Food, blogCategoryUrl=null, blogCategoryDesc=null, defaultImage=false, tags=null, optionIds=null, tagOptionId=null, tagId=null, tag=null, tagID=0, tagDetails=null, tagIds=null, testId=0, extBlogURL=null, extBlogStatus=0, bloggerSince=null, extBlogLimit=0, authorTestsList=[], blogURL=, blogName=, bloggerProfileId=0, sliderBlog=false, eventonHome=false, vosonHome=false, partyAndGiveawayDate=02/14/2020, imageCredit=@sizzlingeats, pullQuoteMemId=null, offerSubHead=null, subHead=null, displayOrder=0,includeInGoogleSearch=false]
Jan 22, 2020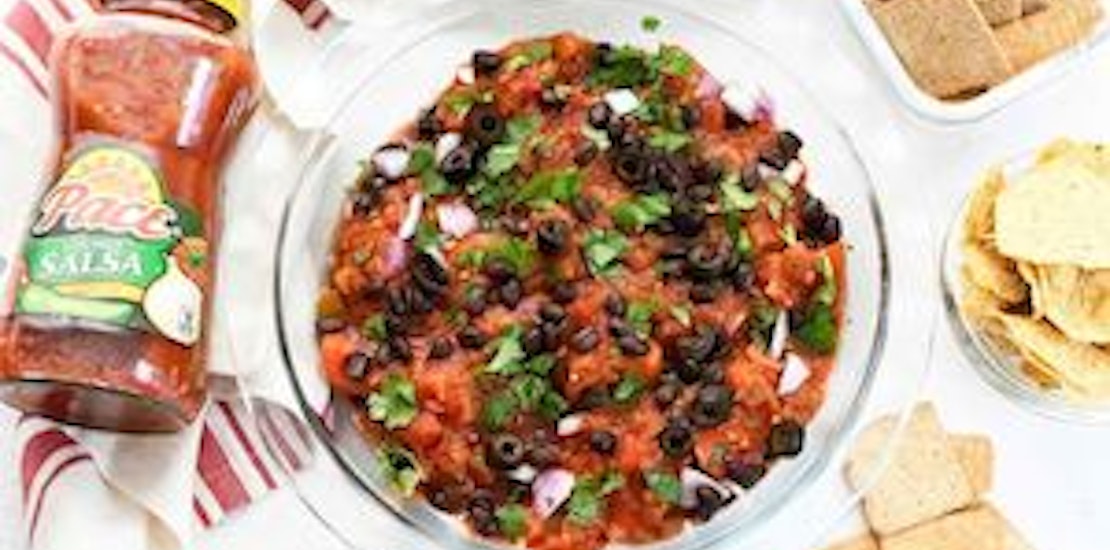 @sizzlingeats
We're getting through this cold winter by warming up with friends. It's a great time of year to entertain! We have watch parties for the Big Game and award shows on our radar, and nothing breaks up the winter doldrums like inviting some friends over for happy hour or game night on the weekend.
Hosting is fun, but what to serve? SheSpeaks influencers have been creating recipes with a bold kick of flavor using Pace® Picante Sauce and Pace Chunky Salsa. Click through for some inspiration for entertaining, and then enter our giveaway below for a chance to win!
This delicious Southwest Shrimp Cocktail by @forksandfolly uses Pace Chunky Salsa, which is "chock full of big chunks of tomatoes, onions and jalapeños." It'll take your game day spread up a notch!
Grab the recipe for @thiswortheylife's Black Bean Salsa Dip! "With only a few fresh ingredients and Pace Chunky Salsa, your dip game is going to be strong."
These Made-Your-Own Avo bowls from @tabithablue are a fun addition to your party buffet, and a real crowd pleaser. Let guests take their pick and top with Pace Picante Sauce or Pace Chunky Salsa.
Look for Pace Picante Sauce & Chunky Salsa in your local Walmart and save. Using Ibotta, you can get $0.25 off 1 Pace Picante Sauce or Pace Salsa, 16oz. only now until 2/6. Head to Walmart to stock up on everything you need for the Big Game in one quick stop.
We're giving you the chance to win Pace Picante Sauce & Pace Chunky Salsa AND a $50 Walmart gift card – just enter below!
One lucky entrant will be chosen at random to receive Pace Picante Sauce and Pace Chunky Salsa and a $50 Walmart gift card. Giveaway is open to U.S. residents 18 years or older. Enter through February 14. Winner will be chosen randomly by February 20 and notified by email.
Disclosure: This is a sponsored post for Pace.

Update: Thanks to all who entered! Congrats to our winner, SheSpeaks member linzer_08.