Book Alert - New Summer Thriller PARANOID Giveaway - 3 Winners

by
SheSpeaksTeam
is this the date @ED : BlogVO [categoryId=70162, blogId=145562, blogTitle=Book Alert - New Summer Thriller PARANOID Giveaway - 3 Winners , publishingDate=June 11, 2019 12:00 AM, maxResponses=null, noOfComments=null, fileId=34772, blogClosingDate=null, blogCommentClosed=null, blogCategoryId=70162, queryId=0, blogCategoryIdIndex=0, sharedCategoriesList=null, blogStatusId=34, commentsClosedFlag=false, categoryIdForLog=0, blogModuleCategoryId=0, blogFileVo=null, latestCommentsList=null, verticalCatSeoURL=null, currentDate=08/15/2022, blogLink=null, authorName=SheSpeaksTeam, authorLognId=SheSpeaksTeam, authorAcctId=67580, vosTypeid=3, searchTestId=0, searchStatusId=0, searchAuthorType=0, authorBlogNumber=0, surveyData1=null, surveyData1Desc=null, surveyData2=null, surveyData2Desc=null, pullQuoteMemberId=null, filePath=null, fileName=null, vosType=0, subhead=null, offerSubhead=null, description=null, creationTime=null, authorFname=SheSpeaks, verticalCategoryId=null, sectionId=0, imageFileVO=FilesVO [fileId=34772, filePath=null, fileName=null, fileLength=0, fileWidth=0, createdBy=0, createByUser=null, creationTime=null, lastModifiedBy=0, lastModifiedByUser=null, lastModifiedTime=null, mimeType=null, fileRef=null, fileSize=0, extension=null, title=null, body=null, completeFilePath=/pages/img/redesign/blogs/kimcdickerson_61337462_2724379364322880_1474576676113220676_n (1)_06112019121014.jpg, height=300, width=300, maxHeight=480, maxWidth=360, displayWidth=300, displayHeight=300, fileStatusId=0, searchKeyword=null, searchFlag=false, queryId=0, isExists=true], seoURL=PARANOID-Giveaway, seoTitle=null, pullQuotesList=null, pullQuote=null, pullQuoteId=0, searchFlag=false, authorByLine=null, authorDesc=null, authorLink=null, authorFileVO=FilesVO [fileId=42371, filePath=null, fileName=null, fileLength=0, fileWidth=0, createdBy=0, createByUser=null, creationTime=null, lastModifiedBy=0, lastModifiedByUser=null, lastModifiedTime=null, mimeType=null, fileRef=null, fileSize=0, extension=null, title=null, body=null, completeFilePath=/pages/img/membersnaps/SheSpeaks_Logo_Symbol_Only_10182021080530.jpg, height=1777, width=1777, maxHeight=50, maxWidth=50, displayWidth=50, displayHeight=50, fileStatusId=0, searchKeyword=null, searchFlag=false, queryId=0, isExists=true], authorFileId=42371, authorType=0, storyImgFileVO=null, storyImgFileId=0, videoHtml=, authorImageFileId=0, authorImageFileVO=null, previousCategoryId=null, previousBlogStatusId=0, fromBlogDetails=0, blogCategoryName=Entertainment, blogCategoryUrl=null, blogCategoryDesc=null, defaultImage=false, tags=null, optionIds=null, tagOptionId=null, tagId=null, tag=null, tagID=0, tagDetails=null, tagIds=null, testId=0, extBlogURL=null, extBlogStatus=0, bloggerSince=null, extBlogLimit=0, authorTestsList=[], blogURL=, blogName=, bloggerProfileId=0, sliderBlog=false, eventonHome=false, vosonHome=false, partyAndGiveawayDate=06/28/2019, imageCredit=https://www.instagram.com/kimcdickerson, pullQuoteMemId=null, offerSubHead=null, subHead=null, displayOrder=0,includeInGoogleSearch=false]
Jun 11, 2019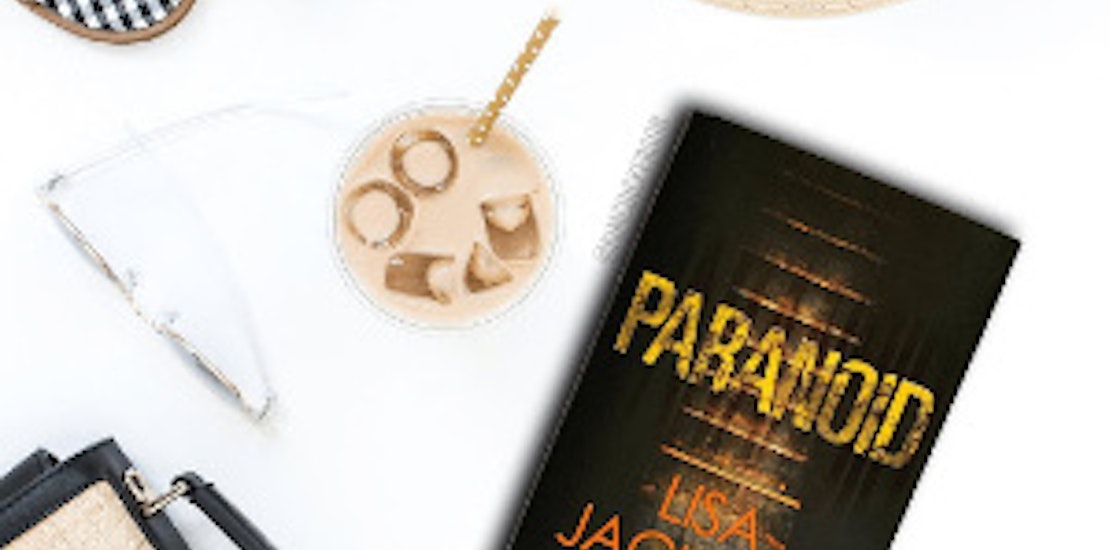 https://www.instagram.com/kimcdickerson
This summer, go somewhere thrilling with PARANOID, the binge-worthy new suspense novel by #1 New York Times bestselling author Lisa Jackson.
We're excited to offer you the chance to win your own copy of PARANOID! Bonus: One winner will also receive a $25 Starbucks Gift Card and Pool/Beach Tote.
Whether you are getting out of town this summer or staying home, you can still get some thrills with PARANOID.
There are people in her claustrophobically small hometown who think that 20 years ago, Rachel got away with murder. Now, as the anniversary of her brother's death approaches, strange things are happening. Rachel can't tell if her mind is playing tricks on her. Or if there's someone watching her, moving things in her home, sending her mysterious messages.
Is Rachel's past haunting her ... or hunting her?
Some SheSpeaks members have early access to this book, and here's what they are saying about PARANOID:
"What a great thriller that keeps you guessing until the end. So many unexpected twists!" - All That Jazz @Kris234Kris
"PARANOID is phenomenal! I couldn't put it down. I was eager to find out the truth!" - LaTanya @sweetums82
"I stayed up until 2am reading this book...I need to know if Rachel is being paranoid!" - @SavingYouDinero
"[Lisa Jackson] is one of my all time favorite authors...am so excited to get my hands on this new book!" - Angie @penguinsangel
PARANOID will be on sale starting June 25, 2019. Find out more and pre-order your copy here.
You can enter to win one of three copies of the book below! One lucky winner will also receive a bonus prize - a $25 Starbucks Gift Card and a beach/pool tote bag.
*Three lucky contestants will be chosen at random to receive a copy of PARANOID. One bonus winner will also receive a $25 Starbucks Gift Card and a Pool/Beach tote. Giveaway is open through June 28th, 2019 and is open to U.S. residents at least 18 years of age. Entrants must be a member of SheSpeaks. If you are not a member, click here to join. Winner will be notified by email.
This post is sponsored by Kensington Books.