One Pan Garlic Parmesan Veggies and Sausage
submitted by BellaNaturalla {1 Recipe}
Prep Time:
10 Mins
Cook Time:
30 Mins
Total Prep + Cook Time:
40 Mins
Level:
Easy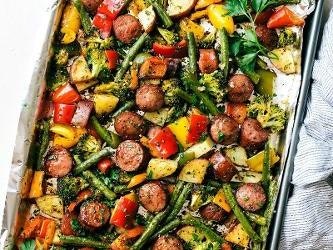 Photo Source: Chelsea's Messy Apron
Makes: 4 Servings
Description: An easy dish of roasted veggies, smoky sausage, and parmesan. My toddler loves this dish and it was a hit for a past pot luck dinner.
Ingredients:
2 cups red potatoes
3/4 lbs green beans
1 large head of broccoli
1 1/2 cups chopped bell peppers
9 oz smoked sausage
6 tablespoons olive oil
1/4 teaspoon red pepper flakes
1 teaspoon paprika
1/2 teaspoon garlic powder
1 tablespoon dried oregano
1 tablespoon dried parsley
1/4 teaspoon salt
1/4 teaspoon black pepper

Instructions: Preheat the oven to 400 degrees F.

Line a large sheet pan with foil or parchment paper.

Prep the veggies: chop the red potatoes (pretty small pieces here so they will be tender in time), trim the green beans and halve (see video above recipe), chop the broccoli, chop the peppers into thick squares, and coin the sausage in thick slices.

Place all the veggies and sausage on a sheet pan. Pour the olive oil and all the spices on top. Toss to evenly coat all the veggies and meat.

Bake 15 minutes, remove from the oven and flip/stir all the veggies around. Return to the oven and bake for another 10-15 minutes or until vegetables are crisp tender and sausage is browned.

If desired, sprinkle freshly grated Parmesan cheese over the veggies and sausage as soon as they come out of the oven.

Enjoy with rice or quinoa and fresh parsley if desired.
Other recipes in main dishes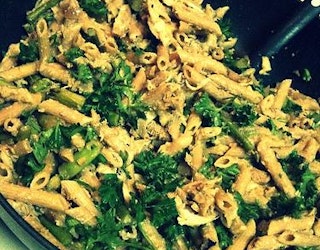 By
kphillip9
Mar 15, 2012
This meal is always a great way to get your vegetables! 16 oz package penne pasta 2 T olive oil, divided
Read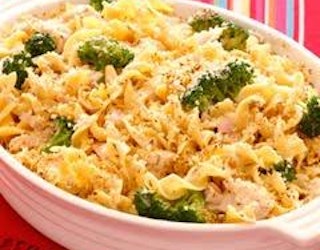 By
staceyowens
May 01, 2013
This is a dish that I threw together one night in a hurry. The taste is wonderful and it was an great way to get my 2 1/2 year old to eat broccoli!!
Read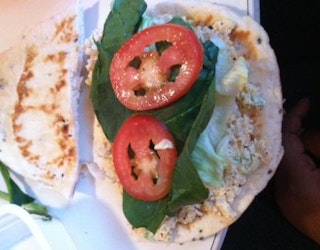 By
mprezz
Jul 08, 2014
Get your blanket, and enjoy this delicious, meatless sandwich for lunch or dinner on the lawn of a park.
Read