No Filter Needed with Skin Proud at Walmart

by
SheSpeaksTeam
is this the date @ED : BlogVO [categoryId=70163, blogId=146088, blogTitle=No Filter Needed with Skin Proud at Walmart, publishingDate=August 10, 2022 12:00 AM, maxResponses=null, noOfComments=null, fileId=44702, blogClosingDate=null, blogCommentClosed=null, blogCategoryId=70163, queryId=0, blogCategoryIdIndex=0, sharedCategoriesList=null, blogStatusId=34, commentsClosedFlag=false, categoryIdForLog=0, blogModuleCategoryId=0, blogFileVo=null, latestCommentsList=null, verticalCatSeoURL=null, currentDate=12/07/2023, blogLink=null, authorName=SheSpeaksTeam, authorLognId=SheSpeaksTeam, authorAcctId=67580, vosTypeid=3, searchTestId=0, searchStatusId=0, searchAuthorType=0, authorBlogNumber=0, surveyData1=null, surveyData1Desc=null, surveyData2=null, surveyData2Desc=null, pullQuoteMemberId=null, filePath=null, fileName=null, vosType=0, subhead=null, offerSubhead=null, description=null, creationTime=null, authorFname=SheSpeaks, verticalCategoryId=null, sectionId=0, imageFileVO=FilesVO [fileId=44702, filePath=null, fileName=null, fileLength=0, fileWidth=0, createdBy=0, createByUser=null, creationTime=null, lastModifiedBy=0, lastModifiedByUser=null, lastModifiedTime=null, mimeType=null, fileRef=null, fileSize=0, extension=null, title=null, body=null, completeFilePath=/pages/img/redesign/blogs/Skin Proud Blog Header_08092022134017.jpeg, height=630, width=1120, maxHeight=480, maxWidth=360, displayWidth=360, displayHeight=202, fileStatusId=0, searchKeyword=null, searchFlag=false, queryId=0, isExists=true], seoURL=No-Filter-Needed-with-Skin-Proud-at-Walmart, seoTitle=null, pullQuotesList=null, pullQuote=null, pullQuoteId=0, searchFlag=false, authorByLine=null, authorDesc=null, authorLink=null, authorFileVO=FilesVO [fileId=42371, filePath=null, fileName=null, fileLength=0, fileWidth=0, createdBy=0, createByUser=null, creationTime=null, lastModifiedBy=0, lastModifiedByUser=null, lastModifiedTime=null, mimeType=null, fileRef=null, fileSize=0, extension=null, title=null, body=null, completeFilePath=/pages/img/membersnaps/SheSpeaks_Logo_Symbol_Only_10182021080530.jpg, height=1777, width=1777, maxHeight=50, maxWidth=50, displayWidth=50, displayHeight=50, fileStatusId=0, searchKeyword=null, searchFlag=false, queryId=0, isExists=true], authorFileId=42371, authorType=0, storyImgFileVO=null, storyImgFileId=0, videoHtml=, authorImageFileId=0, authorImageFileVO=null, previousCategoryId=null, previousBlogStatusId=0, fromBlogDetails=0, blogCategoryName=Beauty & Fashion, blogCategoryUrl=null, blogCategoryDesc=null, defaultImage=false, tags=null, optionIds=null, tagOptionId=null, tagId=null, tag=null, tagID=0, tagDetails=null, tagIds=null, testId=0, extBlogURL=null, extBlogStatus=0, bloggerSince=null, extBlogLimit=0, authorTestsList=[], blogURL=, blogName=, bloggerProfileId=0, sliderBlog=false, eventonHome=true, vosonHome=false, partyAndGiveawayDate=09/15/2022, imageCredit=null, pullQuoteMemId=null, offerSubHead=, subHead=, displayOrder=0,includeInGoogleSearch=false]
Aug 10, 2022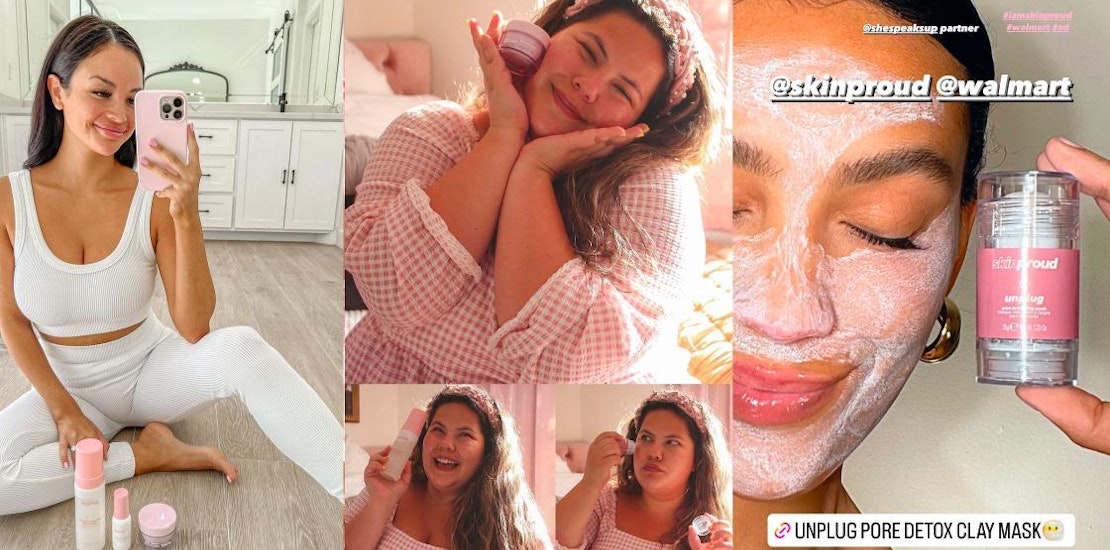 No matter your age, race, or background, dealing with skin issues can always cause some insecurities. Having a daily skin routine to help you feel confident in your natural state is just what Skin Proud is here to do. It's time to embrace your natural beauty with SkinProud products, from their Bright Boost Serum to the Unplug Detox Mask.

With affordable prices and 100% vegan ingredients, Skin Proud is just what you need to fall in love with your perfectly imperfect imperfections.

Click
here
to add Skin Proud to your Walmart cart.
Enter our giveaway below for a chance to win a $50 Walmart gift card.
Skin Proud Giveaway
One lucky winner will be chosen at random to receive a $50 Walmart gift card. No purchase necessary. Giveaway is open to U.S. residents 18 years or older. Enter through September 15, 2022. Winner will be notified by email. Entrants must be a member of SheSpeaks. If you are not a member, click here to join. Winner will be notified by email.
Thanks to all who entered! Congrats to our winner SheSpeaks member hunnydu.