By
CLOSETOHOME
Oct 20, 2011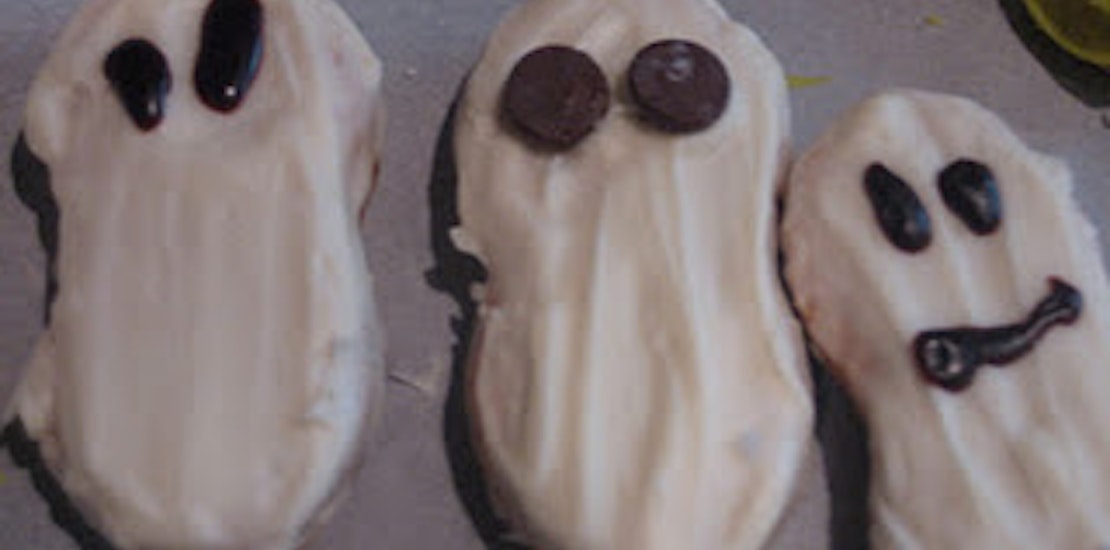 After seeing the Spooky Claws in this month's Family Fun Magazine I wanted to give them a try. We never buy Nutter Butters so this was a fun excuse to have them in the house. This is a great treat for a party, as long as peanuts are not a problem.
I purchased the bright green Wilton Chocolate Wafers since I thought they would be more Halloween like. If you already have the dark green wafers from another project you could just add some white chocolate to lighten it up.
#1 Claws
We started by dipping the entire cookie but it was getting a little messy. The majoirty of the cookies were just dipped to cover the top and sides.
Before they can dry add cashew pieces for the claws. I did not have whole cashews but had some cashew pieces in my freezer so I just had to sift through them to find the right looking ones.
#2 Ghosts
I also thought Nutter butters were perfect for ghosts too. I just dipped the cookies into melted white chocolate and added some eyes with wilton cookie icers. I also tried some with chocolate chips to see how they turn out. Think they work but love the other ones.
#3 Tombstones
Next my daughter suggested we make tombstones. Made some with white but had some black food paste so I added it to the melted chocolate and came out with the grey tombstones.
Had some leftover eyes from the Scaredy Cat Brownies so I made an alien. These would have been cute in the green if I had any left over.
Aliens/monsters
Who would have thought so many cookies could have come out of just one store bought cookie. Have fun with it, let the kids get creative too.
Push a lollipop stick into the cookies before the chocolate melts and make them into an edible centerpiece!! Did not think of that until I started writing this post. A platter of them will be just as pleasing to your goblins this Halloween.