Motorist Busted For Eating a Hamburger: Should Eating Count as a Distracted Driving Offense?

By
SheSpeaksTeam
Jan 26, 2015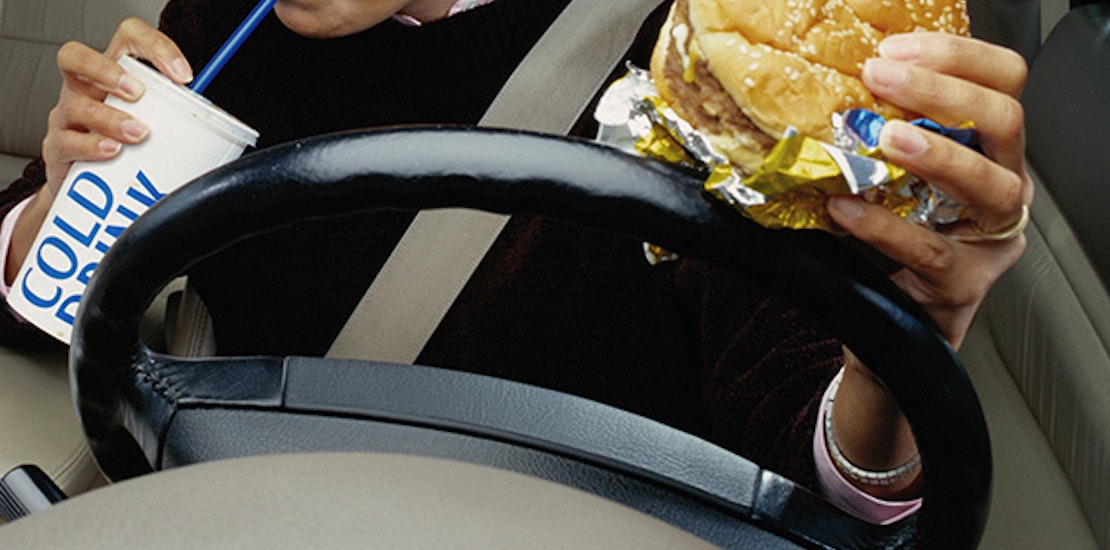 Most of us are familiar with the laws and campaigns aimed at making the roads safer by getting drivers to stop texting and talking on their phones while driving. But what about eating food on the go? Many of us wouldn't think twice about munching on a breakfast sandwich while driving to work, but is it really safe?
The New York Times reports about an Alabama man's run-in with the Georgia highway patrol after he was pulled over for snacking on a hamburger while driving. Driver H. Madison Turner explains how the officer justified giving him a ticket for eating behind the wheel. Turner says, "He said specifically three times, 'You can't just drive down the road eating a hamburger."
Apparently Turner believes he can in fact drive down the road while eating hamburgers and plans to contest the ticket in court. The whole incident begs the question of how police should enforce "distracted driving" laws and whether eating should count as an offense.
In Turner's case the Georgia law states, "A driver shall exercise due care in operating a motor vehicle on the highways of this state and shall not engage in any actions which shall distract such driver from the safe operation of such vehicle." Though the wording of this law is vague enough to justify officers pulling over any motorist whose hands are not at 10 and 2, simple distractions like changing music or spilling a soda are enough to lead to a deadly accident.
The Maryland Highway Safety Office points out on its website that cellphones are not the only dangerous distractions on the road. The office explains, "While many recent campaigns focus on cellphone use, traditional interruptions such as changing the music, eating or settling arguments between children can be just as distracting, and just as deadly."
What do you think of this case where a man was ticketed for eating while driving?
How do you limit distractions while driving?