More Couples Include Wild Animals On Wedding Guest List

By
SheSpeaksTeam
Dec 09, 2014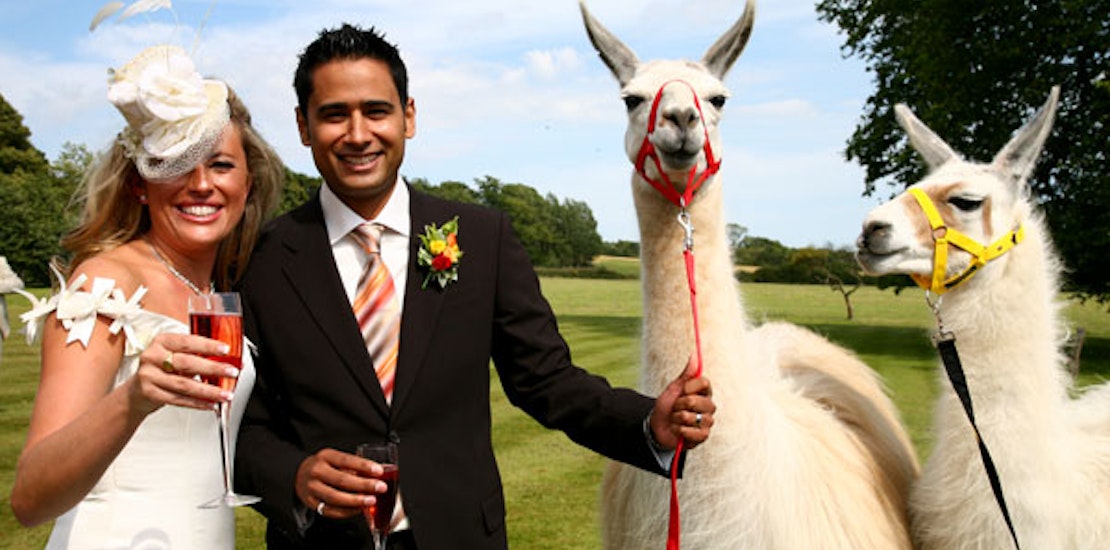 A popular new trend among couples is making their vows look more like Lion Country Safari than a wedding. From elephants and llamas to dozens of fluttering butterflies, couples are choosing to add these creatures to their guest lists right along with Aunt Sue and Uncle Henry.
The Wall Street Journal reports about the growing trend of including animals in wedding celebrations that's making nuptials a truly wild affair. As to why couples have begun incorporating wild animals into their weddings is something Anja Winnika, site director at TheKnot.com thinks she knows the answer to. Winnika explains that the ceremony has become all about, "being true to yourself and celebrating all your favorite things. In many cases, the animal is their favorite thing."
So let's say your favorite thing is a python or maybe you're more into monkeys, Las Vegas event planner Tory Cooper has seen it all. Just last year Cooper helped plan a groom's wish to ride an elephant to his waiting bride in front of the Bellagio Resort & Casino. Cooper confesses, "My phone has been ringing off the hook ever since." (If the elephant in the room peaked your interest, it will run you about $10,000 for a wedding rental.)
For many couples, animal rentals are all in fun to make their weddings extra special and unique. But there are plenty of animal right's activists that would disagree. Animal Defenders' campaign manager Matt Rossell believes hiring an elephant for a wedding can pose a serious risk to the animal and any and all bystanders. He says, "We would argue there is a way to have a traditional event without an elephant in the ceremony."
What do you think of including animals in wedding ceremonies? Do you think it's safe to include them in this way?
Have you ever attended a wedding that incorporated animals in some way?