By
AnAmericanHousewife
Apr 05, 2012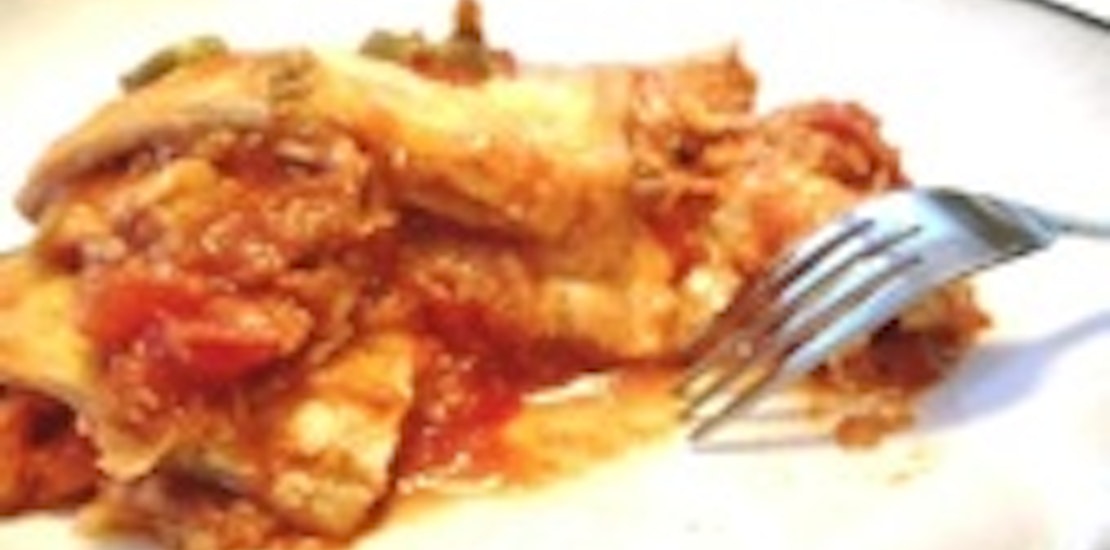 No lasagna noodles needed in this delicious any day meal! A secret ingredient takes the place of the pasta and it's even better! Make this with chicken, beef or even turkey. A quick and easy recipe to whip up that is a sure to become a family favorite of everyone who tries it.
$PullQuote$
Mexican Lasagna

1 - 2 lbs. ground beef, chicken, turkey, etc.
1 envelope taco seasoning
1 t seasoned salt
2 cups diced tomatoes (or use 1- 15 oz. can diced tomatoes if you prefer)
1 T jalapeno's, diced fine (optional - use mild chilies or leage out all together if you wish)
1 T onion (another optional ingredient)
15 oz. can tomato sauce or 1 - 6 oz. can tomato paste with 3 empty cans of water
1 1/2 c sour cream (or use ricotta cheese or cottage cheese)
2 eggs
10 flour tortillas (any style - low carb, etc. is fine too)
2 1/2 - 3 c shredded cheese

Cook the ground beef (if you are using) and drain. If you are using already cooked beef, chicken, etc. place it in a large pan on the stove top. When hot, add the taco seasoning, salt, tomatoes, paste and water or tomato sauce, jalapeno's and onions if you are using them. Bring to a boil. Reduce and simmer about 10 minutes while you mix the sour cream OR ricotta/cottage cheese with the eggs in a bowl. Preheat the oven to 350.

Spread half the meat mixture in a 9X13 inch pan. Cut your flour tortilla in half. Layer about 5 of them over the meat. Spread half the sour cream or cottage cheese mixture over the tortillas. Sprinkle with half the shredded cheese. Repeat the layers with the rest of the meat, tortillas, sour cream or cheese mixture and top with the rest of the shredded cheese. You can now use green olives or black olives on top if your family likes them.

Bake uncovered about 20-30 minutes until golden brown, bubbly and hot. Let it stand 10 minutes to 'set up' for easier cutting. You can serve this as is or offer sour cream, guacamole, salsa, etc.