#MayDaysGiveaways: 1 of 2 Chances to Win Philips Kitchen Prize Pack ($175 value each!)

by
SheSpeaksTeam
is this the date @ED : BlogVO [categoryId=70164, blogId=145867, blogTitle=#MayDaysGiveaways: 1 of 2 Chances to Win Philips Kitchen Prize Pack ($175 value each!), publishingDate=May 28, 2021 12:00 AM, maxResponses=null, noOfComments=null, fileId=40866, blogClosingDate=null, blogCommentClosed=null, blogCategoryId=70164, queryId=0, blogCategoryIdIndex=0, sharedCategoriesList=null, blogStatusId=34, commentsClosedFlag=false, categoryIdForLog=0, blogModuleCategoryId=0, blogFileVo=null, latestCommentsList=null, verticalCatSeoURL=null, currentDate=04/01/2023, blogLink=null, authorName=SheSpeaksTeam, authorLognId=SheSpeaksTeam, authorAcctId=67580, vosTypeid=3, searchTestId=0, searchStatusId=0, searchAuthorType=0, authorBlogNumber=0, surveyData1=null, surveyData1Desc=null, surveyData2=null, surveyData2Desc=null, pullQuoteMemberId=null, filePath=null, fileName=null, vosType=0, subhead=null, offerSubhead=null, description=null, creationTime=null, authorFname=SheSpeaks, verticalCategoryId=null, sectionId=0, imageFileVO=FilesVO [fileId=40866, filePath=null, fileName=null, fileLength=0, fileWidth=0, createdBy=0, createByUser=null, creationTime=null, lastModifiedBy=0, lastModifiedByUser=null, lastModifiedTime=null, mimeType=null, fileRef=null, fileSize=0, extension=null, title=null, body=null, completeFilePath=/pages/img/redesign/blogs/May Days Header week 5_05272021133554.jpg, height=385, width=685, maxHeight=480, maxWidth=360, displayWidth=360, displayHeight=202, fileStatusId=0, searchKeyword=null, searchFlag=false, queryId=0, isExists=true], seoURL=MayDaysGiveaways-1-of-2-Chances-to-Win-Philips-Kitchen-Prize-Pack-175-value-each, seoTitle=null, pullQuotesList=null, pullQuote=null, pullQuoteId=0, searchFlag=false, authorByLine=null, authorDesc=null, authorLink=null, authorFileVO=FilesVO [fileId=42371, filePath=null, fileName=null, fileLength=0, fileWidth=0, createdBy=0, createByUser=null, creationTime=null, lastModifiedBy=0, lastModifiedByUser=null, lastModifiedTime=null, mimeType=null, fileRef=null, fileSize=0, extension=null, title=null, body=null, completeFilePath=/pages/img/membersnaps/SheSpeaks_Logo_Symbol_Only_10182021080530.jpg, height=1777, width=1777, maxHeight=50, maxWidth=50, displayWidth=50, displayHeight=50, fileStatusId=0, searchKeyword=null, searchFlag=false, queryId=0, isExists=true], authorFileId=42371, authorType=0, storyImgFileVO=null, storyImgFileId=0, videoHtml=, authorImageFileId=0, authorImageFileVO=null, previousCategoryId=null, previousBlogStatusId=0, fromBlogDetails=0, blogCategoryName=Food, blogCategoryUrl=null, blogCategoryDesc=null, defaultImage=false, tags=null, optionIds=null, tagOptionId=null, tagId=null, tag=null, tagID=0, tagDetails=null, tagIds=null, testId=0, extBlogURL=null, extBlogStatus=0, bloggerSince=null, extBlogLimit=0, authorTestsList=[], blogURL=, blogName=, bloggerProfileId=0, sliderBlog=false, eventonHome=false, vosonHome=false, partyAndGiveawayDate=06/06/2021, imageCredit=null, pullQuoteMemId=null, offerSubHead=null, subHead=null, displayOrder=0,includeInGoogleSearch=false]
May 28, 2021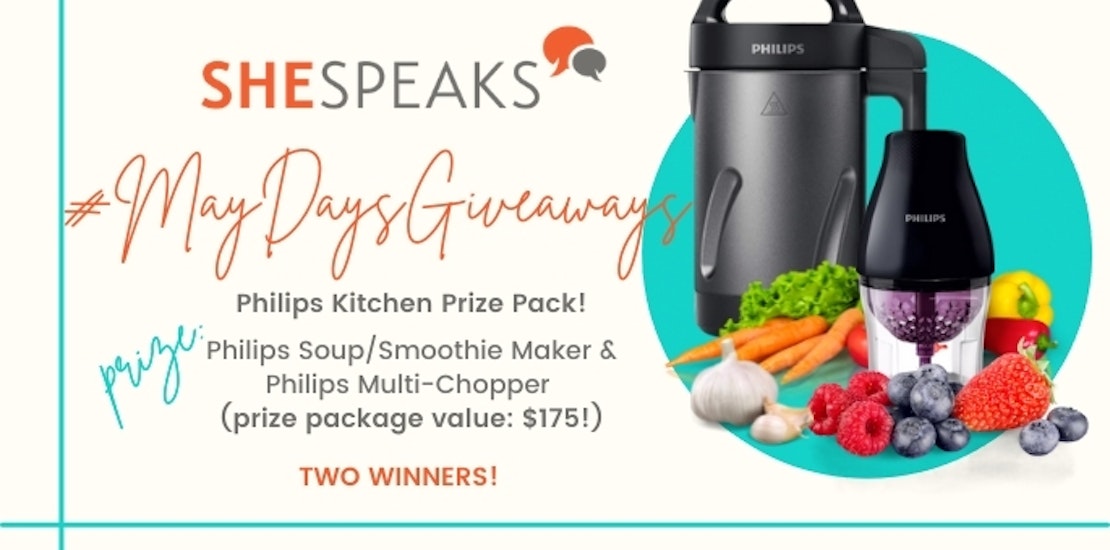 Let the unofficial start to summer begin! It's time for long days outside, sitting by the pool, having a drink with friends, and eating delicious meals.

In our last week of #MayDaysofGiveaways, our prize will help you spend less time in the kitchen and more time relaxing. Plus, there's two chances to win!

The Philips Soup/Smoothie Maker is so versatile, it's like a blender and cooker all in one. Find lots of different recipes here. On that page, you'll see how easy it is to make refreshing smoothies, such as a Raspberry Buttermilk Smoothie and a Coffee Chocolate Shake. Or delicious soups, such as a Summer Minestrone with Rice or a Sweet Corn Soup with Bacon. You can also get creative and make Instant Strawberry Frozen Yogurt or Fresh Almond Milk. The possibilities are endless!

The Philips Multi-Chopper helps you quickly cut your ingredients so they can go right into your dish. It's perfect for veggies, cheese, nuts, meat, herbs, chocolate and more. Make delicious guacamole in minutes - just throw onion, avocado, tomato, garlic and cilantro into the Multi-Chopper. Then squeeze on some lime juice and toss it with salt. Scoop it in a bowl with a side of chips and you're ready for the weekend.
What would you make with the Philips Soup/Smoothie Maker or the Philips Multi-Chopper? Tell us for 1 of 2 chances to win both!
However you are spending your May days, make sure to enter the #MayDaysGiveaways every week.
#MayDaysGiveaways: Week 5, Philips Prize Pack
Enter all our giveaways through June 6!
Enter here AND here for two chances to win a Philips 5400 Espresso Machine ($1,000 value)
Enter here for the chance to win 1 of 2 Sugarfina Bubbly 8 Piece Candy Bento Boxes® (valued at $70 each).
Enter here for the chance to win a Philips Airfryer Essential XL ($200 value)

* Two lucky contestants will be chosen at random to each receive a Philips Multi-Chopper (valued at $34.95 each) and a Philips Soup/Smoothie Maker (valued at $129.95 each). Note that this product will be sent directly from Philips, so the winners' addresses will be given to them for shipping purposes. Giveaway is open through June 6, 2021 to U.S. residents at least 18 years of age. Entrants must be a member of SheSpeaks. If you are not a member, click here to join. Winners will be notified by email.