3 Festive Fall Drinks + #SheSpeaksTV Giveaway

by
SheSpeaksTeam
is this the date @ED : BlogVO [categoryId=70164, blogId=144493, blogTitle=3 Festive Fall Drinks + #SheSpeaksTV Giveaway, publishingDate=October 23, 2015 12:00 AM, maxResponses=null, noOfComments=null, fileId=24622, blogClosingDate=null, blogCommentClosed=null, blogCategoryId=70164, queryId=0, blogCategoryIdIndex=0, sharedCategoriesList=null, blogStatusId=34, commentsClosedFlag=false, categoryIdForLog=0, blogModuleCategoryId=0, blogFileVo=null, latestCommentsList=null, verticalCatSeoURL=null, currentDate=11/29/2023, blogLink=null, authorName=SheSpeaksTeam, authorLognId=SheSpeaksTeam, authorAcctId=67580, vosTypeid=3, searchTestId=0, searchStatusId=0, searchAuthorType=0, authorBlogNumber=0, surveyData1=null, surveyData1Desc=null, surveyData2=null, surveyData2Desc=null, pullQuoteMemberId=null, filePath=null, fileName=null, vosType=0, subhead=null, offerSubhead=null, description=null, creationTime=null, authorFname=SheSpeaks, verticalCategoryId=null, sectionId=0, imageFileVO=FilesVO [fileId=24622, filePath=null, fileName=null, fileLength=0, fileWidth=0, createdBy=0, createByUser=null, creationTime=null, lastModifiedBy=0, lastModifiedByUser=null, lastModifiedTime=null, mimeType=null, fileRef=null, fileSize=0, extension=null, title=null, body=null, completeFilePath=/pages/img/redesign/blogs/Screen Shot 2015-10-23 at 2.32.35 PM_10232015144249.png, height=307, width=350, maxHeight=480, maxWidth=360, displayWidth=350, displayHeight=307, fileStatusId=0, searchKeyword=null, searchFlag=false, queryId=0, isExists=true], seoURL=Make-3-Festive-Fall-Drinks-with-SheSpeaksTV, seoTitle=null, pullQuotesList=null, pullQuote=null, pullQuoteId=0, searchFlag=false, authorByLine=null, authorDesc=null, authorLink=null, authorFileVO=FilesVO [fileId=42371, filePath=null, fileName=null, fileLength=0, fileWidth=0, createdBy=0, createByUser=null, creationTime=null, lastModifiedBy=0, lastModifiedByUser=null, lastModifiedTime=null, mimeType=null, fileRef=null, fileSize=0, extension=null, title=null, body=null, completeFilePath=/pages/img/membersnaps/SheSpeaks_Logo_Symbol_Only_10182021080530.jpg, height=1777, width=1777, maxHeight=50, maxWidth=50, displayWidth=50, displayHeight=50, fileStatusId=0, searchKeyword=null, searchFlag=false, queryId=0, isExists=true], authorFileId=42371, authorType=0, storyImgFileVO=null, storyImgFileId=0, videoHtml=, authorImageFileId=0, authorImageFileVO=null, previousCategoryId=null, previousBlogStatusId=0, fromBlogDetails=0, blogCategoryName=Food, blogCategoryUrl=null, blogCategoryDesc=null, defaultImage=false, tags=null, optionIds=null, tagOptionId=null, tagId=null, tag=null, tagID=0, tagDetails=null, tagIds=null, testId=0, extBlogURL=null, extBlogStatus=0, bloggerSince=null, extBlogLimit=0, authorTestsList=[], blogURL=, blogName=, bloggerProfileId=0, sliderBlog=false, eventonHome=false, vosonHome=false, partyAndGiveawayDate=11/12/2015, imageCredit=null, pullQuoteMemId=null, offerSubHead=null, subHead=null, displayOrder=0,includeInGoogleSearch=false]
Oct 23, 2015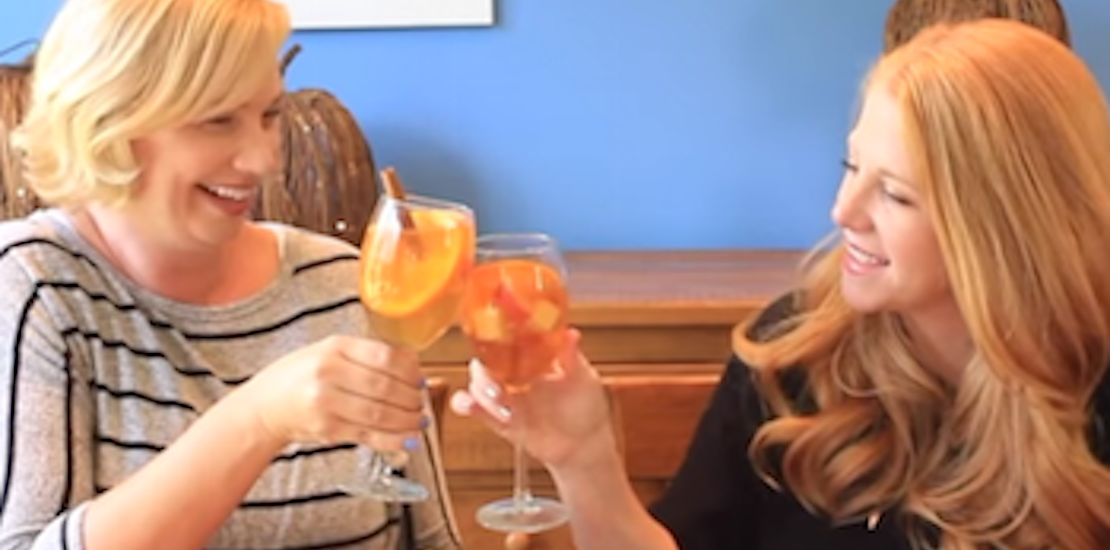 One of the greatest parts of the fall and winter is cozy cold-weather drinks we get to enjoy! Learn to whip up an autumn sangria, a velvety hot chocolate and an apple cider float with Megan and Wendy of Long Story Short on SheSpeaksTV. We've got the recipes you'll want to serve this season right here!
ENTER THE GIVEAWAY! You could win one of four $25 Amex gift cards!
To Enter
Step 1 Watch the video below
Step 2 Comment on the video on YouTube. Get Two Bonus Entries by sharing a picture of your favorite festive drink on Instagram, Twitter or Facebook and tagging @SheSpeaksUp.
Share The Recipes With Your Network! Click here to Tweet: "Make these 3 festive drinks from #SheSpeaksTV & savor the flavors of fall. Plus, ENTER the #giveaway!! bit.ly/1LLvnUr"
SUBSCRIBE to the SheSpeaksTV channel on YouTube and join the conversation! Our weekly videos are created by women, for women. At SheSpeaksTV, we're handing you the microphone to talk about issues that are important to you, and to provide you with lifestyle tips on everything from beauty to parenting.
NOTE: Comments on this blog post will not count as an entry; only photos that tag @SheSpeaksUp on Instagram, Twitter or Facebook and comments on SheSpeaksTV's "Festive Fall Drinks" video on YouTube will be counted as entries.

Four lucky people who comment on YouTube or post a photo will be chosen at random to receive a $25 Amex gift card. Giveaway is open now through 11/11 to U.S. residents at least 18 years of age. Winner will be chosen at random by 11/14 and will be notified by email or on YouTube.
Congrats to our winners: Ronibing, shonvic1981, Marilou70