WIN Beauty Prize Packages from Mahisha Dellinger, Founder & CEO of CURLS - Two Winners

by
SheSpeaksTeam
is this the date @ED : BlogVO [categoryId=70162, blogId=145830, blogTitle=WIN Beauty Prize Packages from Mahisha Dellinger, Founder & CEO of CURLS - Two Winners, publishingDate=February 09, 2021 12:00 AM, maxResponses=null, noOfComments=null, fileId=39966, blogClosingDate=null, blogCommentClosed=null, blogCategoryId=70162, queryId=0, blogCategoryIdIndex=0, sharedCategoriesList=null, blogStatusId=34, commentsClosedFlag=false, categoryIdForLog=0, blogModuleCategoryId=0, blogFileVo=null, latestCommentsList=null, verticalCatSeoURL=null, currentDate=03/25/2023, blogLink=null, authorName=SheSpeaksTeam, authorLognId=SheSpeaksTeam, authorAcctId=67580, vosTypeid=3, searchTestId=0, searchStatusId=0, searchAuthorType=0, authorBlogNumber=0, surveyData1=null, surveyData1Desc=null, surveyData2=null, surveyData2Desc=null, pullQuoteMemberId=null, filePath=null, fileName=null, vosType=0, subhead=null, offerSubhead=null, description=null, creationTime=null, authorFname=SheSpeaks, verticalCategoryId=null, sectionId=0, imageFileVO=FilesVO [fileId=39966, filePath=null, fileName=null, fileLength=0, fileWidth=0, createdBy=0, createByUser=null, creationTime=null, lastModifiedBy=0, lastModifiedByUser=null, lastModifiedTime=null, mimeType=null, fileRef=null, fileSize=0, extension=null, title=null, body=null, completeFilePath=/pages/img/redesign/blogs/CURL_hero_image_03012021131814.jpg, height=385, width=685, maxHeight=480, maxWidth=360, displayWidth=360, displayHeight=202, fileStatusId=0, searchKeyword=null, searchFlag=false, queryId=0, isExists=true], seoURL=Mahisha-Dellinger-CURLS-natural-hair-care-pioneer-OWN-star, seoTitle=null, pullQuotesList=null, pullQuote=null, pullQuoteId=0, searchFlag=false, authorByLine=null, authorDesc=null, authorLink=null, authorFileVO=FilesVO [fileId=42371, filePath=null, fileName=null, fileLength=0, fileWidth=0, createdBy=0, createByUser=null, creationTime=null, lastModifiedBy=0, lastModifiedByUser=null, lastModifiedTime=null, mimeType=null, fileRef=null, fileSize=0, extension=null, title=null, body=null, completeFilePath=/pages/img/membersnaps/SheSpeaks_Logo_Symbol_Only_10182021080530.jpg, height=1777, width=1777, maxHeight=50, maxWidth=50, displayWidth=50, displayHeight=50, fileStatusId=0, searchKeyword=null, searchFlag=false, queryId=0, isExists=true], authorFileId=42371, authorType=0, storyImgFileVO=null, storyImgFileId=0, videoHtml=, authorImageFileId=0, authorImageFileVO=null, previousCategoryId=null, previousBlogStatusId=0, fromBlogDetails=0, blogCategoryName=Entertainment, blogCategoryUrl=null, blogCategoryDesc=null, defaultImage=false, tags=null, optionIds=null, tagOptionId=null, tagId=null, tag=null, tagID=0, tagDetails=null, tagIds=null, testId=0, extBlogURL=null, extBlogStatus=0, bloggerSince=null, extBlogLimit=0, authorTestsList=[], blogURL=, blogName=, bloggerProfileId=0, sliderBlog=false, eventonHome=false, vosonHome=false, partyAndGiveawayDate=02/21/2021, imageCredit=instagram.com/mahisha_dellinger, pullQuoteMemId=null, offerSubHead=null, subHead=null, displayOrder=0,includeInGoogleSearch=false]
Feb 09, 2021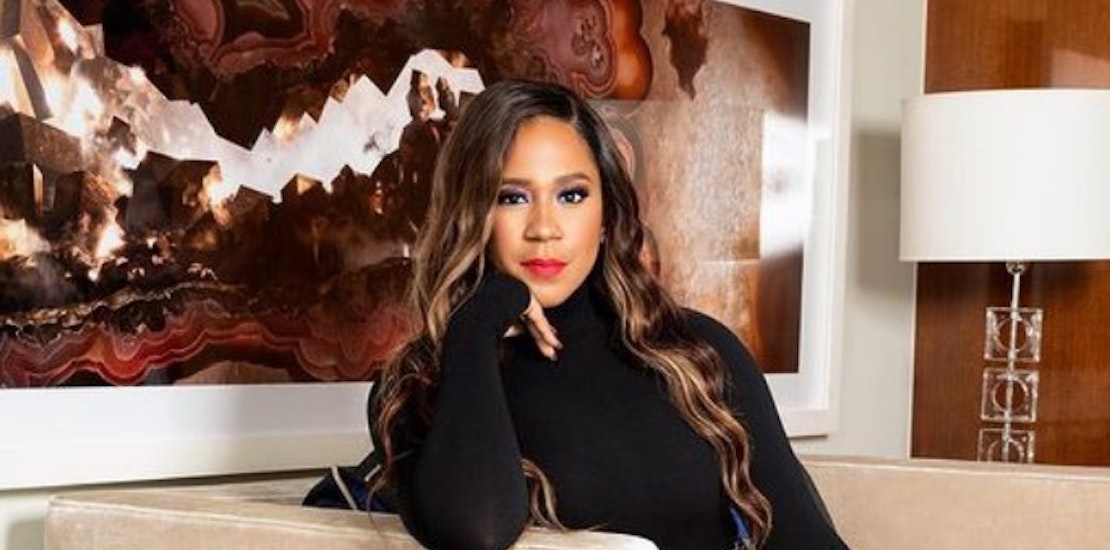 instagram.com/mahisha_dellinger
In our newest podcast episode, we sat down with Mahisha Dellinger, the Founder & CEO of CURLS and star of OWN: The Oprah Winfrey Network's Mind Your Business, to talk about her inspiring success as a pioneer in natural hair care and how she's giving back. Mahisha's line of natural hair care products, CURLS are hugely successful & sold at retailers nationwide. Now, her brand new line, BEAU-TI-CEU-TI-CALS, simplifies beauty with products that benefit both skin AND hair.
Read on to see how to win 1 of 2 beauty prize packages - CURLS Prize Package ($54 Value) and BEAU-TI-CEU-TI-CALS Prize Package ($111 Value).
You can learn more about Mahisha and her inspiring success story by listening to the podcast
HERE:
Episode Highlights
[7:40]
Learn how it took 1 YES out of 1000 NOs to get an opportunity and how she finally got her chance to change the natural hair care industry.
[9:36]
Hear what Mahisha says it takes to be successful when you don't have a fancy degree or connections.
[12:30]
Get inspired by Mahisha's mission to help other women of color succeed as entrepreneurs.
Subscribe to the
SheSpeaks How She Does It Podcast
wherever you listen & if you liked this episode,
leave a review.
We'd love to hear what you think!
We're giving away prize packages to TWO Winners - one from each of Mashisha's product lines.
Prize Package 1
: Variety of products from the CURLS natural hair care line
($54 Value)
&
Prize Package 2
: BEAU-TI-CEU-TI-CALS line of
products
($111 Value).
Mahisha Hellinger Podcast Giveaway