Low Carb Ham and Brie Frittata
submitted by RobynThompson {1 Recipe}
Prep Time:
10 Mins
Cook Time:
15 Mins
Total Prep + Cook Time:
25 Mins
Level:
Easy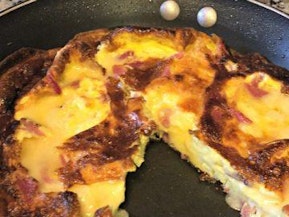 Photo Source: The Neighborhood Moms
Makes: 6 Slices
Description: I have joined the low carb world! I am not ready yet to say "keto" so I am just gonna say low carb. This morning I was trying to come up with a breakfast that everyone would eat and while rummaging in the refrigerator I spotted some brie. This meant I NEEDED to make something with brie. Since Easter was just last weekend we still have ham coming out of our ears so my Low Carb Ham and Brie Frittata was born! It turned out so yummy and was easy to make.
Ingredients:
4 slices ham
8 large eggs
1/2 cup whipping cream
2 cloves garlic, minced
1/2 lb sliced brie
1/2 tsp salt
1/2 tsp pepper

Instructions: Chop ham to your liking. I use my handy dandy scissors for this.
In a 10 inch saute pan, cook chopped ham over medium heat until warm and greasy. Remove from skillet but leave the lovely grease in the skillet.
In a large bowl, whisk eggs with cream, garlic, salt and pepper and most of your ham. Set skillet over medium low heat. Spray sides with a little oil to prevent sticking.
Pour egg mixture into skillet and cook until edges are set up but center is still loose, about 10 minutes.
Preheat broiler to high. Lay slices of brie on top of egg mixture. Sprinkle with remaining ham. Place in oven on rack on second setting. Broil until puffed and golden brown, about 5 minutes. Make sure to watch carefully so it is cooked through but doesn't burn!
Remove from oven and cool a few minutes before serving.
Other recipes in breakfast & brunch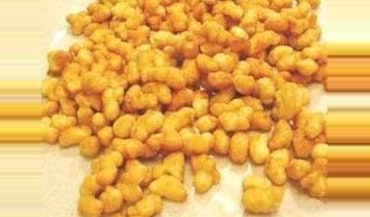 By
MissySuntide
Dec 22, 2011
Vintage, retro---reminds us all of Grandma's: it's caramel puffcorn! It's also kernel-free; no junk left in your teeth. Seriously: this is what we are …
Read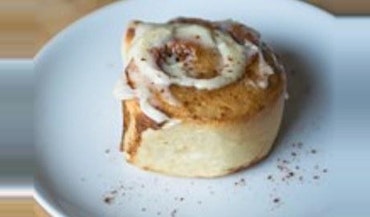 By
GrannyMare
Oct 28, 2016
These Cinnamon Rolls are so easy to make. Requires no yeast but still get to be good size. Perfect for weekend breakfast or anytime.
Read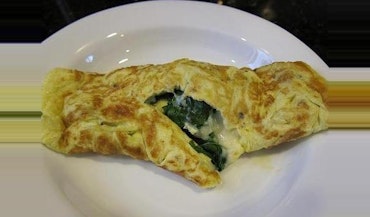 By
rejw2004
Dec 28, 2011
Dish up a little Mediterranean flavor at your next brunch with this Spinach, Feta, and Tomato Omelet.
Read