Live Tweet the 2015 Emmy Awards with Prizes

by
SheSpeaksTeam
is this the date @ED : BlogVO [categoryId=70162, blogId=144432, blogTitle=Live Tweet the 2015 Emmy Awards with Prizes, publishingDate=September 02, 2015 12:00 AM, maxResponses=null, noOfComments=null, fileId=24164, blogClosingDate=null, blogCommentClosed=null, blogCategoryId=70162, queryId=0, blogCategoryIdIndex=0, sharedCategoriesList=null, blogStatusId=34, commentsClosedFlag=false, categoryIdForLog=0, blogModuleCategoryId=0, blogFileVo=null, latestCommentsList=null, verticalCatSeoURL=null, currentDate=11/29/2021, blogLink=null, authorName=SheSpeaksTeam, authorLognId=SheSpeaksTeam, authorAcctId=67580, vosTypeid=3, searchTestId=0, searchStatusId=0, searchAuthorType=0, authorBlogNumber=0, surveyData1=null, surveyData1Desc=null, surveyData2=null, surveyData2Desc=null, pullQuoteMemberId=null, filePath=null, fileName=null, vosType=0, subhead=null, offerSubhead=null, description=null, creationTime=null, authorFname=SheSpeaks, verticalCategoryId=null, sectionId=0, imageFileVO=FilesVO [fileId=24164, filePath=null, fileName=null, fileLength=0, fileWidth=0, createdBy=0, createByUser=null, creationTime=null, lastModifiedBy=0, lastModifiedByUser=null, lastModifiedTime=null, mimeType=null, fileRef=null, fileSize=0, extension=null, title=null, body=null, completeFilePath=/pages/img/redesign/blogs/Emmys2015(1)_09022015095924.jpg, height=281, width=500, maxHeight=480, maxWidth=360, displayWidth=360, displayHeight=202, fileStatusId=0, searchKeyword=null, searchFlag=false, queryId=0, isExists=true], seoURL=Live-Tweet-the-2015-Emmy-Awards-with-Prizes, seoTitle=null, pullQuotesList=null, pullQuote=null, pullQuoteId=0, searchFlag=false, authorByLine=SheSpeaksTeam, authorDesc=Powered by women who love to share what's HOT in reviews, deals & recipes., authorLink=null, authorFileVO=FilesVO [fileId=42371, filePath=null, fileName=null, fileLength=0, fileWidth=0, createdBy=0, createByUser=null, creationTime=null, lastModifiedBy=0, lastModifiedByUser=null, lastModifiedTime=null, mimeType=null, fileRef=null, fileSize=0, extension=null, title=null, body=null, completeFilePath=/pages/img/membersnaps/SheSpeaks_Logo_Symbol_Only_10182021080530.jpg, height=1777, width=1777, maxHeight=50, maxWidth=50, displayWidth=50, displayHeight=50, fileStatusId=0, searchKeyword=null, searchFlag=false, queryId=0, isExists=true], authorFileId=42371, authorType=0, storyImgFileVO=null, storyImgFileId=0, videoHtml=, authorImageFileId=0, authorImageFileVO=null, previousCategoryId=null, previousBlogStatusId=0, fromBlogDetails=0, blogCategoryName=Entertainment, blogCategoryUrl=null, blogCategoryDesc=null, defaultImage=false, tags=null, optionIds=null, tagOptionId=null, tagId=null, tag=null, tagID=0, tagDetails=null, tagIds=null, testId=0, extBlogURL=null, extBlogStatus=0, bloggerSince=null, extBlogLimit=0, authorTestsList=[], blogURL=, blogName=, bloggerProfileId=0, sliderBlog=false, eventonHome=false, vosonHome=false, partyAndGiveawayDate=09/21/2015, imageCredit=null, pullQuoteMemId=null, offerSubHead=null, subHead=null, displayOrder=0]
Sep 02, 2015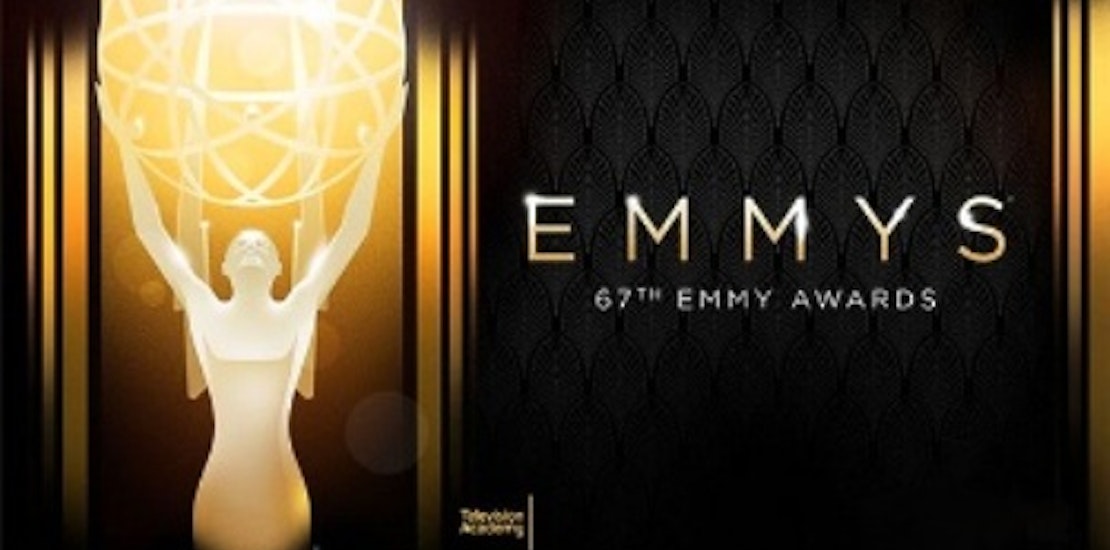 Are you obsessed with television? Do you stand around the water cooler discussing the latest season finales? Does the action on the red carpet excite you during award shows? If you answered "Yes" to any or all of these questions, there is no doubt you'll be watching the 67th Live Emmy Awards on Sunday night, September 20th LIVE 8pm EST.
There has been a lot of talk about who will win this year. Empire, which had a successful first season, is up for Outstanding Drama Series. Will it win? Tatania Maslany from Orphan Black is up once again for Lead Actress, Drama Series. Will she take home the trophy? Will Transparent, Amazon's breakout show, dethrone Modern Family as Outstanding Comedy Series? Will Mad Men, finished after seven seasons, take home the award for Outstanding Drama Series or will fan fave Game of Thrones sweep it out from under? Will Jon Hamm finally receive an award for Mad Men? Will smart, new, streaming shows like Orange is the New Black and The Unbreakable Kimmy Schmidt come in and surprise everyone by taking home awards?
For more information and updates on the 67th PRIMETIME EMMY® AWARDS, go to TelevisionAcademy.com/Emmys and follow @TelevisionAcad on Twitter, Instagram, Facebook, Tumblr, and Pinterest.
Join us as we live tweet from our Twitter handle @SheSpeaksUp at hash tag #SheSpeaksEmmyBash. We'll be dishing all of the above and more.
We will start chatting at 8pm, and will be giving away prizes (six $25 American Express gift cards) between 9-10pm EST! No RSVP needed to attend.
Click here to Tweet and let us know you're joining us:
Join @SheSpeaksUp for the #SheSpeaksEmmyBash Twitter Chat 9/20 & win prizes! bit.ly/1VwhzU9