How to Listen to Your Body + Mind: New Podcast & Giveaway

by
SheSpeaksTeam
is this the date @ED : BlogVO [categoryId=70165, blogId=145937, blogTitle=How to Listen to Your Body + Mind: New Podcast & Giveaway , publishingDate=November 04, 2021 12:00 AM, maxResponses=null, noOfComments=null, fileId=42496, blogClosingDate=null, blogCommentClosed=null, blogCategoryId=70165, queryId=0, blogCategoryIdIndex=0, sharedCategoriesList=null, blogStatusId=34, commentsClosedFlag=false, categoryIdForLog=0, blogModuleCategoryId=0, blogFileVo=null, latestCommentsList=null, verticalCatSeoURL=null, currentDate=09/26/2023, blogLink=null, authorName=SheSpeaksTeam, authorLognId=SheSpeaksTeam, authorAcctId=67580, vosTypeid=3, searchTestId=0, searchStatusId=0, searchAuthorType=0, authorBlogNumber=0, surveyData1=null, surveyData1Desc=null, surveyData2=null, surveyData2Desc=null, pullQuoteMemberId=null, filePath=null, fileName=null, vosType=0, subhead=null, offerSubhead=null, description=null, creationTime=null, authorFname=SheSpeaks, verticalCategoryId=null, sectionId=0, imageFileVO=FilesVO [fileId=42496, filePath=null, fileName=null, fileLength=0, fileWidth=0, createdBy=0, createByUser=null, creationTime=null, lastModifiedBy=0, lastModifiedByUser=null, lastModifiedTime=null, mimeType=null, fileRef=null, fileSize=0, extension=null, title=null, body=null, completeFilePath=/pages/img/redesign/blogs/Add a heading_11042021153240.jpg, height=540, width=1110, maxHeight=480, maxWidth=360, displayWidth=360, displayHeight=175, fileStatusId=0, searchKeyword=null, searchFlag=false, queryId=0, isExists=true], seoURL=Listen-to-Your-Body-Mind-Alyssa-Rosenheck, seoTitle=null, pullQuotesList=null, pullQuote=I use fear as a tool for myself. And so if it scares me, I know I need to do it. , pullQuoteId=1392, searchFlag=false, authorByLine=null, authorDesc=null, authorLink=null, authorFileVO=FilesVO [fileId=42371, filePath=null, fileName=null, fileLength=0, fileWidth=0, createdBy=0, createByUser=null, creationTime=null, lastModifiedBy=0, lastModifiedByUser=null, lastModifiedTime=null, mimeType=null, fileRef=null, fileSize=0, extension=null, title=null, body=null, completeFilePath=/pages/img/membersnaps/SheSpeaks_Logo_Symbol_Only_10182021080530.jpg, height=1777, width=1777, maxHeight=50, maxWidth=50, displayWidth=50, displayHeight=50, fileStatusId=0, searchKeyword=null, searchFlag=false, queryId=0, isExists=true], authorFileId=42371, authorType=0, storyImgFileVO=null, storyImgFileId=0, videoHtml=, authorImageFileId=0, authorImageFileVO=null, previousCategoryId=null, previousBlogStatusId=0, fromBlogDetails=0, blogCategoryName=Living, blogCategoryUrl=null, blogCategoryDesc=null, defaultImage=false, tags=null, optionIds=null, tagOptionId=null, tagId=null, tag=null, tagID=0, tagDetails=null, tagIds=null, testId=0, extBlogURL=null, extBlogStatus=0, bloggerSince=null, extBlogLimit=0, authorTestsList=[], blogURL=, blogName=, bloggerProfileId=0, sliderBlog=false, eventonHome=false, vosonHome=false, partyAndGiveawayDate=11/20/2021, imageCredit=null, pullQuoteMemId=Alyssa Rosenheck, offerSubHead=, subHead=, displayOrder=0,includeInGoogleSearch=false]
Nov 04, 2021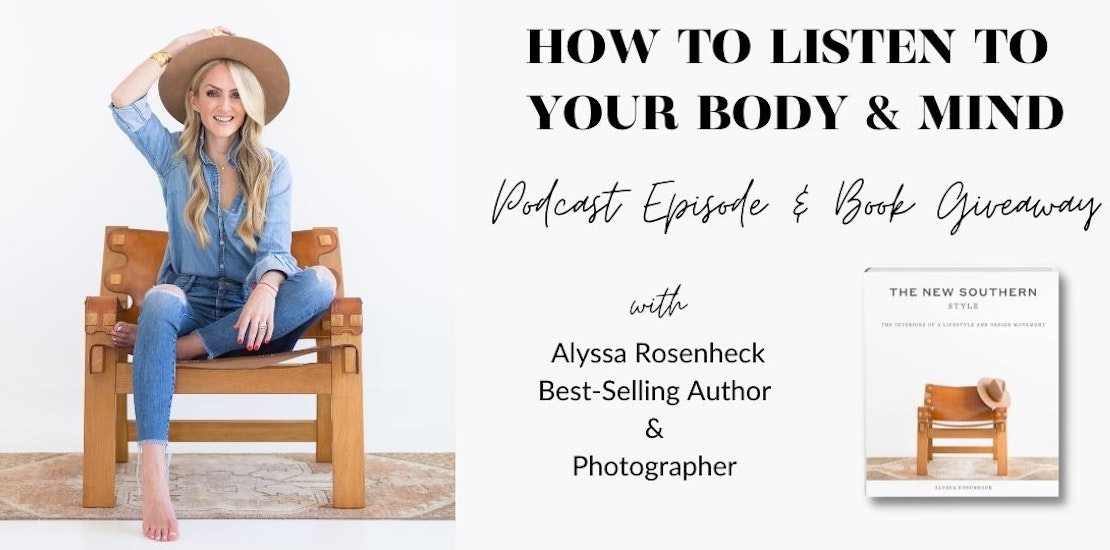 In our most recent podcast episode, renowned photographer, stylist, and best-selling author, Alyssa Rosenheck, shares how embracing stillness and listening to your body can change the trajectory of your life. Listen in to hear about her journey from the corporate world to a career that tapped into her creative side, and how a cancer diagnosis at the age of 32 was the catalyst for where she is today.

Keep reading to see how you can WIN a signed copy of Alyssa's book, The New Southern Style.

Episode Highlights
[3:27] Hear how a cancer diagnosis brought Alyssa to the practice of stillness.
[6:03] Alyssa explains how to listen & make sense of the messages our body, mind and the world give us.
[9:00] Hear how you can use your shadows to make positive changes in your life.
[13:27] Why having fear is an important part of the process of achieving your goals.
"I use fear as a tool for myself. And so if it scares me, I know I need to do it. "
More about the book:
Alyssa is helping individuals tap into their creative courage and community with her book,
The New Southern Style
.
Readers get a glimpse into conversations and home tours of more than 30 creative entrepreneurs. Alyssa's mission with this project is to support the reader through life pivots, inspire creative courage, and encourage us all to be our own agents of change.
To celebrate this episode we are giving away a signed copy of the book. For a chance to win, enter in the widget below!

Podcast Giveaway: Alyssa Rosenheck Book - The New Southern Style
One participant will be chosen at random to win a signed copy of The New Southern Style by Alyssa Rosenheck. This giveaway is open through November 19, 2021 to U.S. residents at least 18 years of age. Entrants must be a member of SheSpeaks. If you are not a member, click here to join. Winner will be notified by email