Life is Just a Bowl of Cherries - Even Better Without The Pits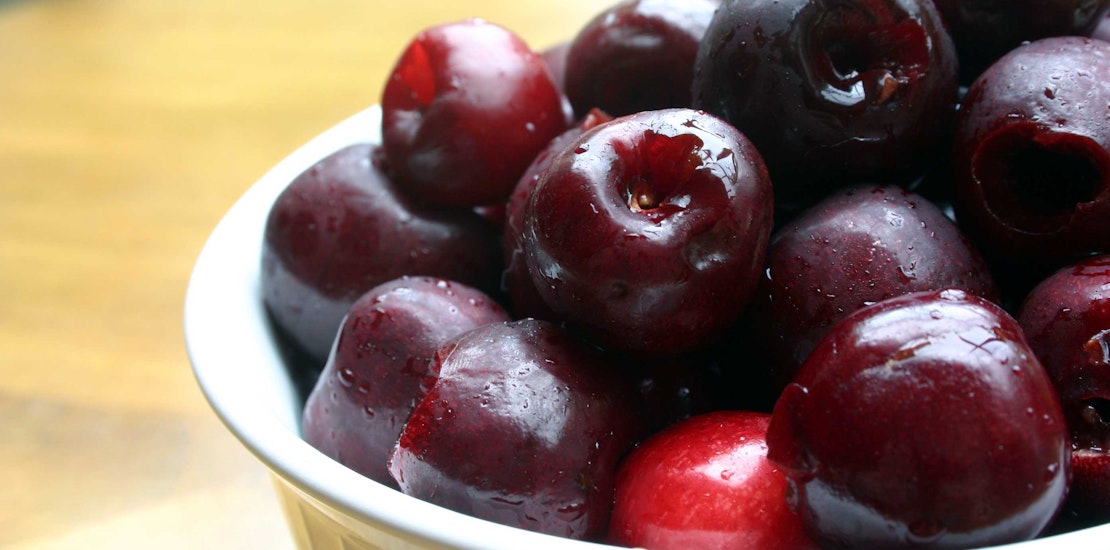 A few weeks ago I was preparing to teach a class that included a fruit dessert. I selected cherries because they are in season and one of my favorite fruits. The problem was that I had 5 pounds of cherries to pit. I am not a gadget junkie so I didn't have a cherry pitter but I really thought I'd be fine with a paring knife. However, after three hours of slicing, picking, scratching, and popping cherry pits out by hand, I succumbed to the notion that there might be (must be) a better way.
I've heard many people malign cherry and olive pitters for not working so I was wary about spending the money on a subpar tool. However, I remembered seeing a news profile a few months ago about the man to founded OXO tools. I was impressed with the ingenuity that goes into OXO product development. I own a number of OXO tools like peelers, salad spinners, measuring cups, etc. I love the "good grips" handles and the ergonomic nature of the designs. I assumed that OXO made a cherry pitter and expected that it would be a good one.
I wasn't let down! I purchased an OXO Cherry/Olive Pitter and, boy, is it slick! (I don't know whether people use the word slick, but I do!) I used it to power through 2 pounds of cherries yesterday in about 10 minutes. Miraculous! Okay, maybe not a miracle but really super cool. You simply place a cherry (or olive) stem side up in holder and squeeze. Out pops the pit and a small plug of fruit about the size of a small pencil eraser. The design includes a splatter shield so you don't get juice all over. It's comfortable to hold, easy to use and works - really works - the way it should.
So I recommend picking up an OXO Cherry/Olive Pitter and making dessert. One of my favorites is Cherries Jubilee. I don't care how grown up and jaded you are, a dessert that lights on fire still gets "oos" and "aahs" at my house!

Cherries Jubilee
Serves 4
Ingredients
1 lb pitted sweet cherries
¼ cup sugar (optional)
5 oz brandy
3 oz triple sec or cointreau
3 oz kirsch (cherry brandy)
Vanilla Ice Cream
Directions
In a medium size mixing bowl combine the cherries, sugar, 3 oz of brandy, the triple sec and kirsch. Allow to soak a couple hours. Then pour the mixture into a large sauté pan and bring to a boil over medium high heat. Reduce heat and simmer until the sauce becomes somewhat syrupy, about 5 to 10 minutes.
In the meantime, scoop out 4 bowls of vanilla ice cream.
Remove the pan of the heat and add the last 2 oz of brandy. Return the pan to the stove, warm the mixture for a minute or so and then light the sauce on fire with a long kitchen match or stick lighter. (Be careful as you light the cherries, the flame can surprise you but I promise it will burn away quickly. If you are nervous, you can remove the pan from the heat for an extra step in safety as you light the cherries.)
If you like a little drama, you can ladle the cherries over the ice cream while they are still flaming. This is especially impressive in a darkened room. However, you can simply wait for the flames to subside before pouring the cherry sauce over the ice cream. Incidentally all of the alcohol evaporates and/or is burned off while cooking so it's suitable for all ages. Not to mention that it's cherry-liscous!!!

What's your favorite cherry dessert? Do you own any OXO tools or products?