Liam Neeson's Shocking Pink Fundraiser for Breast Cancer Awareness

By
SheSpeaksTeam
Oct 25, 2012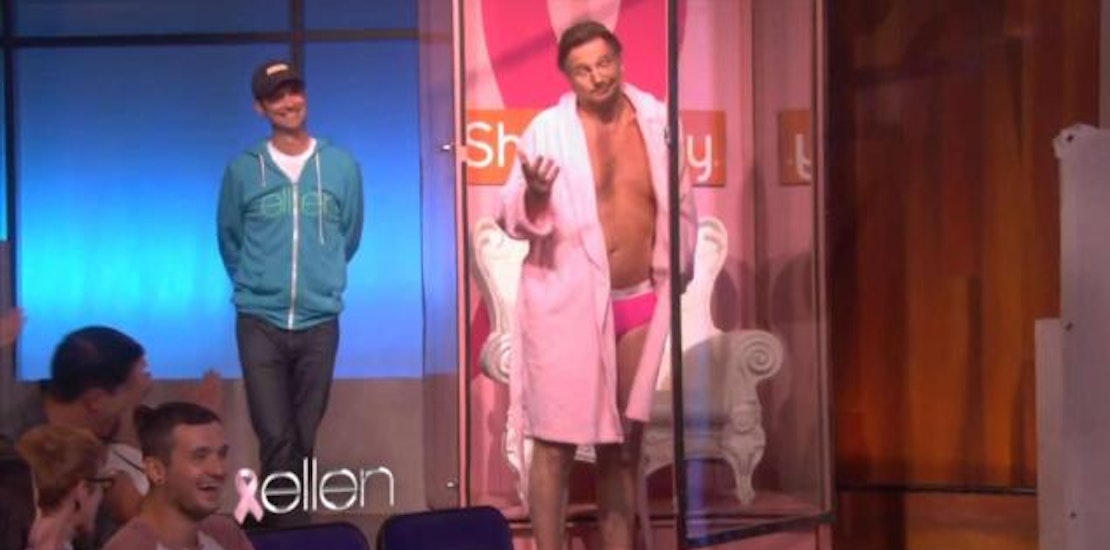 Liam Neeson's recent attempt to raise money and awareness during Breast Cancer Awareness Month probably left a lot of viewers a little flushed and giddy. The action star made an appearance on The Ellen DeGeneres Show where he revealed a lot more than most would expect without actually saying much.
The Los Angeles Times reports about the TV appearance and his fundraising technique that had everyone glued to the screen. First, Neeson enters the stage wearing a pink robe to the tune of "Give It to Me Baby". DeGeneres then reveals that he will be submerging himself in the dunk tank to earn $10,000 for the cause. Then Neeson asks if he can earn double that if he were to reveal what is under his robe and of course DeGeneres says, "I'll make that happen. If you take it off and you go sit in that ..."
Neeson then sits inside a dunk tank in nothing more than a pair of shocking pink skivvies. As DeGeneres throws balls at a target, Neeson waits patiently inside the tank until he is drenched with water all in the name of breast cancer awareness.
British actress/model Elizabeth Hurley is also going pink in a big way this month. The San Francisco Chronicle reports about how the actress (partnered with Estee Lauder) flipped the switch to illuminate New York's Empire State Building in a bright pink color for Breast Cancer Awareness Month.
What did you think of Liam Neeson's humorous fundraising attempt and other celebs who are making waves this month to raise awareness about breast cancer?
What will you be doing this month to raise breast cancer awareness?