Left-Over Casserole
submitted by SpiritPixie {4 Recipes}
Prep Time:
1 Hr
Cook Time:
1 Hr
Total Prep + Cook Time:
2 Hrs
Level:
Medium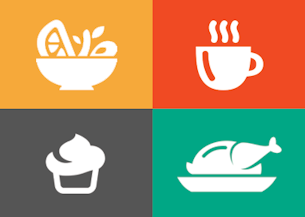 Makes: 9 servings
Description: Best made after having Brenner
Ingredients:
12 Extra Large eggs
1 1/4 cup 2% milk
1 1/2 - 3 cups shredded sharp cheddar cheese (depending how cheesy you want it)
15 slices deli cut ham (I used Kirkland brand)

Instructions: Preheat oven to 350F

First, take a paper towel and smear butter all over the inside of your dish. This should be a decent coating, not just a thin coat you'll want the butter to not only help the tots and egg from sticking but also to melt and add flavor and "fluff."

Line up your tots ... cover as much as you can of the bottom of the pan with a single layer.

Then take 1 cup of your milk and pour it in a medium to a large bowl, set the other 1/4 aside for later. Sprinkle no more than a 1/2 tsp of Cream of Tartar into the milk along with your other seasonings to taste - typically I make a light sprinkling that covers the top of whatever I'm cooking and that always seems to be about right. (If you plan to use fresh cut veggies - though it defeats the "leftover" ease - add them to the milk now.)

Take 10 of the eggs - set the other two aside for later - crack and check eggs individually before adding them to your milk bowl (nothing worse than adding the 10th egg to find red veins or worse in the yolk - this is a regular process for me whenever I use eggs though I know a lot of people don't). Once done, whisk gently until thoroughly beaten. Then pour the mix over your tater-tots, make sure they all get covered. Your mix should be about level with the top of the tots.

Sprinkle half your cheese over the top of that.

Take your 15 slices of deli ham stack in groups of 5 and slice them up. I made about 5 cuts in either direction than piled it up and sliced in a few more directions to get some uneven bits. "Sprinkle" the bits and slices as evenly as you can over the top of the casserole. Sprinkle the remainder of your cheese over this.
Now, take your remaining milk and eggs and combine them and season to taste. You can add a generous dash of Cream of tartar to this as well. Whisk to the same consistency or better of the large bowl, and drizzle over the top of the ham and cheese.

Place in oven. Check after 35 minutes. 45 is what most recipes call for but I ended up at 1 hour. (At 45 minutes I began setting the timer for intervals of 5 minutes) You want the top brown and no runny egg! The ham will leave things a bit juicy but you should be able to tell the difference.

Cut and serve. TADA!!!
Other recipes in breakfast & brunch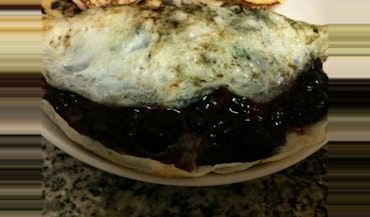 By
csherman
Oct 10, 2011
Like crepes filled with fruit? Why not try filling an egg white omelette with fruit? Similar satisfaction with 1/10th the calories!
Read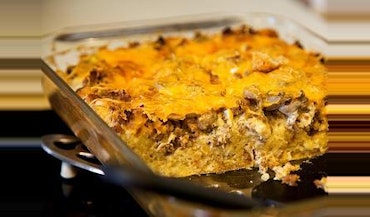 By
bluegemini10
Dec 27, 2011
All the flavors of cobb salad--for breakfast! It's filling yet refreshing. This breakfast casserole is delicious!! The whole family will enjoy.
Read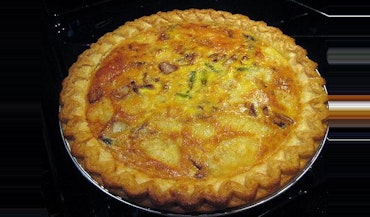 By
marier2003
Dec 27, 2011
This quiche is so easy to make that you'll be wanting to whip it up for more than special occasions!
Read