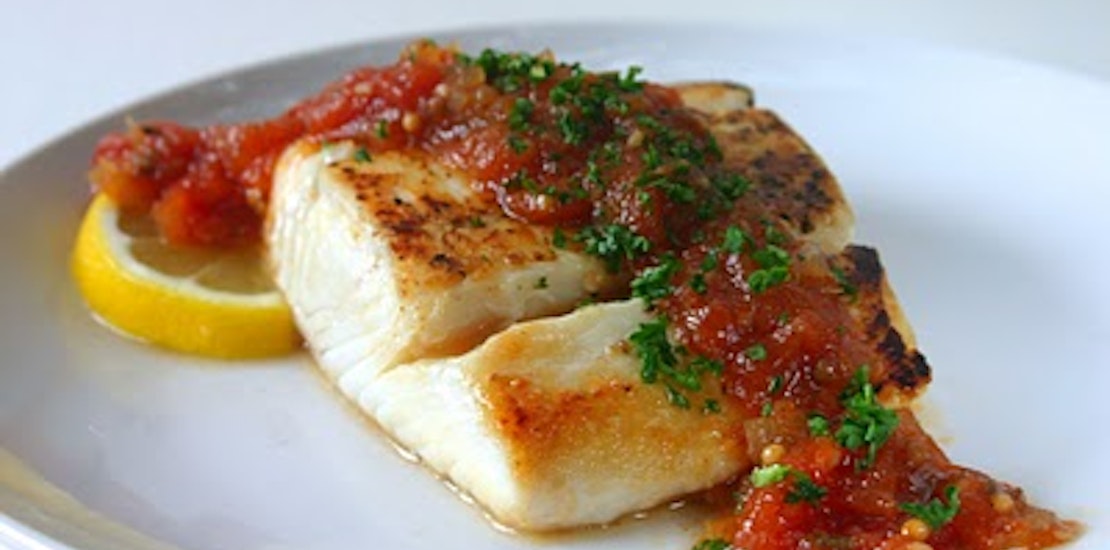 Alaskan Halibut season officially opened on March 12! So what, you think. Well, Halibut is kind of a big deal up here in the Pacific Northwest and people really look forward to the wild Halibut season. Until I moved to Seattle, I didn't know much about it but now I'm one of the people who get excited come mid-March too.
If you aren't familiar with Halibut, it is a delicately sweet, mild flavored, firm white fish in the same family as flounder but a whole lot bigger. Interestingly the name Halibut comes from haly (for holy) and butt (for flatfish). The holy part comes from its popularity on Catholic holy days.
Halibut is sold in fillets and steaks. It's perfect for grilling, roasting, frying and sautéing so it's really versatile. Even if you don't consider yourself a fish fan, I think you should give Halibut a try if you see it at your local grocer or fish monger. If you're landlocked, don't despair. Halibut does freeze well though so don't hesitate to purchase frozen halibut if you see it.
One caveat to purchasing Halibut ? although wild Halibut can be found in both the Atlantic and Pacific oceans, it's been severely over-fished in the Atlantic. The Monterey Bay Aquariums Seafood Watch has placed Atlantic Halibut on the endangered list, so if you see Atlantic Halibut on a label don't buy it. If you've never heard of Seafood Watch, you should check out their website. It will help you to make conscientious decisions about your fish purchases no matter where you live.
I love the clean, meaty flavor of Halibut and one of my favorite ways to enjoy it is with a touch of Spicy Tomato Chutney. Good Tomato Chutney can be difficult to find on the shelves of your local market. Fortunately, it's easy to make and can be stored in your refrigerator for up to two weeks. It's also really tasty on eggs, with curries, on roasted chicken or lamb and with panisse (chickpea fries) or polenta cakes.
Pan-Seared Halibut with Spicy Tomato Chutney
Ingredients:
4 tbsp of sunflower oil
1/2 cup finely chopped onion
1 tsp mustard seeds
1 tsp fennel seeds
1 tsp cumin seeds
2 dried red chilies, whole
1/2 tsp chili powder
1/2 tsp ground coriander
1/2 cup sugar
1/2 cup white distilled vinegar
2 lbs Roma tomatoes
1/4 tsp ground cinnamon
3 whole cloves
pinch of nutmeg
1 tsp grated ginger
1 tbsp minced garlic
salt and freshly ground pepper to taste
4 6 to 8 ounces halibut fillets
1 tbsp sunflower oil

Method:
Core and seed the tomatoes.

Heat the oil in a large sauce pan over medium heat. Add chopped onion and sauté until translucent, about 10 minutes. Next, add all of the seeds, the chilies, chili powder and coriander to the oil. Cook one or two minutes until the seeds start to pop.

Add the vinegar and sugar, stirring until dissolved. Stir in the tomatoes, the remaining spices, ginger and garlic, reduce heat and simmer for an hour.

After an hour, the tomato skins should be separating from the tomatoes and floating freely in the chutney. Use a pair of tongs to pull out the skins. Continue cooking until it is thick and syrupy but still chunky, approximately 1/2 hour. Remove the 2 whole chilies and discard. Salt to taste.

Sprinkle salt and pepper all over the fish. In a large skillet, heat the remaining 1 tablespoon of oil until shimmering. Add the halibut and cook over moderately high heat until browned on the bottom, about 5 minutes. Flip the fillets and cook about 2 minutes longer. Transfer the halibut to plates, spoon the tomato chutney on top and serve.

Note: The chutney can be made several days ahead of time and warmed just before service. Leftover chutney can be refrigerated for up to 2 weeks.
How do you normally serve Halibut? What's your favorite recipe?