Join Us For The #HowtoWalkAway Twitter Party w/ @SheSpeaksUp & @StMartinsPress 5/16 at 1pm ET

by
SheSpeaksTeam
is this the date @ED : BlogVO [categoryId=70162, blogId=145356, blogTitle=Join Us For The #HowtoWalkAway Twitter Party w/ @SheSpeaksUp & @StMartinsPress 5/16 at 1pm ET, publishingDate=May 02, 2018 12:00 AM, maxResponses=null, noOfComments=null, fileId=31115, blogClosingDate=null, blogCommentClosed=null, blogCategoryId=70162, queryId=0, blogCategoryIdIndex=0, sharedCategoriesList=null, blogStatusId=34, commentsClosedFlag=false, categoryIdForLog=0, blogModuleCategoryId=0, blogFileVo=null, latestCommentsList=null, verticalCatSeoURL=null, currentDate=12/02/2023, blogLink=null, authorName=SheSpeaksTeam, authorLognId=SheSpeaksTeam, authorAcctId=67580, vosTypeid=3, searchTestId=0, searchStatusId=0, searchAuthorType=0, authorBlogNumber=0, surveyData1=null, surveyData1Desc=null, surveyData2=null, surveyData2Desc=null, pullQuoteMemberId=null, filePath=null, fileName=null, vosType=0, subhead=null, offerSubhead=null, description=null, creationTime=null, authorFname=SheSpeaks, verticalCategoryId=null, sectionId=0, imageFileVO=FilesVO [fileId=31115, filePath=null, fileName=null, fileLength=0, fileWidth=0, createdBy=0, createByUser=null, creationTime=null, lastModifiedBy=0, lastModifiedByUser=null, lastModifiedTime=null, mimeType=null, fileRef=null, fileSize=0, extension=null, title=null, body=null, completeFilePath=/pages/img/redesign/blogs/HTWA TP option 2_05012018153400.jpg, height=350, width=350, maxHeight=480, maxWidth=360, displayWidth=350, displayHeight=350, fileStatusId=0, searchKeyword=null, searchFlag=false, queryId=0, isExists=true], seoURL=Join-Us-For-The-HowtoWalkAway-Twitter-Party-w-SheSpeaksUp-StMartinsPress-5-16-at-1-00-p-m-ET, seoTitle=null, pullQuotesList=null, pullQuote=null, pullQuoteId=0, searchFlag=false, authorByLine=null, authorDesc=null, authorLink=null, authorFileVO=FilesVO [fileId=42371, filePath=null, fileName=null, fileLength=0, fileWidth=0, createdBy=0, createByUser=null, creationTime=null, lastModifiedBy=0, lastModifiedByUser=null, lastModifiedTime=null, mimeType=null, fileRef=null, fileSize=0, extension=null, title=null, body=null, completeFilePath=/pages/img/membersnaps/SheSpeaks_Logo_Symbol_Only_10182021080530.jpg, height=1777, width=1777, maxHeight=50, maxWidth=50, displayWidth=50, displayHeight=50, fileStatusId=0, searchKeyword=null, searchFlag=false, queryId=0, isExists=true], authorFileId=42371, authorType=0, storyImgFileVO=null, storyImgFileId=0, videoHtml=, authorImageFileId=0, authorImageFileVO=null, previousCategoryId=null, previousBlogStatusId=0, fromBlogDetails=0, blogCategoryName=Entertainment, blogCategoryUrl=null, blogCategoryDesc=null, defaultImage=false, tags=null, optionIds=null, tagOptionId=null, tagId=null, tag=null, tagID=0, tagDetails=null, tagIds=null, testId=0, extBlogURL=null, extBlogStatus=0, bloggerSince=null, extBlogLimit=0, authorTestsList=[], blogURL=, blogName=, bloggerProfileId=0, sliderBlog=false, eventonHome=false, vosonHome=false, partyAndGiveawayDate=05/17/2018, imageCredit=null, pullQuoteMemId=null, offerSubHead=null, subHead=null, displayOrder=0,includeInGoogleSearch=false]
May 02, 2018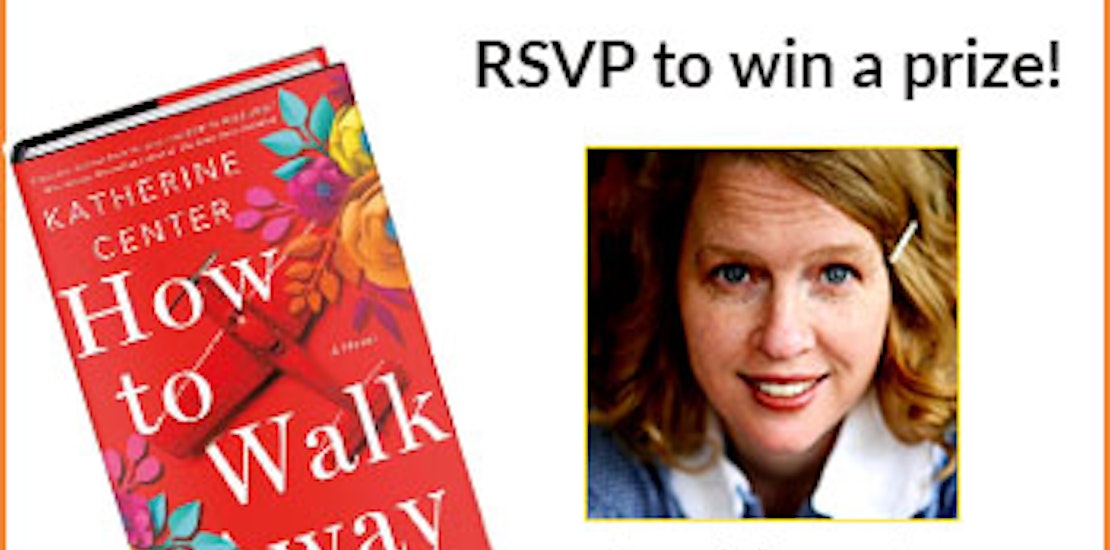 Calling all book lovers! One of summer's most anticipated novels, How to Walk Away by Katherine Center, is landing on shelves on May 15 and we're having a Twitter party to celebrate! How to Walk Away will have you laughing, crying, and falling in love!
New York Times best-selling authors are raving about How to Walk Away, this is an event you don't want to miss!
Join us on Wednesday, May 16 at 1:00 p.m. ET for the #HowtoWalkAway Twitter Party.
RSVP to be eligible for the door prize by commenting on this post with your Twitter handle (e.g., @SheSpeaksUp.)
Twitter Party Details
When: May 16 at 1:00 p.m. ET
Where: Twitter – follow hashtag #HowtoWalkAway
Brand: @StMartinsPress
Special Guest: @KatherineCenter
Panelists: @moneysvgparent, @jonbonjovious, @censiej
Twitter Party Topic
We'll Tweet about the new book How to Walk Away (no spoilers!) and we'll chat about all things related to reading. You'll even get the opportunity to Tweet with the author herself and ask her a question. Want to start now? You can read the first chapter of the book here in anticipation of the party!
Here's what others are saying:
"Warm, witty and wonderfully observed. Reads like an intimate conversation with your best friend" - Emily Giffin, author of First Comes Love.
"Wow, what a great book! I didn't want to put it down even though I knew I should be doing other things. It was a very inspiring book. I felt like I was in the room with Margaret the whole time. "When you don't know what to do for yourself, do something for someone else." A great quote to live by!" - Martha, SheSpeaks member.
"Received the book in the mail on Monday... and finished it at 1 in the morning on Tuesday. I'm not sure if the message of the book, about things changing in the blink of an eye, powered me through the book.... or, the fun banter the author infuses into each chapter." - Staci, SheSpeaks member.
"Did I mess up and read the entire book in one sitting instead of sleeping? Yes. This was absolutely amazing and I just couldn't put it down. Love it!!" - Ray, SheSpeaks member.
Twitter Party Prizes*
We're giving away copies of How To Walk Away, gift cards and more! Plus you could win the door prize - a book lovers goodie basket - Includes "Just One More Chapter" cozy reading pillow, literary candles, a pack of "Novel Teas" , and an amazon gift card!
To get started, click here to Tweet:
"Win books, gift cards and more! Join me at the @StMartinsPress #HowtoWalkAway Twitter Party w/ @SheSpeaksUp TODAY at 1pm ET bit.ly/2KrSRoL"
New to Twitter Parties?
No problem. Check out our Twitter Party tips and hints. Then get ready to jump into the conversation!
RSVP for the party by commenting below on this post!
* Participants must be following @SheSpeaksUp on Twitter and participate in the discussion by using hashtag #HowtoWalkAway on May 16 between 1 - 2pm ET to be eligible to win. Open to United States residents at least 18 years of age only. One prize allowed per winner. No purchase necessary. Twitter Party prize winners must complete a form with mailing details within 48 hours of the party. The form will be DMed if you win a prize.