Join Us For The #BehindClosedDoors Twitter Party w/ @SheSpeaksUp & @StMartinsPress Aug 9 at 2pm ET

by
SheSpeaksTeam
is this the date @ED : BlogVO [categoryId=70165, blogId=144802, blogTitle=Join Us For The #BehindClosedDoors Twitter Party w/ @SheSpeaksUp & @StMartinsPress Aug 9 at 2pm ET, publishingDate=July 26, 2016 12:00 AM, maxResponses=null, noOfComments=null, fileId=27995, blogClosingDate=null, blogCommentClosed=null, blogCategoryId=70165, queryId=0, blogCategoryIdIndex=0, sharedCategoriesList=null, blogStatusId=34, commentsClosedFlag=false, categoryIdForLog=0, blogModuleCategoryId=0, blogFileVo=null, latestCommentsList=null, verticalCatSeoURL=null, currentDate=12/05/2022, blogLink=null, authorName=SheSpeaksTeam, authorLognId=SheSpeaksTeam, authorAcctId=67580, vosTypeid=3, searchTestId=0, searchStatusId=0, searchAuthorType=0, authorBlogNumber=0, surveyData1=null, surveyData1Desc=null, surveyData2=null, surveyData2Desc=null, pullQuoteMemberId=null, filePath=null, fileName=null, vosType=0, subhead=null, offerSubhead=null, description=null, creationTime=null, authorFname=SheSpeaks, verticalCategoryId=null, sectionId=0, imageFileVO=FilesVO [fileId=27995, filePath=null, fileName=null, fileLength=0, fileWidth=0, createdBy=0, createByUser=null, creationTime=null, lastModifiedBy=0, lastModifiedByUser=null, lastModifiedTime=null, mimeType=null, fileRef=null, fileSize=0, extension=null, title=null, body=null, completeFilePath=/pages/img/redesign/blogs/BehindClosedDoors Twitter Party_07262016145109.jpg, height=350, width=350, maxHeight=480, maxWidth=360, displayWidth=350, displayHeight=350, fileStatusId=0, searchKeyword=null, searchFlag=false, queryId=0, isExists=true], seoURL=Join-Us-For-The-BehindClosedDoors-Twitter-Party-w-SheSpeaksUp-StMartinsPress-Aug-9-at-2pm-ET, seoTitle=null, pullQuotesList=null, pullQuote=null, pullQuoteId=0, searchFlag=false, authorByLine=null, authorDesc=null, authorLink=null, authorFileVO=FilesVO [fileId=42371, filePath=null, fileName=null, fileLength=0, fileWidth=0, createdBy=0, createByUser=null, creationTime=null, lastModifiedBy=0, lastModifiedByUser=null, lastModifiedTime=null, mimeType=null, fileRef=null, fileSize=0, extension=null, title=null, body=null, completeFilePath=/pages/img/membersnaps/SheSpeaks_Logo_Symbol_Only_10182021080530.jpg, height=1777, width=1777, maxHeight=50, maxWidth=50, displayWidth=50, displayHeight=50, fileStatusId=0, searchKeyword=null, searchFlag=false, queryId=0, isExists=true], authorFileId=42371, authorType=0, storyImgFileVO=null, storyImgFileId=0, videoHtml=, authorImageFileId=0, authorImageFileVO=null, previousCategoryId=null, previousBlogStatusId=0, fromBlogDetails=0, blogCategoryName=Living, blogCategoryUrl=null, blogCategoryDesc=null, defaultImage=false, tags=null, optionIds=null, tagOptionId=null, tagId=null, tag=null, tagID=0, tagDetails=null, tagIds=null, testId=0, extBlogURL=null, extBlogStatus=0, bloggerSince=null, extBlogLimit=0, authorTestsList=[], blogURL=, blogName=, bloggerProfileId=0, sliderBlog=false, eventonHome=false, vosonHome=false, partyAndGiveawayDate=08/09/2016, imageCredit=null, pullQuoteMemId=null, offerSubHead=null, subHead=null, displayOrder=0,includeInGoogleSearch=false]
Jul 26, 2016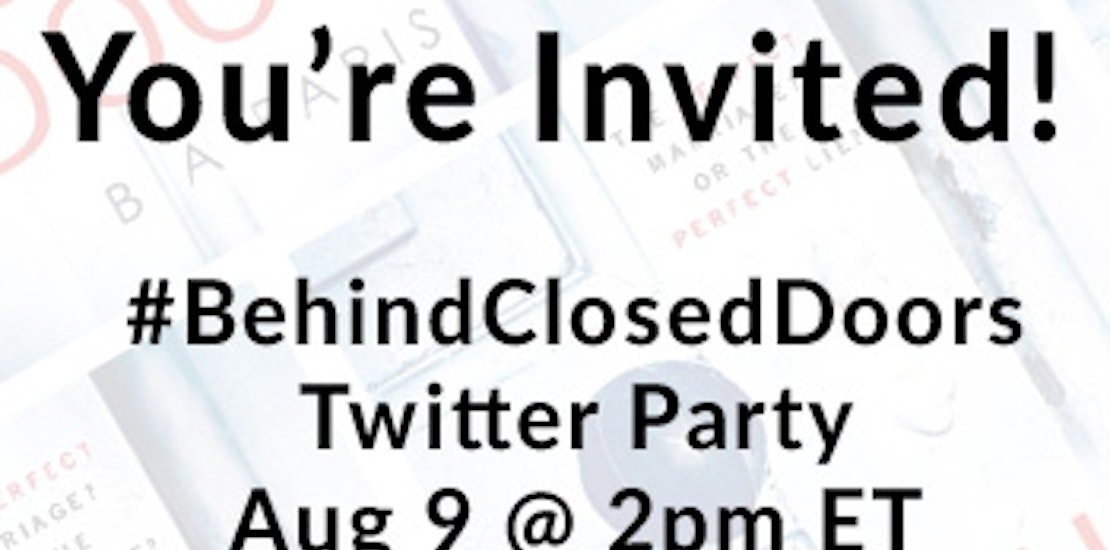 The "it" book of summer is landing on shelves in the US on August 9, and we're having a Twitter Party to celebrate the launch. The new gripping psychological thriller Behind Closed Doors by B. A. Paris will have you flipping the pages to find out…is it the perfect marriage or the perfect lie?
As the #1 book in the UK with movie rights sold, it's sure to be one of this summer's hottest reads. Join us on August 9 at 2pm ET for the #BehindClosedDoors Twitter Party!
RSVP to be eligible for the door prize by commenting on this post with your Twitter handle (e.g., @SheSpeaksUp.)
Twitter Party Details
When: August 9 at 2pm ET
Where: Twitter – follow hashtag #BehindClosedDoors
Brand: @StMartinsPress
Guest: @BAParisAuthor
Panelists: @RachelFerrucci, @Zipporahs, @ellenblogs, @CrissyBeam, @MommyBlogExpert
Twitter Party Topic
We'll Tweet about the new book Behind Closed Doors and all about reading. You'll even get the opportunity to Tweet with the author herself and ask her a question. Want to start now? You can read an excerpt from the book here in anticipation of the party!
Here's what others are saying:
"What amazing evil. Makes GONE GIRL seem like a fairy tale" - Jackie Willey, Fiction Addiction

"Jack and Grace seem like the ideal couple. They're never apart. But, why doesn't she answer the phone? Or why can she never meet for coffee, even though she doesn't work? Are things really so perfect? This outstanding debut novel will leave you breathless" - Bella

"This debut is guaranteed to haunt you. Paris's thriller asks the question: "The perfect marriage or the perfect lie?" Jack and Grace, the couple at the center of this totally enthralling novel, are so clearly not what they seem you'll have no choice but to read and read and read until their darkest secrets are revealed. Warning: brace yourself." - Bustle.com
Twitter Party Prizes*
We're giving away copies of Behind Closed Doors by B. A. Paris and Amazon Gift Cards!
To get started, click here to Tweet:
"Join me at the @StMartinsPress #BehindClosedDoors Twitter Party w/ @SheSpeaksUp 8/9 at 2pm ET bit.ly/BCDrsvp"
New to Twitter Parties?
No problem. Check out our Twitter Party tips and hints. Then get ready to jump into the conversation!
RSVP for the party by commenting below on this post!

---

* Participants must be following @SheSpeaksUp on Twitter and participate in the discussion by using hashtag #BehindClosedDoors on August 9 at 2pm ET to be eligible to win. Open to United States residents at least 18 years of age only. One prize allowed per winner. No purchase necessary. Twitter Party prize winners must complete a form with mailing details within 48 hours of the party. The form will be DMed if you win a prize.