It's Spooky Season: How Will You Celebrate? #HersheyWalmartHalloween GIVEAWAY

by
SheSpeaksTeam
is this the date @ED : BlogVO [categoryId=70164, blogId=145786, blogTitle=It's Spooky Season: How Will You Celebrate? #HersheyWalmartHalloween GIVEAWAY, publishingDate=October 20, 2020 12:00 AM, maxResponses=null, noOfComments=null, fileId=38998, blogClosingDate=null, blogCommentClosed=null, blogCategoryId=70164, queryId=0, blogCategoryIdIndex=0, sharedCategoriesList=null, blogStatusId=34, commentsClosedFlag=false, categoryIdForLog=0, blogModuleCategoryId=0, blogFileVo=null, latestCommentsList=null, verticalCatSeoURL=null, currentDate=12/07/2021, blogLink=null, authorName=SheSpeaksTeam, authorLognId=SheSpeaksTeam, authorAcctId=67580, vosTypeid=3, searchTestId=0, searchStatusId=0, searchAuthorType=0, authorBlogNumber=0, surveyData1=null, surveyData1Desc=null, surveyData2=null, surveyData2Desc=null, pullQuoteMemberId=null, filePath=null, fileName=null, vosType=0, subhead=null, offerSubhead=null, description=null, creationTime=null, authorFname=SheSpeaks, verticalCategoryId=null, sectionId=0, imageFileVO=FilesVO [fileId=38998, filePath=null, fileName=null, fileLength=0, fileWidth=0, createdBy=0, createByUser=null, creationTime=null, lastModifiedBy=0, lastModifiedByUser=null, lastModifiedTime=null, mimeType=null, fileRef=null, fileSize=0, extension=null, title=null, body=null, completeFilePath=/pages/img/redesign/blogs/Untitled design_10212020100826.jpg, height=385, width=685, maxHeight=480, maxWidth=360, displayWidth=360, displayHeight=202, fileStatusId=0, searchKeyword=null, searchFlag=false, queryId=0, isExists=true], seoURL=It-s-Spooky-Season-How-Will-You-Celebrate, seoTitle=null, pullQuotesList=null, pullQuote=null, pullQuoteId=0, searchFlag=false, authorByLine=SheSpeaksTeam, authorDesc=Powered by women who love to share what's HOT in reviews, deals & recipes., authorLink=null, authorFileVO=FilesVO [fileId=42371, filePath=null, fileName=null, fileLength=0, fileWidth=0, createdBy=0, createByUser=null, creationTime=null, lastModifiedBy=0, lastModifiedByUser=null, lastModifiedTime=null, mimeType=null, fileRef=null, fileSize=0, extension=null, title=null, body=null, completeFilePath=/pages/img/membersnaps/SheSpeaks_Logo_Symbol_Only_10182021080530.jpg, height=1777, width=1777, maxHeight=50, maxWidth=50, displayWidth=50, displayHeight=50, fileStatusId=0, searchKeyword=null, searchFlag=false, queryId=0, isExists=true], authorFileId=42371, authorType=0, storyImgFileVO=null, storyImgFileId=0, videoHtml=, authorImageFileId=0, authorImageFileVO=null, previousCategoryId=null, previousBlogStatusId=0, fromBlogDetails=0, blogCategoryName=Food, blogCategoryUrl=null, blogCategoryDesc=null, defaultImage=false, tags=null, optionIds=null, tagOptionId=null, tagId=null, tag=null, tagID=0, tagDetails=null, tagIds=null, testId=0, extBlogURL=null, extBlogStatus=0, bloggerSince=null, extBlogLimit=0, authorTestsList=[], blogURL=, blogName=, bloggerProfileId=0, sliderBlog=false, eventonHome=false, vosonHome=false, partyAndGiveawayDate=11/05/2020, imageCredit=Alice and Lois , pullQuoteMemId=null, offerSubHead=null, subHead=null, displayOrder=0]
Oct 20, 2020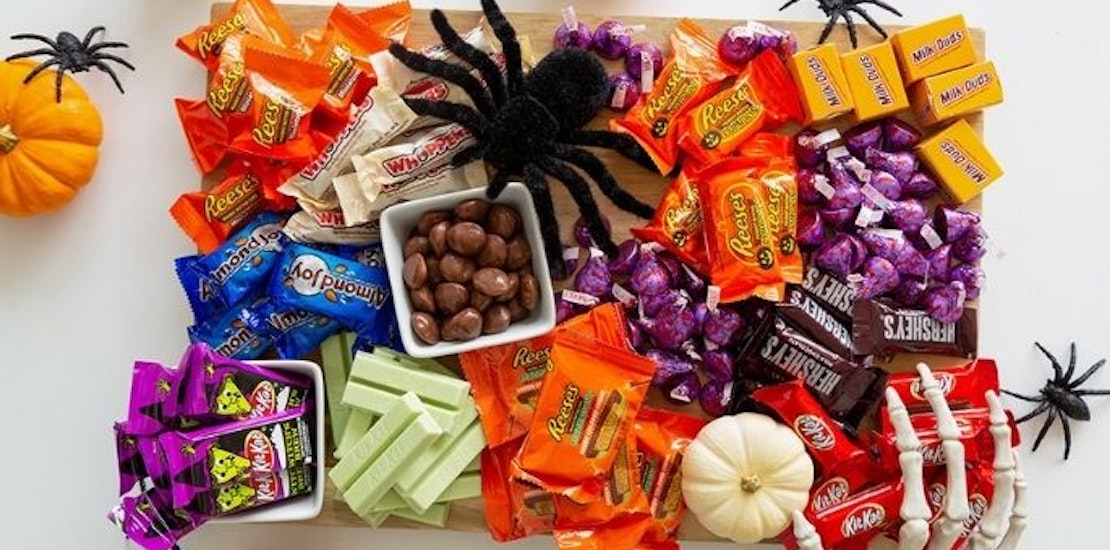 The SheSpeaks team is getting into the Halloween spirit! From planning decor and costumes, to choosing the trick-or-treats and fun activities, Halloween is a whole season that you can have so much fun with, especially when you have HERSHEY® candy on hand.

Take a look at some of our SheSpeaks influencers' ideas and get inspired to have your own fun this Halloween season. Walmart has everything you need to stock up!
Be sure to keep reading to find out how you can enter to win a $50 Walmart Gift Card and a HERSHEY® variety bag of candy.
Candy Grazing Boards:
These can be so fun to put together and there is definitely an art to it, as seen in this beautiful board (above) from
Alice + Lois
. The key is grouping and adding a skeleton hand, pumpkin or some spiders makes it extra fun.
Candy Station:
Set up a fun place for friends, family and neighbors to grab some treats on Halloween. We love this fun table that
Our Tiny Nest
set out to make sure everyone gets their treats.
Create Fun Treats:
Want a way to taste-test that Halloween candy and have something on hand to munch on while handing out candy? Cookies are great, but decorating cookies with candy is even better! These easy-to-make "
Witch Hat Cookies
" are sure to be a hit.
Boo on the Block:
Be the best house on the block by creating spooky yard displays. Put out treats for trick-or-treaters to grab...if they dare. We love this frightening and creative display set up by
@wvsweeny
- so fun!
Enter to win the #HersheyWalmartHalloween Giveaway! Tell us what you'd make with HERSHEY candy this Halloween season. One lucky winner will receive one (1) Hershey's Halloween Variety Bag and a $50 Walmart gift card!
#HersheyWalmartHalloween Giveaway
*One lucky contestant will be chosen at random to receive one (1) Hershey's Halloween Variety Bag and a $50 Walmart gift card. Giveaway is open through November 5, 2020 to U.S. residents at least 18 years of age. Entrants must be a member of SheSpeaks. If you are not a member, click here to join. Winner will be notified by email.

Update: Thanks to all who entered! Congrats to our winner, SheSpeaks member
kathydonley.