Images of Karina Gould Breastfeeding Son in Parliament Draw High Praise For the New Mom

By
SheSpeaksTeam
Jul 02, 2018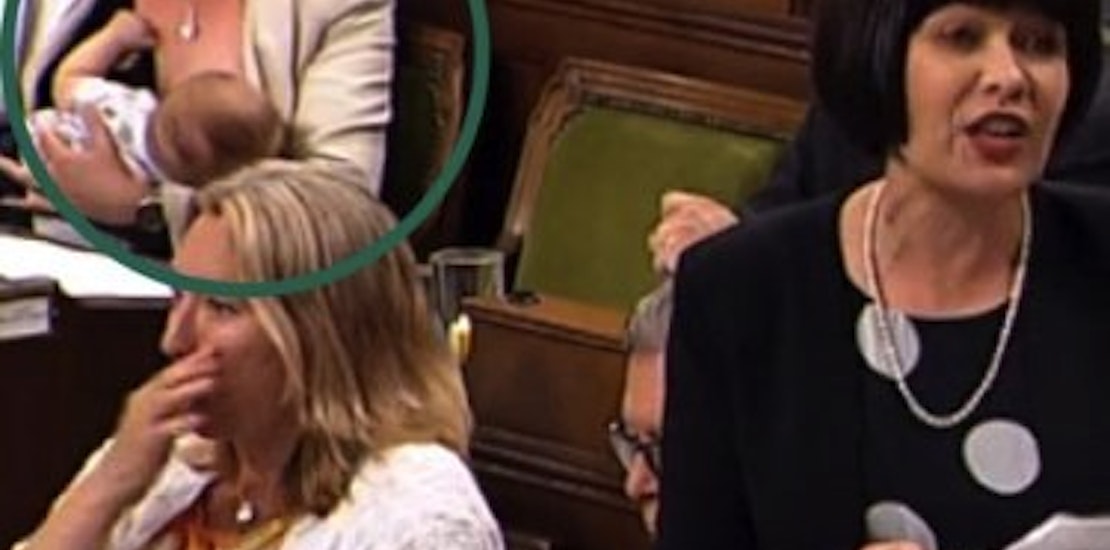 Being Canada's first federal minister to have a baby while in office was not Karina Gould's last barrier breaking moment by far, only a hint of things to come. MP Gould could be seen breastfeeding her infant son, Oliver, while Parliament was in session recently. Rather than chastise her for the public display, the response has been mostly positive with parents everywhere thanking Gould for normalizing breastfeeding in this way.
Today reports about the moment Gould was seen breastfeeding her son during a session in Parliament and how both Gould and the public have responded to the images. As most moms know, this kind of multi-tasking becomes a way of life after having kids. And the images of Gould breastfeeding while doing her job resonate with a lot of people who feels the public must be more accepting of working moms.
Gould responded very simply in a tweet when she realized her very natural act made headlines and garnered many positive responses on social media. She wrote, "No shame in breastfeeding! Baby's gotta eat & I had votes. Clearly still work to do… Glad @HoCSpeaker & parl colleagues supportive! :)."
And it's not only her fellow members of Parliament that are giving the new mom support. Many have taken to the MP's Facebook and Twitter to give her a big thumbs up. One Facebook user wrote, "You're proving that new parents can make it work in the workplace. That's an inspiration for employees and employers Canada-wide." In a recent Facebook video, the MP said - "One of the reasons why I ran was to encourage more women to get involved in politics and to hopefully have more women represented in the House of Commons by the time I leave."
What do you think of the images of Karina Gould breastfeeding her son in Parliament?
Do you think acts like this will help to normalize breastfeeding and inspire more women to take on careers like Gould's?
*Photo Credit: HuffPost Canada*