How to Throw A No-Fuss Cinco de Mayo Taco Party

By
daisykuchins
Apr 13, 2012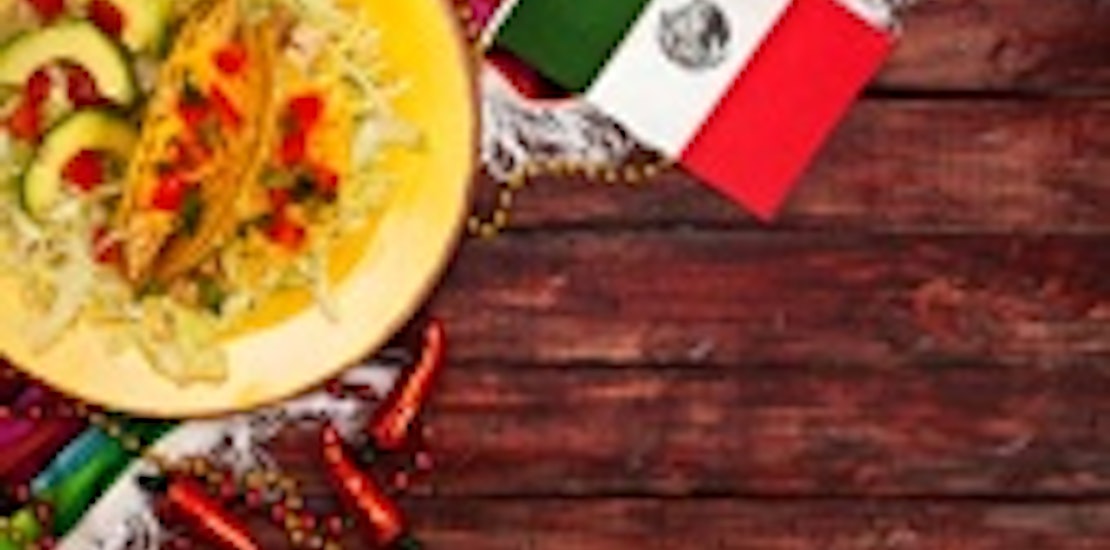 A make-your-own taco bar is a no-fuss option for your next Cinco de Mayo celebration. Hosting a taco party at your Cinco de Mayo event allows you to stay out of the kitchen and enjoy your guests. Provide a variety of savory fillings, fresh sauces and tempting toppings, and let your guests have fun assembling unique, tasty tacos. This taco bar serves about 10 guests; however recipes can be doubled or tripled to accommodate the number of guests attending your party.
Here are a few crowd pleasing Cinco de Mayo taco bar ideas and recipes.
Set Up:
Set out plates and warm tortillas at the beginning of the taco bar followed by the fillings. Next place the salsas, sauces, vegetables and condiments. At the end of the table, place the rice and beans. Also provide spoons, forks, tongs, or the appropriate serving utensils for each item. Finally, provide plenty of napkins and eating utensils.

Keep cleanup easy. Depending on the number of guests you've invited, you may want to opt for disposable dishware. Stick to solid colors so that you can reuse the unused dishware on another occasion. Consider using red, white or green to commemorate the Mexican flag.

Consider your menu as well. Salsa and guacamole will look best in a color that contrasts, such as yellow. Tortilla chips will pop in green or red bowls.
Taco Bar Recipes:
Fillings
Lime Chicken: Sauté 1-1/2 pounds of cubed, skinless, boneless chicken breast meat in a saucepan over medium high heat for about 20 minutes. Add 1/8 cup red wine vinegar, the juice of 1 or 2 limes (to taste), 1 teaspoon sugar, 2 green onions (chopped), 2 cloves of garlic (minced), 1 teaspoon dried oregano, and salt and pepper to taste. Simmer for 10 minutes.
Carne Asada: In a covered container, marinate a hangar steak in the juice of 1 lime, 1/4 cup olive oil, 1/4 cup cilantro (minced), 1 Serrano chili minced (to taste), 1 tablespoons minced garlic, 1 teaspoon sugar, 1/2 teaspoon ground coriander seed, 1/2 teaspoon oregano, 1/4 teaspoon ground cumin, 2 teaspoons kosher salt, and black pepper to taste. Marinate overnight and then remove the meat from the refrigerator about 30 minutes before cooking, bringing it to room temperature. Grill the meat, transfer it to a cutting board and let it rest for about 10 minutes. Roughly chop up the meat and combine it with 1/4 cup sweet onions minced and 1/4 cup cilantro, plus any juices from the cutting board.
Ground beef or ground turkey seasoned with taco mix or Ro-tel tomatoes.
Pico de Gallo: Combine 6 tomatoes (seeded and cut in 1/4" pieces), 2 tablespoons cilantro (chopped), 2 garlic cloves (minced), 1 cup minced onion, the juice of ½ of a lime, 4 small Serrano chilies (seeded and minced), and salt to taste. Refrigerate for at least 30 minutes before servings.
Guacamole: Combine 4 small avocados (peeled and mashed), 2 fresh medium tomatoes, 1 small red onion (chopped), 1 teaspoon garlic powder (or fresh garlic if desired), the juice of one lime, and salt to taste. Add chilies if desired for a kick. Chill to allow flavors to blend.
Vegetables
Shredded iceberg lettuce, shredded green and red cabbage, black olives, chopped onions, cilantro, diced tomatoes, diced avocado, slices of lime, and sautéed bell peppers and onions.
Condiments
Shredded cheddar cheese, crumbled Cotija cheese, shredded Monterey jack cheese and sour cream.
Side Dishes
Spicy Refried Black Beans: Chop two medium onions and mince 4 cloves of garlic. Sauté onions and garlic in 2 teaspoons of vegetable oil. Then, add 2 finely chopped jalapenos, sautéing until they begin to brown. Add four 14-ounce cans of black beans (two rinsed and drained and 2 with juice). Bring to a boil, reduce heat, and simmer for about 1.5 hours. Add 1 can of beer as needed during cooking to prevent the beans from drying out. Add salt to taste.
Cinco de Mayo Party Decorations:
The traditional decor for a Cinco de Mayo affair include serapes, pinatas and Mexican hats. Check out these Cinco de Mayo Centerpieces for more table decoration ideas. In addition to using these items in your decor scheme, incorporate the following:
Cinco de Mayo Songs: The Party Playlist:
Infuse your playlist of modern hits with festive tunes for a Cinco de Mayo fiesta. Some popular choices are:
1. The Macarena
2. La Bamba
3. Hot Hot Hot
4. Bamboleo
5. Tequila
6. Un Dos Tres Maria
7. I Like It Like That
8. La Copa De La Vida (The Cup of Life)
9. Guadalajara
10. La Cucaracha
Cinco de Mayo Party Invitations:
Keep it simple! Invest your time and effort in the party itself. Feel free to alert your guests of your party by digital invitation (like the one here).
When writing a note or email, play up the theme of the party. If you're short on time, consider a fun, simple party invitation from Tiny Prints.

As a courtesy, be sure to include details about what will be served, whether it be lunch, dinner or simply drinks and hors d'oeuvres. Make it clear whether or not you would like your guests to bring a drink or dish.
Add to your Cinco de Mayo celebration by serving the Perfect Margarita!