How do you eat healthy when you have kids?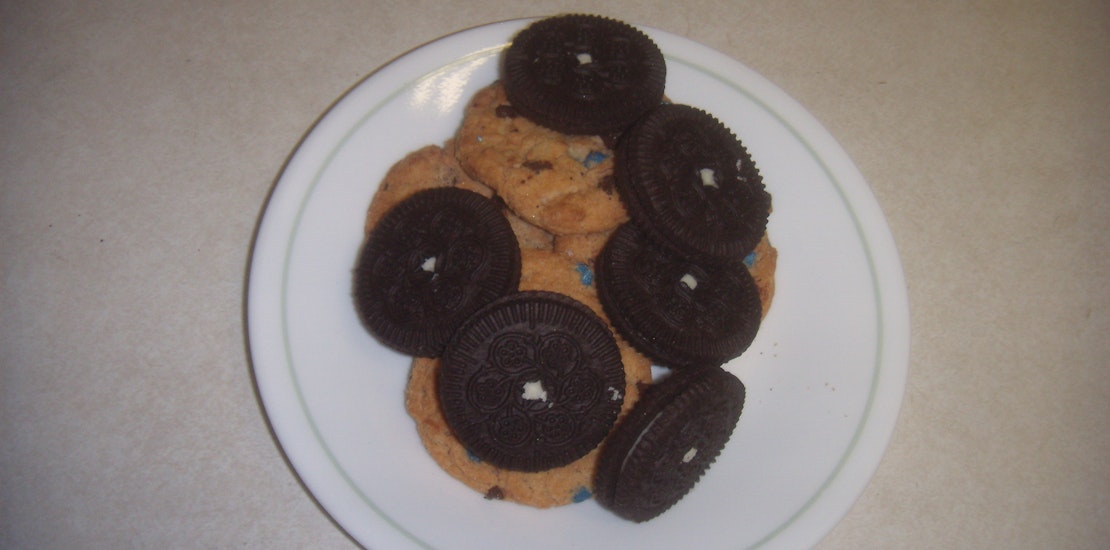 I am going to be honest! I am a junk food addict. I love it, but I honestly know I can't get away with eating it all the time, like when I was younger. I noticed that after I had kids I didn't burn it off like I did before and I was putting the pounds on. I am actually now below the weight I was before I had kids, but I never deprive myself of a treat. I think it's all about balance. I eat healthy the majority of the time, but when I want a treat I only have a small portion of it (and not consistently.)
It is so hard to not want to eat junk food when you have kids. They love pizza, chicken nuggets, hot dogs, corn dogs, cookies, candy, and chips. I do too, but we've tried to do it in moderation. I have a 4 and 6 year old and it seems like we always have something in the house that is tempting me. I know it's my fault for buying it, but I really don't mind letting my kids have a little portion of something like cookies, chips or ice cream once a day. They are allowed one item a day like this and I give them a small amount. I don't want to deny them treats, but I don't want them munching on them all day long either. They are kids and - lets just face it - kids love junk food!
So here are my tips on eating healthy, so you don't end up pulling out the entire bag of chips when you need a quick munch. I'm not an expert in this (I'm just your typical mom trying to stay healthy), but this is what I do and I've managed to maintain my weight. This has also helped my kids eat healthier too. They tend to eat these snacks too when they are easily available to them.
Cut up a bunch of veggies and make a veggie plate once or twice a week. If I have it in the fridge, I tend to snack on that rather than heading for the junk food.
I also make sure I have lots of fresh fruit available. I keep a bowl of apples on the counter and then it seems to catch my eye when I'm looking for something to snack on.
Keep things like low fat string cheese and yogurt in the fridge for a quick and easy snack.
I try to buy whole wheat/grain crackers and keep them portioned out in bags. It helps me not eat the whole box!
What do you do to make it easier to eat healthier in your house? What tips do you have?