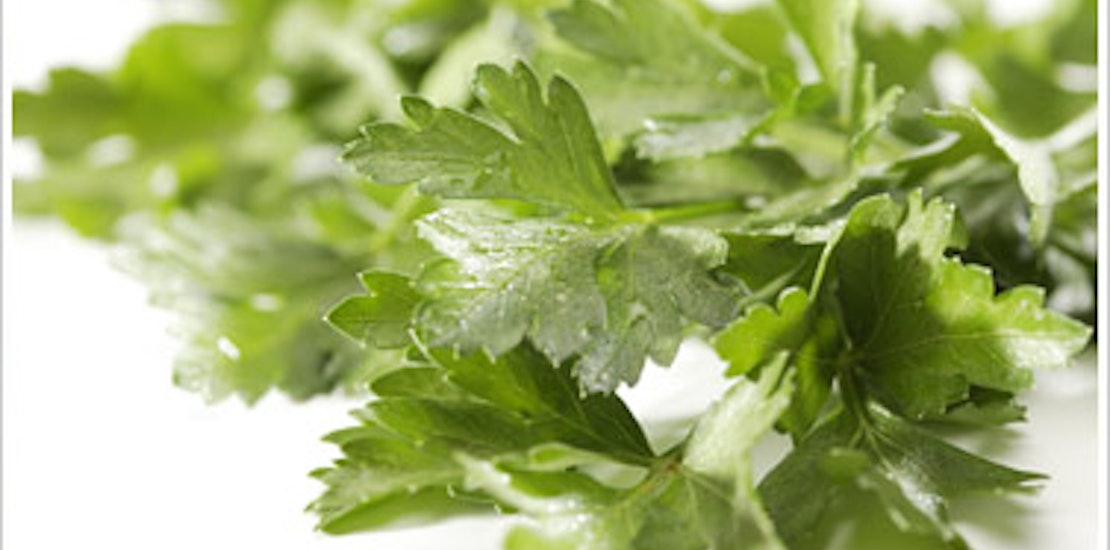 When you think of parsley, do you think garnish? Poor parsley...relegated to the edge of our plates, just a touch of color -- nothing more. (Sigh.) Well, here's bit of trivia for you, just 2 tbsp of parsley gives you 150% of your recommended daily allowance of Vitamin K and almost 17% of Vitamin C. It's a natural breath freshener and, besides that, according to ancient beliefs a wreath of parsley wards off drunkenness. (Sorry I can't be held responsible for the efficacy of either wives' tale, if you choose to test them.)
There are two kinds fresh parsley available commercially - curly and flat leaf, also known as Italian parsley. Flat leaf parsley has a slightly stronger flavor than curly parsley but the two are otherwise interchangeable. Both have a slightly peppery flavor with a hint of celery. In addition, parsley is nearly the least expensive fresh herb, which is always a bonus.
Now how about a few ways to use it? Toss minced parsley with buttery new potatoes or piping hot french fries for an herbaceous bump. Try a Tabbouleh Salad with minced parsley, couscous, cucumber and tomato. Use parsley stems in your homemade stock to impart flavor without coloring the broth. Make Persillade, a French combination of parsley and garlic, for fresh fish or oysters.
My favorite parsley recipe is an Argentinean sauce called Chimichurri. The Argentines are famous for their barbequing, and this sauce is the perfect match for a juicy steak or grilled chicken. Since it's barbeque season, I thought I'd share the recipe with you. I suggest you try it with a glass of Argentine Malbec - not enough to warrant a parsley wreath, mind you!
Chimichurri
1Tbsp dried oregano leaves
2 Tbsp water
1 bunch fresh flat-leaf parsley leaves, remove the thickest stems
6 garlic cloves, peeled
3/4 cup extra-virgin olive oil
2 tsp kosher salt
1 tsp ground black pepper
1/4 tsp red pepper flakes
3 Tbsp sherry vinegar*
Directions:
In a small bowl, combine dried oregano leaves and water. Stir and let stand for 15 minutes. In the meantime, wash the parsley by placing it in a bowl of cold water and swishing it around. Dry the parsley by patting it with paper towels or spinning it dry with a salad spinner. After the oregano is moistened, combine it with parsley and garlic in a food processor. Process until the parsley and garlic are finely minced, about 3 to 5 minutes. Next, transfer the parsley mixture to a small bowl and stir in the olive oil, kosher salt, black pepper and red pepper flakes.
At this point you can refrigerate the chimichurri for up to 3 hours. Allow it to return to room temperature before you serve it. When you are ready to serve, simply stir in the sherry vinegar.
*For me, the sherry vinegar really enhances this dish but if it's not available in your local supermarket you can substitute red wine vinegar.
How many of you buy only dry parsley? Can you think of other ways to use fresh parsley?