Help To Answer Your Questions About Retirement

by
SheSpeaksTeam
is this the date @ED : BlogVO [categoryId=70161, blogId=146167, blogTitle=Help To Answer Your Questions About Retirement, publishingDate=December 01, 2022 12:00 AM, maxResponses=null, noOfComments=null, fileId=45800, blogClosingDate=null, blogCommentClosed=null, blogCategoryId=70161, queryId=0, blogCategoryIdIndex=0, sharedCategoriesList=null, blogStatusId=34, commentsClosedFlag=false, categoryIdForLog=0, blogModuleCategoryId=0, blogFileVo=null, latestCommentsList=null, verticalCatSeoURL=null, currentDate=02/02/2023, blogLink=null, authorName=SheSpeaksTeam, authorLognId=SheSpeaksTeam, authorAcctId=67580, vosTypeid=3, searchTestId=0, searchStatusId=0, searchAuthorType=0, authorBlogNumber=0, surveyData1=null, surveyData1Desc=null, surveyData2=null, surveyData2Desc=null, pullQuoteMemberId=null, filePath=null, fileName=null, vosType=0, subhead=null, offerSubhead=null, description=null, creationTime=null, authorFname=SheSpeaks, verticalCategoryId=null, sectionId=0, imageFileVO=FilesVO [fileId=45800, filePath=null, fileName=null, fileLength=0, fileWidth=0, createdBy=0, createByUser=null, creationTime=null, lastModifiedBy=0, lastModifiedByUser=null, lastModifiedTime=null, mimeType=null, fileRef=null, fileSize=0, extension=null, title=null, body=null, completeFilePath=/pages/img/redesign/blogs/Blog Header (Blog Banner) (12)_11232022130217.jpg, height=1260, width=2240, maxHeight=480, maxWidth=360, displayWidth=360, displayHeight=202, fileStatusId=0, searchKeyword=null, searchFlag=false, queryId=0, isExists=true], seoURL=Help-To-Answer-Your-Questions-About-Retirement, seoTitle=null, pullQuotesList=null, pullQuote=null, pullQuoteId=0, searchFlag=false, authorByLine=null, authorDesc=null, authorLink=null, authorFileVO=FilesVO [fileId=42371, filePath=null, fileName=null, fileLength=0, fileWidth=0, createdBy=0, createByUser=null, creationTime=null, lastModifiedBy=0, lastModifiedByUser=null, lastModifiedTime=null, mimeType=null, fileRef=null, fileSize=0, extension=null, title=null, body=null, completeFilePath=/pages/img/membersnaps/SheSpeaks_Logo_Symbol_Only_10182021080530.jpg, height=1777, width=1777, maxHeight=50, maxWidth=50, displayWidth=50, displayHeight=50, fileStatusId=0, searchKeyword=null, searchFlag=false, queryId=0, isExists=true], authorFileId=42371, authorType=0, storyImgFileVO=null, storyImgFileId=0, videoHtml=, authorImageFileId=0, authorImageFileVO=null, previousCategoryId=null, previousBlogStatusId=0, fromBlogDetails=0, blogCategoryName=Money, blogCategoryUrl=null, blogCategoryDesc=null, defaultImage=false, tags=null, optionIds=null, tagOptionId=null, tagId=null, tag=null, tagID=0, tagDetails=null, tagIds=null, testId=0, extBlogURL=null, extBlogStatus=0, bloggerSince=null, extBlogLimit=0, authorTestsList=[], blogURL=, blogName=, bloggerProfileId=0, sliderBlog=false, eventonHome=true, vosonHome=true, partyAndGiveawayDate=12/15/2022, imageCredit=null, pullQuoteMemId=null, offerSubHead=, subHead=, displayOrder=0,includeInGoogleSearch=false]
Dec 01, 2022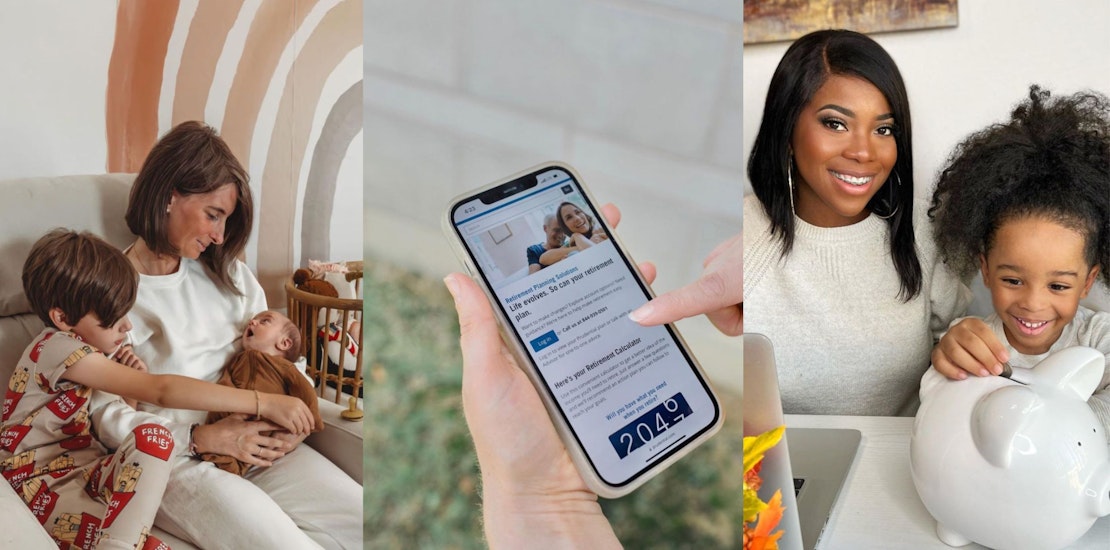 Is planning for retirement on your to-do list? No matter how far away retirement may seem, planning for your financial future now can help give you peace of mind. A Prudential financial professional can help you answer the questions you might have now about retirement planning like: "When is the best age for me to retire?" or "How much retirement income will I need in addition to Social Security."

This planning is even more important for women, who retire with a 30% lower balance in their 401(K) plans than men do on average,* and also live an average of 5 years longer than men do, This means women need more savings to generate retirement income for a greater number of years, than men do. Prudential has resources that can help.

Click here for more information from Prudential about retirement planning, including some easy tools to help you plan, no matter how close or far you are from retirement.



See what the SheSpeaks community has to say on the topic, and scroll down to enter our giveaway for a chance to win a $50 Visa gift card!
Prudential Giveaway - Retirement Planning
One lucky winner will be chosen at random to receive a $50 Visa gift card. Giveaway is open to U.S. residents 18 years or older. Enter through Thursday, December 15, 2022. Winner will be chosen randomly by December 18, 2022 and notified by email. Winner must be a SheSpeaks member. If you are not a member, click here to join.

Thanks to all who entered! Congrats to our winner SheSpeaks member NinNin.