Add More Laughter To Your Celebration with a #SheSpeaksGames $75 Amazon Giveaway

by
SheSpeaksTeam
is this the date @ED : BlogVO [categoryId=70162, blogId=145338, blogTitle=Add More Laughter To Your Celebration with a #SheSpeaksGames $75 Amazon Giveaway, publishingDate=March 28, 2018 12:00 AM, maxResponses=null, noOfComments=null, fileId=30953, blogClosingDate=null, blogCommentClosed=null, blogCategoryId=70162, queryId=0, blogCategoryIdIndex=0, sharedCategoriesList=null, blogStatusId=34, commentsClosedFlag=false, categoryIdForLog=0, blogModuleCategoryId=0, blogFileVo=null, latestCommentsList=null, verticalCatSeoURL=null, currentDate=01/31/2023, blogLink=null, authorName=SheSpeaksTeam, authorLognId=SheSpeaksTeam, authorAcctId=67580, vosTypeid=3, searchTestId=0, searchStatusId=0, searchAuthorType=0, authorBlogNumber=0, surveyData1=null, surveyData1Desc=null, surveyData2=null, surveyData2Desc=null, pullQuoteMemberId=null, filePath=null, fileName=null, vosType=0, subhead=null, offerSubhead=null, description=null, creationTime=null, authorFname=SheSpeaks, verticalCategoryId=null, sectionId=0, imageFileVO=FilesVO [fileId=30953, filePath=null, fileName=null, fileLength=0, fileWidth=0, createdBy=0, createByUser=null, creationTime=null, lastModifiedBy=0, lastModifiedByUser=null, lastModifiedTime=null, mimeType=null, fileRef=null, fileSize=0, extension=null, title=null, body=null, completeFilePath=/pages/img/redesign/blogs/game blog post_03272018113245.jpg, height=350, width=350, maxHeight=480, maxWidth=360, displayWidth=350, displayHeight=350, fileStatusId=0, searchKeyword=null, searchFlag=false, queryId=0, isExists=true], seoURL=Have-Fun-With-Family-Friends-This-Spring-With-This-SheSpeaksGames-Giveaway, seoTitle=null, pullQuotesList=null, pullQuote=null, pullQuoteId=0, searchFlag=false, authorByLine=null, authorDesc=null, authorLink=null, authorFileVO=FilesVO [fileId=42371, filePath=null, fileName=null, fileLength=0, fileWidth=0, createdBy=0, createByUser=null, creationTime=null, lastModifiedBy=0, lastModifiedByUser=null, lastModifiedTime=null, mimeType=null, fileRef=null, fileSize=0, extension=null, title=null, body=null, completeFilePath=/pages/img/membersnaps/SheSpeaks_Logo_Symbol_Only_10182021080530.jpg, height=1777, width=1777, maxHeight=50, maxWidth=50, displayWidth=50, displayHeight=50, fileStatusId=0, searchKeyword=null, searchFlag=false, queryId=0, isExists=true], authorFileId=42371, authorType=0, storyImgFileVO=null, storyImgFileId=0, videoHtml=, authorImageFileId=0, authorImageFileVO=null, previousCategoryId=null, previousBlogStatusId=0, fromBlogDetails=0, blogCategoryName=Entertainment, blogCategoryUrl=null, blogCategoryDesc=null, defaultImage=false, tags=null, optionIds=null, tagOptionId=null, tagId=null, tag=null, tagID=0, tagDetails=null, tagIds=null, testId=0, extBlogURL=null, extBlogStatus=0, bloggerSince=null, extBlogLimit=0, authorTestsList=[], blogURL=, blogName=, bloggerProfileId=0, sliderBlog=false, eventonHome=false, vosonHome=false, partyAndGiveawayDate=04/15/2018, imageCredit=null, pullQuoteMemId=null, offerSubHead=null, subHead=null, displayOrder=0,includeInGoogleSearch=false]
Mar 28, 2018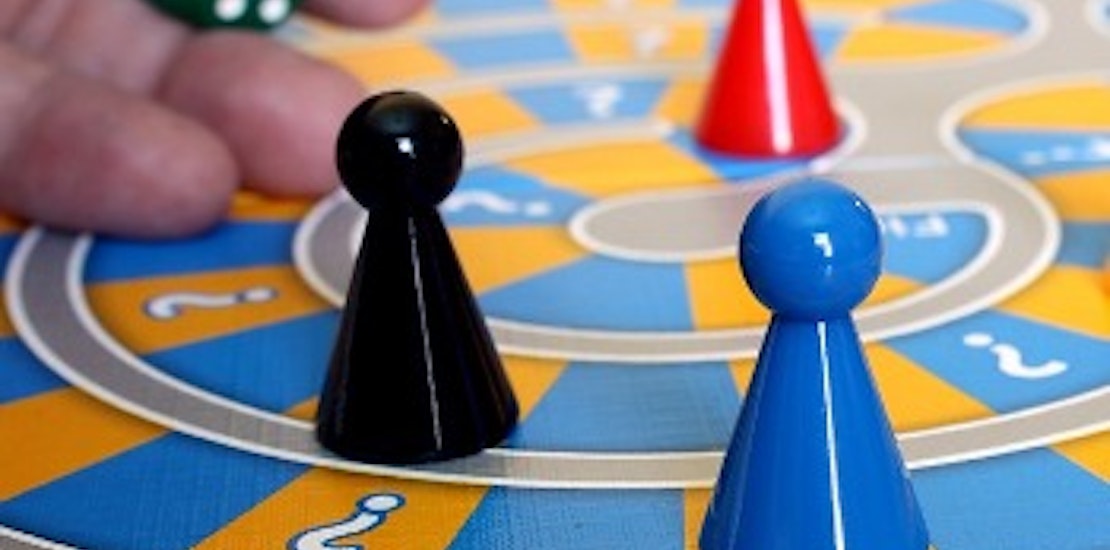 There are so many reasons to celebrate this time of year, which means there will be lots of time spent with family and friends. Make it more fun by trying out these games, perfect for after Easter brunch, before the Passover seder, while relaxing on Spring Break or lounging at your next BBQ.
Bonus: Enter below to win a $75 Amazon gift card to buy these games - or whatever else will make your season more memorable.
If you've ever watched Ellen Degeneres, you'll know this game. One person has a word on their head and has to guess what is says based on the clues everyone else is giving them. Just download the app and you can play it anywhere - it's fun for big groups, small groups, adults or kids. Perfect for when guests are getting antsy waiting for the food to cook.
This fast-paced board game is guaranteed to make the whole family laugh (ages 8+.) In it, everyone gets a role (villager, werewolf, etc.) and you have to convince everyone else that you are not the werewolf. There's lying and deception. What's better than that? And there's even other versions of the game that you can combine into one big game.
This game of luck is perfect for younger kids (ages 4+), but still enjoyable for older kids and adults too. Each player gets two adorable pigs, which they then throw and hope that they land in certain positions. Of course some are easier than others. Pass the Pigs comes with a small carrying case so it's a great game to take to restaurants or parties to keep the kids busy.
Looking for a game to play with your teens or tweens? We have a winner! Try Speak Out, where you read a sentence from a card and your teammates have to figure out what you're saying. The hitch? You're wearing a mouthpiece that makes it nearly impossible to talk - but sounds crazy funny to everyone else!
If you haven't tried a collaborative board game before, it's worth a try. All players are on one team - everyone wins or everyone loses. In Forbidden Island, you have to work together to prevent the island from sinking. Plus, there's a variety of ways to play that make it more or less challenging.
Harry Potter: Wizards Unite
This one hasn't been released yet but it looks to be the biggest game of 2018. From the makers of Pokemon Go, Harry Potter: Wizards Unite is another augmented reality game, but this time you cast spells, fight legendary beasts and discover mysterious artifacts as you explore the world around you. They had us at J.K. Rowling!
What games do you love to play? Tell us for the chance to win $75 to Amazon to buy something fun!
Comment below and tell us your favorite games to play.
Tweet about the giveaway: Click HERE to Tweet: "Adding more fun to spring with the #SheSpeaksGames Giveaway & entering to win a $75 Amazon gift card, thx to @SheSpeaksUp bit.ly/2G9oJQi"
Post on Instagram a pic showing game-time fun (worth 5 entries). Tag #SheSpeaksGames, #SheSpeaks and #entry.
*One lucky commenter, Tweeter, or Instagrammer will be chosen at random to receive a $75 Amazon gift card. Giveaway is open through April 15, 2018 to U.S. residents at least 18 years of age. Entrants must be a member of SheSpeaks. If you are not a member, click here to join. Winner will be notified by email.
Update: Thanks to all who entered. Congrats to our winner, SheSpeaks member mizzsonya22!