Halloween Candy With a Delicious Twist. Plus, Win a $75 Gift Card: #SheSpeaksHalloween giveaway

by
SheSpeaksTeam
is this the date @ED : BlogVO [categoryId=70164, blogId=145620, blogTitle=Halloween Candy With a Delicious Twist. Plus, Win a $75 Gift Card: #SheSpeaksHalloween giveaway, publishingDate=October 18, 2019 12:00 AM, maxResponses=null, noOfComments=null, fileId=36024, blogClosingDate=null, blogCommentClosed=null, blogCategoryId=70164, queryId=0, blogCategoryIdIndex=0, sharedCategoriesList=null, blogStatusId=34, commentsClosedFlag=false, categoryIdForLog=0, blogModuleCategoryId=0, blogFileVo=null, latestCommentsList=null, verticalCatSeoURL=null, currentDate=03/22/2023, blogLink=null, authorName=SheSpeaksTeam, authorLognId=SheSpeaksTeam, authorAcctId=67580, vosTypeid=3, searchTestId=0, searchStatusId=0, searchAuthorType=0, authorBlogNumber=0, surveyData1=null, surveyData1Desc=null, surveyData2=null, surveyData2Desc=null, pullQuoteMemberId=null, filePath=null, fileName=null, vosType=0, subhead=null, offerSubhead=null, description=null, creationTime=null, authorFname=SheSpeaks, verticalCategoryId=null, sectionId=0, imageFileVO=FilesVO [fileId=36024, filePath=null, fileName=null, fileLength=0, fileWidth=0, createdBy=0, createByUser=null, creationTime=null, lastModifiedBy=0, lastModifiedByUser=null, lastModifiedTime=null, mimeType=null, fileRef=null, fileSize=0, extension=null, title=null, body=null, completeFilePath=/pages/img/redesign/blogs/candy corn_10182019104605.jpg, height=350, width=350, maxHeight=480, maxWidth=360, displayWidth=350, displayHeight=350, fileStatusId=0, searchKeyword=null, searchFlag=false, queryId=0, isExists=true], seoURL=Halloween-Candy-With-a-Twist-Plus-Win-a-75-Gift-Card, seoTitle=null, pullQuotesList=null, pullQuote=null, pullQuoteId=0, searchFlag=false, authorByLine=null, authorDesc=null, authorLink=null, authorFileVO=FilesVO [fileId=42371, filePath=null, fileName=null, fileLength=0, fileWidth=0, createdBy=0, createByUser=null, creationTime=null, lastModifiedBy=0, lastModifiedByUser=null, lastModifiedTime=null, mimeType=null, fileRef=null, fileSize=0, extension=null, title=null, body=null, completeFilePath=/pages/img/membersnaps/SheSpeaks_Logo_Symbol_Only_10182021080530.jpg, height=1777, width=1777, maxHeight=50, maxWidth=50, displayWidth=50, displayHeight=50, fileStatusId=0, searchKeyword=null, searchFlag=false, queryId=0, isExists=true], authorFileId=42371, authorType=0, storyImgFileVO=null, storyImgFileId=0, videoHtml=, authorImageFileId=0, authorImageFileVO=null, previousCategoryId=null, previousBlogStatusId=0, fromBlogDetails=0, blogCategoryName=Food, blogCategoryUrl=null, blogCategoryDesc=null, defaultImage=false, tags=null, optionIds=null, tagOptionId=null, tagId=null, tag=null, tagID=0, tagDetails=null, tagIds=null, testId=0, extBlogURL=null, extBlogStatus=0, bloggerSince=null, extBlogLimit=0, authorTestsList=[], blogURL=, blogName=, bloggerProfileId=0, sliderBlog=false, eventonHome=false, vosonHome=false, partyAndGiveawayDate=11/03/2019, imageCredit=null, pullQuoteMemId=null, offerSubHead=null, subHead=null, displayOrder=0,includeInGoogleSearch=false]
Oct 18, 2019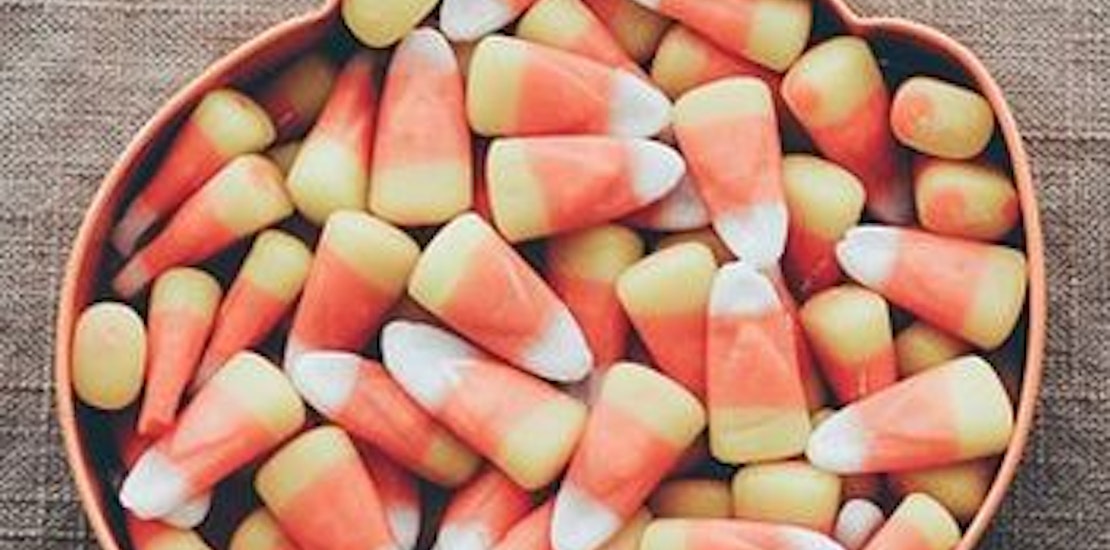 Regular Snickers and plain Kit Kats? Give that to the trick-or-treaters. We're loving Halloween candy with twists that are so delicious, you'll want to keep them all to yourself.
Check out our favorite Halloween candy - and enter to win a $75 gift card to buy your own, or whatever treat you'll love.
M&M's Crispy Cocoa Crisp
M&M's have come out with several new varieties this year, including a flavor vote in which English Toffee Peanut beat out Mexican Jalapeño Peanut and Thai Coconut Peanut. But we are most excited about Creepy Cocoa Crisp, which was rolled out this fall. It's as if a Rice Krispies cereal piece was coated in dark chocolate, and then surrounded by M&M's candy shell. It's Cocoa Krispies cereal, but in candy form. It's a clear flavor winner in our book.
Reeses's Take 5
For a candy bar, the Take 5 has a rather complicated past. It launched in 2004 with 5 key ingredients: chocolate, peanut butter, caramel, pretzels and peanuts. Though the candy has been sold since then, the manufacturer, Hershey's, cut all advertising in 2011 and it was hard to find. But fans would not give up and the Take 5 became a bit of a cult classic. Then in 2016, Hershey's relaunched Take 5, and this year, it got with an awesome new name - Reese's Take 5.
The pretzels make it crispy. The caramel and peanut butter make it gooey. Make sure to try buy this one so Hershey's keeps it prominently on the shelves.
Milky Way Simply Caramel
If you like caramel, we have the perfect candy for you. It's the Milky Way Simply Caramel. Yes, it's exactly what it sounds like - caramel, surrounded by chocolate. That's it. None of that pesky nougat to dilute the taste (side bar: does anyone know what nougat really is?!?) We admit that this one is sticky, and several bars got crushed in transit, but if you're willing to look past the messiness, this candy bar is worth a try.
Kit Kat Pumpkin Pie
Kit Kat has been experimenting with different flavor combinations in recent years. So we aren't surprised that they would eventually hook on to the pumpkin spice trend. While this version isn't our favorite, we do still love the trademark Kit Kat crispiness. And we were impressed with how pumpkiny it is- in fact, when the package is ripped open, the smell of pumpkin spice is so familiar, it feels like a pie is warming in the oven.
Skittles Sour
If you're looking for a non-chocolate treat, but you don't want the standard tootsie roll or lollipop, we recommend Skittles Sour. This one isn't new, but it is fun. We dare you to try these Skittles without having your face pucker at the sour coating! But don't worry, after a few chews, the taste switches to sweet. It's a perfect Halloween trick-or-treat twist.
What candy are you craving this Halloween? Tell us to win a $75 Visa gift card to purchase the spurge of your choice!
*One lucky contestant will be chosen at random to receive a $75 Visa gift card. Giveaway is open through November 3rd, 2019 to U.S. residents at least 18 years of age. Entrants must be a member of SheSpeaks. If you are not a member, click
to join. Winner will be notified by email.
Update: Thanks to all who entered! Congrats to our winner, SheSpeaks member Sissy303.