Gut Health Check: New Podcast + Giveaway

by
SheSpeaksTeam
is this the date @ED : BlogVO [categoryId=70165, blogId=145994, blogTitle=Gut Health Check: New Podcast + Giveaway , publishingDate=January 26, 2022 12:00 AM, maxResponses=null, noOfComments=null, fileId=43153, blogClosingDate=null, blogCommentClosed=null, blogCategoryId=70165, queryId=0, blogCategoryIdIndex=0, sharedCategoriesList=null, blogStatusId=34, commentsClosedFlag=false, categoryIdForLog=0, blogModuleCategoryId=0, blogFileVo=null, latestCommentsList=null, verticalCatSeoURL=null, currentDate=06/01/2023, blogLink=null, authorName=SheSpeaksTeam, authorLognId=SheSpeaksTeam, authorAcctId=67580, vosTypeid=3, searchTestId=0, searchStatusId=0, searchAuthorType=0, authorBlogNumber=0, surveyData1=null, surveyData1Desc=null, surveyData2=null, surveyData2Desc=null, pullQuoteMemberId=null, filePath=null, fileName=null, vosType=0, subhead=null, offerSubhead=null, description=null, creationTime=null, authorFname=SheSpeaks, verticalCategoryId=null, sectionId=0, imageFileVO=FilesVO [fileId=43153, filePath=null, fileName=null, fileLength=0, fileWidth=0, createdBy=0, createByUser=null, creationTime=null, lastModifiedBy=0, lastModifiedByUser=null, lastModifiedTime=null, mimeType=null, fileRef=null, fileSize=0, extension=null, title=null, body=null, completeFilePath=/pages/img/redesign/blogs/Podcast Giveaway Headers_01262022175842.jpg, height=540, width=1110, maxHeight=480, maxWidth=360, displayWidth=360, displayHeight=175, fileStatusId=0, searchKeyword=null, searchFlag=false, queryId=0, isExists=true], seoURL=Gut-Health-Wellness-Julia-Loggins, seoTitle=null, pullQuotesList=null, pullQuote=Healing is possible...and healing starts with our digestion. , pullQuoteId=1398, searchFlag=false, authorByLine=null, authorDesc=null, authorLink=null, authorFileVO=FilesVO [fileId=42371, filePath=null, fileName=null, fileLength=0, fileWidth=0, createdBy=0, createByUser=null, creationTime=null, lastModifiedBy=0, lastModifiedByUser=null, lastModifiedTime=null, mimeType=null, fileRef=null, fileSize=0, extension=null, title=null, body=null, completeFilePath=/pages/img/membersnaps/SheSpeaks_Logo_Symbol_Only_10182021080530.jpg, height=1777, width=1777, maxHeight=50, maxWidth=50, displayWidth=50, displayHeight=50, fileStatusId=0, searchKeyword=null, searchFlag=false, queryId=0, isExists=true], authorFileId=42371, authorType=0, storyImgFileVO=null, storyImgFileId=0, videoHtml=, authorImageFileId=0, authorImageFileVO=null, previousCategoryId=null, previousBlogStatusId=0, fromBlogDetails=0, blogCategoryName=Living, blogCategoryUrl=null, blogCategoryDesc=null, defaultImage=false, tags=null, optionIds=null, tagOptionId=null, tagId=null, tag=null, tagID=0, tagDetails=null, tagIds=null, testId=0, extBlogURL=null, extBlogStatus=0, bloggerSince=null, extBlogLimit=0, authorTestsList=[], blogURL=, blogName=, bloggerProfileId=0, sliderBlog=false, eventonHome=false, vosonHome=false, partyAndGiveawayDate=02/14/2022, imageCredit=null, pullQuoteMemId=Julia Loggins , offerSubHead=, subHead=, displayOrder=0,includeInGoogleSearch=false]
Jan 26, 2022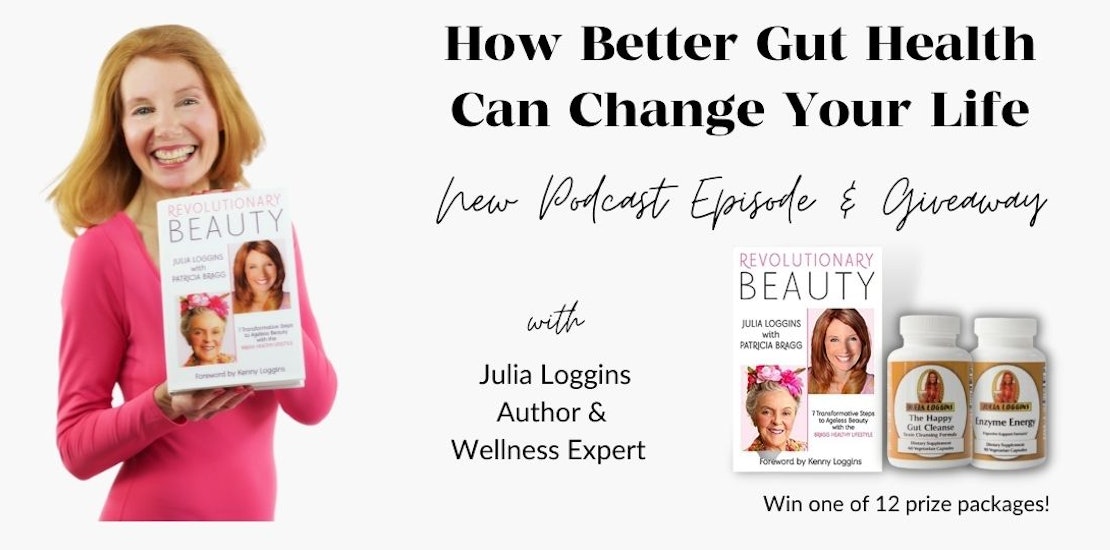 Did you know that your gut health is directly tied to your overall wellness? Everything from sleep, mental health, energy, illness (and more) is tied to gut health. In our latest podcast episode, Julia Loggins, an author with a passion for educating in health and wellness, helps us understand what gut health is, how to know if you have gut issues and what steps you can take to resolve them.

Read on to see how you can WIN 1 of 12 prize packages - featuring Julia's new book & gut health supplements.

"Healing is possible...and healing starts with our digestion. "
Listen to the latest
How She Does It
episode below to learn more about Julia's mission and how you can improve your health with better digestion and gut wellness.
Episode Highlights:
9:01:
What are the signs of gut-health issues?
16:05:
Find out what your gut may not be producing & how this impacts your health.
22:28
How is mental health-related to gut health?
25:50:
How can you begin to heal and improve digestion?
More About Julia
Julia's struggle with numerous life-threatening diseases in the early years of her life inspired her to embrace the power of regenerative medicine. Through her knowledge and personal experience, Julia helps others take control of their health and live better life. After studying under experts for numerous years Julia earned her certification as a colon therapist and opened a private practice in California. Today she teaches about the importance of gut health and how it impacts the many different aspects of our lives. Her books, products, and speaking engagements are all a part of Julia's goal of helping people all over experience lifelong wellness. You can find Julia's website here:
https://daretodetoxify.com/
Enter to Win! 12 (twelve) winners will each receive a prize package that includes:
Julia's new book - Revolutionary Beauty
1 Bottle of Enzyme Energy
1 Bottle of Happy Gut Cleanse
1 Bottle of Electrolytes Energy
Enter in the widget below to win!
Podcast: Julia Loggins Prize Package
12 (twelve) lucky participants will be chosen at random to win a gut health prize package - including Julia's new book and gut health supplements This giveaway is open through 2/14/2022 to U.S. residents at least 18 years of age. Entrants must be a member of SheSpeaks. If you are not a member, click here to join. Winner will be notified by email.
Thanks to all who entered! Congrats to our winners, SheSpeaks members: klassic, HelgaHelga, budgetbee, gakusan, CountryGirl21, bettycd, samie1, Jane83, Itsmelillex22, HoneyB221, SASHANENE, and Loepsie.