Go Beyond Burgers - Easy #SheSpeaksRecipes & a $50 Giveaway to End the Summer Right

by
SheSpeaksTeam
is this the date @ED : BlogVO [categoryId=70164, blogId=145171, blogTitle=Go Beyond Burgers - Easy #SheSpeaksRecipes & a $50 Giveaway to End the Summer Right, publishingDate=August 23, 2017 12:00 AM, maxResponses=null, noOfComments=null, fileId=30009, blogClosingDate=null, blogCommentClosed=null, blogCategoryId=70164, queryId=0, blogCategoryIdIndex=0, sharedCategoriesList=null, blogStatusId=34, commentsClosedFlag=false, categoryIdForLog=0, blogModuleCategoryId=0, blogFileVo=null, latestCommentsList=null, verticalCatSeoURL=null, currentDate=06/10/2023, blogLink=null, authorName=SheSpeaksTeam, authorLognId=SheSpeaksTeam, authorAcctId=67580, vosTypeid=3, searchTestId=0, searchStatusId=0, searchAuthorType=0, authorBlogNumber=0, surveyData1=null, surveyData1Desc=null, surveyData2=null, surveyData2Desc=null, pullQuoteMemberId=null, filePath=null, fileName=null, vosType=0, subhead=null, offerSubhead=null, description=null, creationTime=null, authorFname=SheSpeaks, verticalCategoryId=null, sectionId=0, imageFileVO=FilesVO [fileId=30009, filePath=null, fileName=null, fileLength=0, fileWidth=0, createdBy=0, createByUser=null, creationTime=null, lastModifiedBy=0, lastModifiedByUser=null, lastModifiedTime=null, mimeType=null, fileRef=null, fileSize=0, extension=null, title=null, body=null, completeFilePath=/pages/img/redesign/blogs/sandwiches_08172017082237.JPG, height=350, width=350, maxHeight=480, maxWidth=360, displayWidth=350, displayHeight=350, fileStatusId=0, searchKeyword=null, searchFlag=false, queryId=0, isExists=true], seoURL=Go-Beyond-Burgers-Easy-SheSpeaksRecipes-and-a-50-Giveaways-to-End-the-Summer-Right, seoTitle=null, pullQuotesList=null, pullQuote=null, pullQuoteId=0, searchFlag=false, authorByLine=null, authorDesc=null, authorLink=null, authorFileVO=FilesVO [fileId=42371, filePath=null, fileName=null, fileLength=0, fileWidth=0, createdBy=0, createByUser=null, creationTime=null, lastModifiedBy=0, lastModifiedByUser=null, lastModifiedTime=null, mimeType=null, fileRef=null, fileSize=0, extension=null, title=null, body=null, completeFilePath=/pages/img/membersnaps/SheSpeaks_Logo_Symbol_Only_10182021080530.jpg, height=1777, width=1777, maxHeight=50, maxWidth=50, displayWidth=50, displayHeight=50, fileStatusId=0, searchKeyword=null, searchFlag=false, queryId=0, isExists=true], authorFileId=42371, authorType=0, storyImgFileVO=null, storyImgFileId=0, videoHtml=, authorImageFileId=0, authorImageFileVO=null, previousCategoryId=null, previousBlogStatusId=0, fromBlogDetails=0, blogCategoryName=Food, blogCategoryUrl=null, blogCategoryDesc=null, defaultImage=false, tags=null, optionIds=null, tagOptionId=null, tagId=null, tag=null, tagID=0, tagDetails=null, tagIds=null, testId=0, extBlogURL=null, extBlogStatus=0, bloggerSince=null, extBlogLimit=0, authorTestsList=[], blogURL=, blogName=, bloggerProfileId=0, sliderBlog=false, eventonHome=false, vosonHome=false, partyAndGiveawayDate=09/10/2017, imageCredit=null, pullQuoteMemId=null, offerSubHead=null, subHead=null, displayOrder=0,includeInGoogleSearch=false]
Aug 23, 2017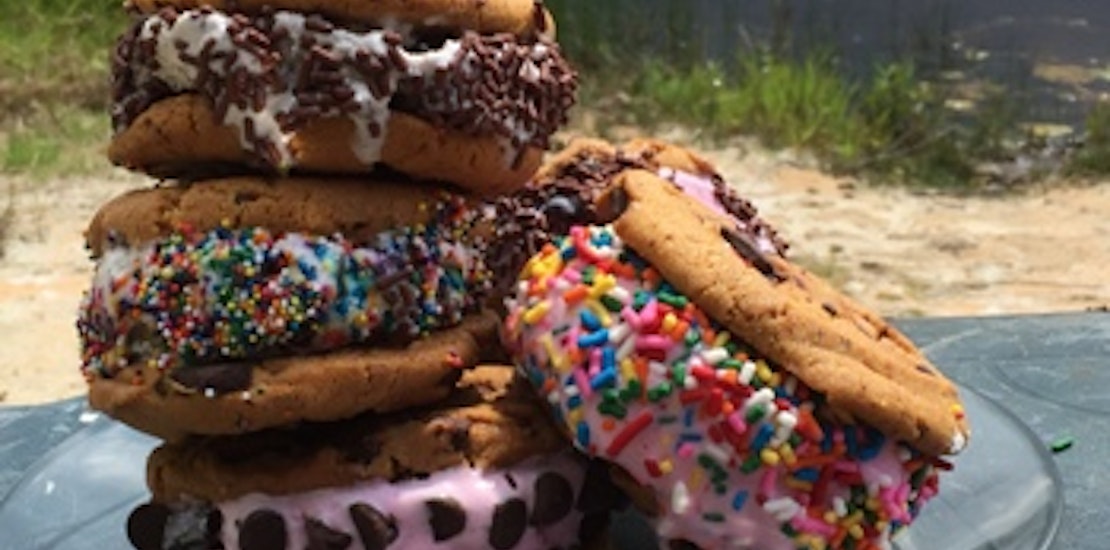 Make the feeling of summer last by getting together with friends, but this time, skip serving the usual burgers and dogs! Whether it's a big Labor Day Blowout or a night with the family, try something different with these fun and easy recipes suggested by fellow SheSpeaks members.
How are you making the most of your summer's end? Tell us for the chance to win a $50 Visa card to buy supplies for your next celebration!
Main Course
Try one of these festive dinners, where you can make the base in advance and then leave it to your guests to add their favorite toppings!
Chicken Tacos: Shred rotisserie chicken and put in skillet with some green enchilada sauce and taco seasoning until warm. Heat some tortillas and a can of refried beans while the chicken is heating and then chop whatever veggies. Dinner on the table in about 15 minutes! (For a bigger crowd, you can also offer chopped meat, fish and/or roasted veggies.) - makysmama
Meatball Subs: Ingredients: frozen turkey meatballs, mozzarella cheese, hoagie/sub rolls, spaghetti sauce, chopped veggies, cheese. Directions: In a small kettle, heat spaghetti sauce. Add frozen meatballs to heat. Add warmed spaghetti sauce to each roll and add meatballs. Let your guests top with their choice of cheese and veggies. Yummy and super easy. - Philly_Girl
Chicken Sliders: Check out this how-to video showing a delicious summer meal and entertaining tips using Rubbermaid BRILLIANCE. Video by TabithaBlue, sponsored by Rubbermaid.
Sides
Don't stress about sides when you are entertaining. Try one of these options that are easy to throw together, but sure to please any guest.
Caprese Salad: An easy summer side is sliced tomatoes layered with basil and mozzerella, drizzled with a tasty balsalmic. - bwappman
Oven Roasted Veggies: Preheat oven to 450 degrees. Chop butternut squash, onion, brussel sprouts, and whole cloves of garlic tossed with olive oil, kosher salt, and black pepper. Place parchment paper on a cookie sheet and spread veggies evenly so they're not crowded. Roast for 40 minutes, turning veggies after 20 minutes for an even cook. - tweetibird
Drinks & Dessert
Drink Fruit Bar: Many people have fruit with dessert. But you can put a special twist on your drinks table by having a bowl of cut up fruit, like oranges, lemons, strawberries or raspberries to drop into drinks. This works great with ice water, champagne, wine, or even hard alcohol like vodka.
Ice Cream Sandwiches: Nothing says summer more than ice cream. But scooping different flavors can get tedious. Instead, serve piles of ice cream sandwiches. The classic could make any child, or adult, smile, but if you want to get fancier, they are easy to make in advance with ice cream and your favorite cookie. You can even add sprinkes or mini-chocolate chips to the sides.
How are you savoring summer? Tell us for the chance to win a $50 Visa card to prep for your next celebration!
There are three ways to enter:
Comment below and tell us what you are doing to make the most of the last days of summer.

Tweet about the giveaway: Click

HERE

to Tweet: "Making the most of summer by entering the #SheSpeaksRecipes $50 Visa giveaway, thx to @SheSpeaksUp! bit.ly/2wYeeGm"

BONUS (worth 5 entries!): Post on Instagram: Take a photo to show how you're enjoying the end of summer. Tag #SheSpeaksRecipes, #SheSpeaks and #entry.
*One lucky commenter, Tweeter or Instagrammer will be chosen at random to receive a $50 Visa card. Giveaway is open through September 10th, 2017 to U.S. residents at least 18 years of age. Entrants must be a member of SheSpeaks. If you are not a member, click here to join. Winner will be notified by email.