Giant Ginger Cookies
submitted by PavyOday {1 Recipe}
Prep Time:
15 Mins
Cook Time:
10 Mins
Total Prep + Cook Time:
25 Mins
Level:
Easy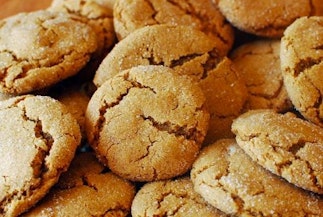 Makes: 24 cookies
Description: These are chewy and delicious and they are giant in both size and flavor. Easy to make too :)
Ingredients:
2 1/4 cups all purpose flour
2 tsps ground ginger
1 tsp baking soda
3/4 tsp ground cinnamon
1/2 tsp ground cloves
1/8 tsp teaspoon salt
3/4 cup butter
1 cup sugar
1 egg
1/4 cup molasses
2 tbsp coarse or regular sugar

Instructions: 1. In a medium bowl, combine the flour, ginger, baking soda, cinnamon,
cloves, and salt; set aside.

2. In a large mixing bowl, beat butter with an electric mixer on low speed
for 30 seconds. Gradually add the 1 cup sugar; beat until fluffy. Add the
egg and molasses; beat well. Stir the flour mixture into the egg mixture.

3. Shape dough into 1 1/2 inch balls (1 heaping tablespoon dough each).
Roll balls in 2 tablespoons of sugar and place on ungreased cookie
sheets about 2 1/2 inches apart.

4. Bake in a 350F oven about 10 minutes or until light brown, but still
puffed. (Do not over bake.) Let stand on cookie sheets for 2 minutes;
transfer to a wire rack and let cool.
Other recipes in desserts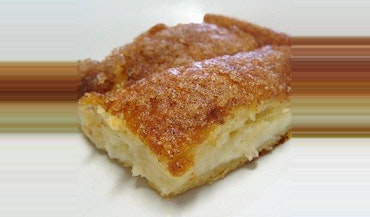 By
smileashh
May 01, 2013
This is my favorite dessert, it is easy and delicious !
Read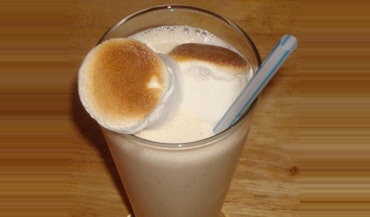 By
Lumica
Jul 02, 2014
This tasty treat that can cool the fires of even the worst summer heat.
Read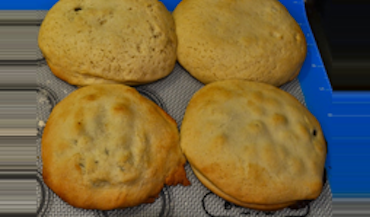 By
vanessamarie
Sep 09, 2014
Raisin-Filled Cookie Recipe
Read