Getting Holiday Ready with COVERGIRL Colorlicious Lipstick & Rent the Runway #KissedByCOVERGIRL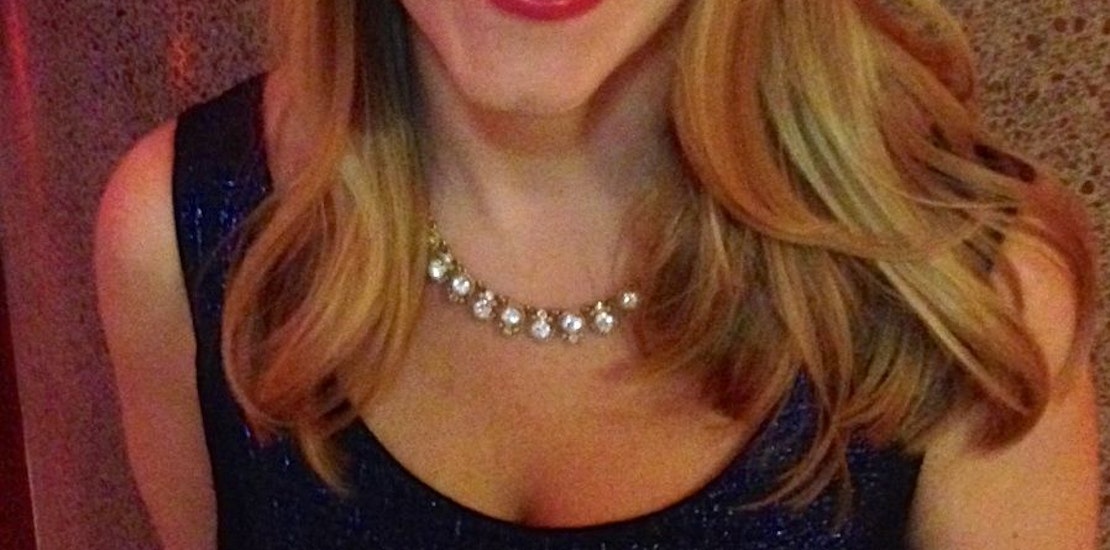 The holiday season is in full swing - and like most, I had a quick succession of fun events to get glammed up for! Luckily, I knew exactly what looks I wanted to try, thanks to COVERGIRL and Rent the Runway!
I recently turned thirty (eek!) and to celebrate my birthday, my husband made us a reservation at a fancy restaurant in New York. There are so many fantastic restaurants in the city and on special occasions we often make plans to eat at some of the places that we wouldn't normally splurge on. I wanted to bring my A game, so I planned my makeup around the gorgeous new COVERGIRL Colorlicious Lipstick, which is now available at Walmart! There are 9 shades available online here, but if you go to your local Walmart, you can check out all 36 shades. I really love the COVERGIRL Colorlicious Lip Gloss, so I was especially excited to try the new Colorlicious Lipstick.
For my dinner out, I wore the COVERGIRL Colorlicious Lipstick in Caramel Kiss, a really subtle nude shade that was the perfect match for the bright red dress I chose from Rent the Runway, below. The Colorlicious Lipstick is super moisturizing, thanks to shea butter, and really lasts all night. I've wanted to try a nude lipstick for a while, and this shade worked perfectly for me! I also love that it's super affordable at Walmart, so it's really easy to pick up a few new shades to try.
I'm a huge fan of Rent the Runway, an online fashion service where you can rent designer dresses (and more!) at a fraction of what it would cost to buy the dresses. Living in Brooklyn, I'm always trying to keep clutter out of my tiny closet, so Rent the Runway has been a really great solution for me when I'm in the mood to wear something new, but I don't want to commit to buying a dress. I've rented dresses for weddings, girls' night out, and for holiday parties. It's super simple to use. Here's how it works:
1) Rent it: Choose the dress you love, and the date you want it delivered. You can choose a rental period of four or eight days. Pro tip: arrange for delivery a few days before your event, so you can be sure you get the dress in time. You can choose a size and a free back-up size. It's much easier to rent a dress knowing that if your usual size doesn't work for you, you have a back up! Rent the Runway has a fantastic review section, so you can see real women wearing the dresses and their comments on fit. The reviews have definitely helped me find the best picks for me.
2) Wear it: Get dressed up and enjoy your night!
3) Return it: Place both dresses in the pre-addressed UPS return envelope and drop it off at UPS the day your return is due. That's it!
It's so easy! Almost too easy. After my birthday dinner, I also had a holiday party to go to, and another new COVERGIRL Colorlicious lipstick to try in the shade Tantalize, a beautiful bright plum color. After browsing the options on Rent the Runway, I settled on this gorgeous sparkly blue dress by Shoshana. I love the combination of deep blue with a bright pop of color!
Again I was impressed with the COVERGIRL Colorlicious Lipstick. It's really pigmented so it has fantastic color payoff and it lasted through the evening with very little reapplication! The photo on the left was taken at the end of the night, and my lipstick hasn't budged! I usually wear lip balm under my lipstick in the winter so my lips stay hydrated, but I was able to skip that step because the COVERGIRL Colorlicious Lipstick is so moisturizing.
New Year's Eve is right around the corner, so I have another trip to Walmart on my list to check out a few more of the 36 new COVERGIRL Colorlicious shades in store! I'm thinking I'll try a bright red shade like Succulent Cherry to go with a something gold and sparkly like this Badgley Mischka cocktail dress.
What are your plans for New Year's Eve? What shade of COVERGIRL Colorlicious Lipstick would you buy at Walmart to try next? Tell me in the comments!
Disclosure: This is a sponsored post for SheSpeaks/P&G.