Geeks For CONsent Want To End Sexual Harassment at Comic-Con

By
SheSpeaksTeam
Jul 29, 2014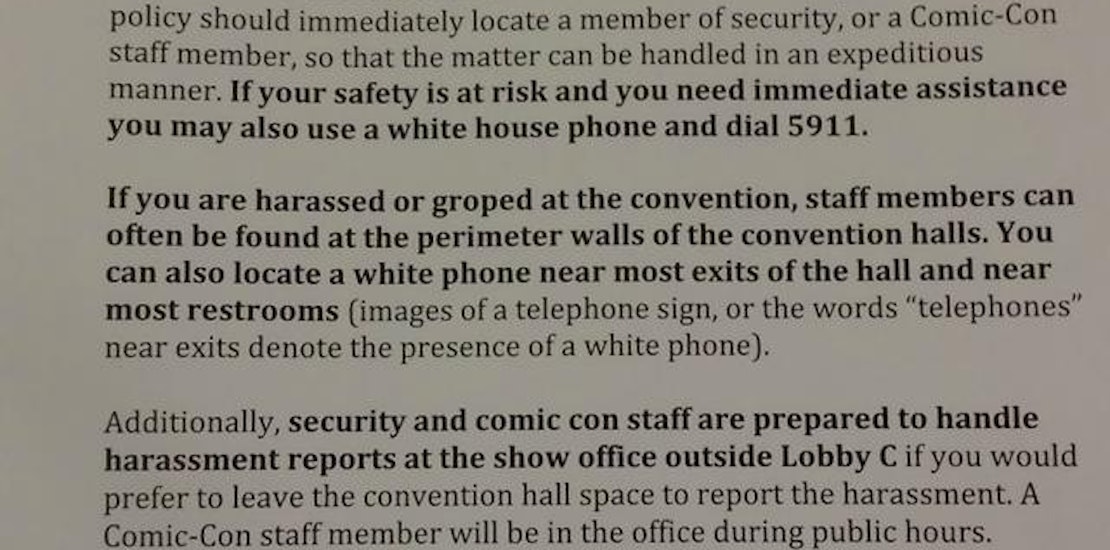 Comic fans around the world look forward to Comic-Con all year, but many women feel there are some aspects of the convention that they can do without. Now an organization of young women known as Geeks for CONsent wish to spread the word about the sexual harassment that can go on at these events and what management can do to put a stop to these incidents.
The New York Daily News reports about the geeks for CONsent, founded by three Philadelphia women, that is asking for a formal anti-harassment policy to be put into place at Comic-Con. So far Geeks For CONsent have 2,600 signatures on their petition to instate a policy that forbids the type of sexual harassment many women have reportedly faced while attending the convention.
As fans take part in cosplay (a big part of the popular convention with male and female fans costume-dressing as their favorite comic book characters, regardless of gender), women report being groped, followed and unwillingly photographed at Comic-Con every year. A 24-year-old model dressed as Wonder Woman, Toni Darling, explains how she would like to see more rules instated and enforced at Comic-Con regarding sexual harassment. She says, "I don't think it has anything to do with cosplay or anything to do with costumes. People who are the kind of people who are going to take a photo of you when you're not looking from behind are going to do that regardless, whether you're in costume or not." Darling adds, "The kind of behavior that needs to be modified is somebody taking a photo of you bent over while you're signing a print."
After not receiving much of a response from the event's organizers about making their current harassment policy more visible to attendees, the Geeks for CON-sent took it upon themselves to post copies of the policy in bathrooms at the recent San Diego convention center. The Daily Dot reports about the posters taped up in the bathrooms that let victims know how they can report an incident if they feel they have been harassed. The posters also encouraged women to report the incidents to their Twitter page and one respondent tweeted, "@GeeksForCONsent Saw your flier at #SDCC2014 Guy last night kept harassing me, wouldn't go away. Groped me and PICKED ME UP. I was scared."
Have you ever attended Comic-Con?
Do you think organizers should do more to enforce their anti-harassment policy?