Garlic Mashed Cauliflower
submitted by stef42678 {2 Recipes}
Prep Time:
20 Hrs
Cook Time:
10 Hrs
Total Prep + Cook Time:
30 Hrs
Level:
Easy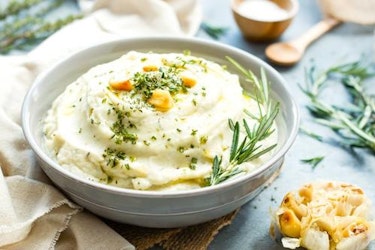 Photo Source: https://www.evolvingtable.com/roasted-garlic-mashed-cauliflower/
Makes: 6 cups
Description: This is my favorite to side dish to serve during the holidays because it is vegan and healthy and tastes so good!
Ingredients:
1 Head of cauliflower
3 Cloves of garlic
1/4 cup Almond Milk
1 1/2 tsp Rosemary
1 1/2 tsp Thyme
1 tsp Salt

Instructions: 1. Bring a large pot of water to a boil. Boil cauliflower for 10-12 minutes.
2. Drain water and place cauliflower on a towel and dry cauliflower completely before proceeding.
3. In the bowl of a food processor *combine cauliflower, almond milk, rosemary, thyme, 3-4 roasted garlic cloves, and 1 teaspoon salt.
4. Puree for 2-3 minutes or until mashed cauliflower is completely smooth. Be sure to scrape down the sides of the bowl every 30-45 seconds to ensure even pureeing.
5. Serve and enjoy!
via https://www.evolvingtable.com/roasted-garlic-mashed-cauliflower/
Other recipes in side dishes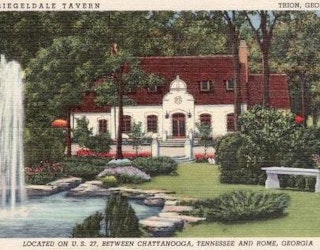 By
mmtinga
Mar 25, 2015
The Tavern, as it was called by folks in my town, was a picturesque resturant with wonderful food. The eggplant casserole was a favorite.
Read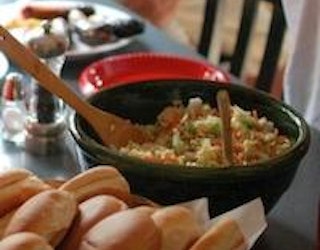 By
emimorgan
Sep 21, 2011
Great for picnics or BBQs as a side dish - this slaw mixes in a nice crunch and is easy to make.
Read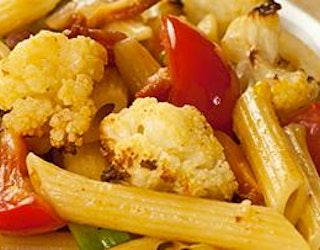 By
Unchained7783
Jul 01, 2014
I know this sounds too easy & simple to make a fuss over, but this is the MOST amazing pasta dish & side with a meal, especially grilled meats. The key t…
Read