Freshen Your Look With New Tops

By
CarolinaMama
Jul 23, 2011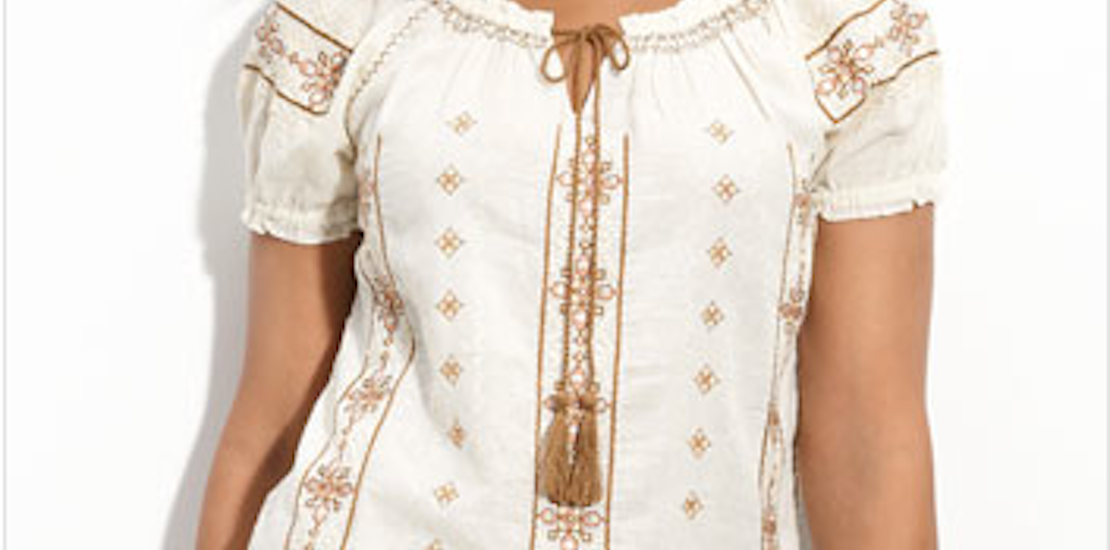 Here we are in the heat of Summer. Or, did I mean the middle of Summer! Either way, when you are hot and hurried, think about freshening your look with a new top. This is a simple trick that will give you the look of a new outfit.
Here are some ideas to remember:

1) The Peasant Shirt. These are the rage again. Everyone loves the peasant shirt. They are loose and airy. They look inspirational and relaxing. They are very comfortable. Isn't it all about comfort on the hot days of summer! Look at this pretty peasant shirt above from Nordstrom's and a great look with jeans.
2) The Basic White Tee. True I'm on the Hanes Comfort Crew. True also that I adore the basic white tee shirt! This is classic American style. And the white tee is so versatile. You can mix it with a lot of different things and come out with totally opposite looks. Think classic, funky and preppy - all with one shirt.
3) Top with Ruffles. Ruffles rule right now. You can even find them on a tank top. Ruffles and tiers dress up a tee shirt, tank top or a silk blouse. There is something about the light and airy look and feel of ruffles that are hot - lol, I mean - perfect right now. You can wear a ruffled top with jeans or a skirt.
4) Shirts That Tie. The wrap shirt is in. The Tie in the back shirt is popular and comfortable. These beat a plain look any day. So take a look for a top that ties. You'll love it. There are super flattering too. So you now, now you have double incentive.
5) Skinny Cardi Sweater. These are all the rage for all ages from little girls to Moms like us. These are awesome for several reasons. These add dimension to your look. They are a perfect Summer layer. They pull an outfit together smoothly. Again, these are flattering. Can you tell I love a look that is flattering to most of us. The Skinny Cardi Sweater is a good thing.
Enjoy these quick and easy updates and most of all, enjoy these active, fun and hot Summer days. What are your favorite shirts?