Fizzy 'Frozen' Drink Made to Look Like Champagne Sends the Wrong Message To Kids

By
SheSpeaksTeam
Dec 30, 2015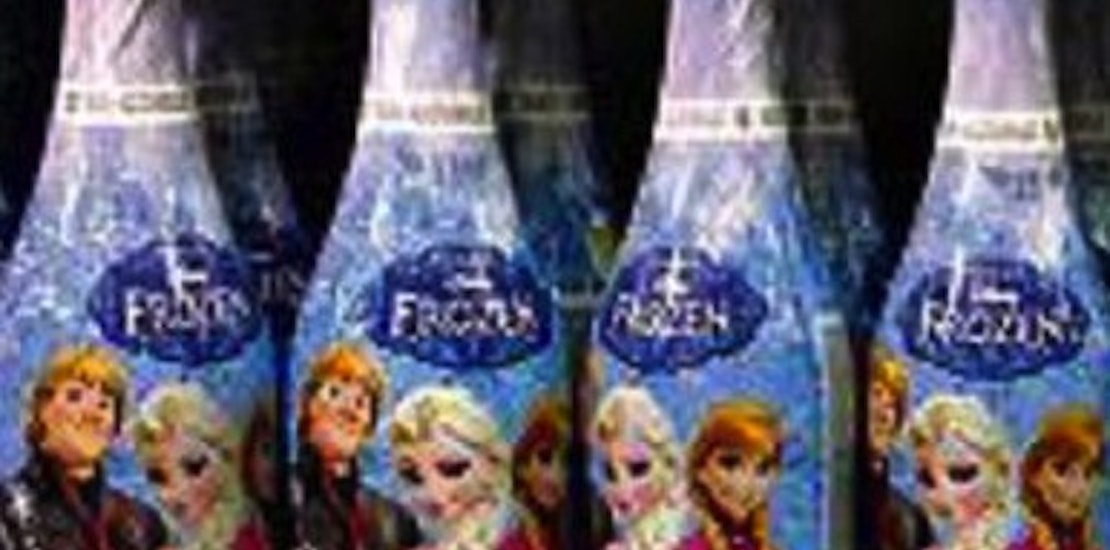 If you have young children in your house chances are that you also own a menagerie of Frozen inspired merchandise. The movie's popularity may be partially due to Disney's ability to brand everything from bridal gowns to every toy imaginable. But a new product on the market has some parents scratching their heads, wondering what Disney was thinking. A bubbly non-alcoholic drink that was basically being sold to kids as fake champagne was recently on the shelves in the U.K. with some words of encouragement for kids to enjoy the "sophisticated" drink.
The Sun reports about the Frozen themed beverage and Disney's recent move to pull all the bottle from shelves. The bottles show characters from the movie and comes complete with a cork for popping. Their website advertised the grape drink saying, "Little princes and princesses across the land who want to be more sophisticated can now have a grown-up alternative to juice and pop at parties. With a champagne-style cork pop, your little one is sure to feel part of every celebration."
It may not sound like a big deal to some but according to the Institute for Alcohol Studies a child's attitude toward alcohol can be swayed by "the promotion of non-alcoholic consumer items." Alison Douglas, chief executive of Alcohol Focus Scotland warns that this type of marketing can have a negative effect on our kids. She says, "Young children should not be targeted with champagne-style drinks to make them feel 'sophisticated and grown-up'." She adds, "Alcohol marketing, whether direct or indirect, has no place in childhood."
And as more people question the product's effect on kids, Disney has decided to put the kibash on the beverage. A Disney spokesperson says, "We have recently been made aware of the Vitpress Disney Frozen Non-Alcoholic Party Drink, a licensed product that originates in Poland. As we set very high standards for the quality of products bearing the Disney name and characters, we have informed the manufacturer that we will no longer license Disney images to a product that is packaged to look like alcohol."
What do you think of the fizzy Frozen drink that was made to look like champagne?
Do you think products like this send the wrong message to our kids or is it just harmless marketing?