Enter the ThreeMain Giveaway: Win a Clean Green Starter Kit + Refill Subscription

by
SheSpeaksTeam
is this the date @ED : BlogVO [categoryId=70165, blogId=145765, blogTitle=Enter the ThreeMain Giveaway: Win a Clean Green Starter Kit + Refill Subscription, publishingDate=August 19, 2020 12:00 AM, maxResponses=null, noOfComments=null, fileId=38643, blogClosingDate=null, blogCommentClosed=null, blogCategoryId=70165, queryId=0, blogCategoryIdIndex=0, sharedCategoriesList=null, blogStatusId=34, commentsClosedFlag=false, categoryIdForLog=0, blogModuleCategoryId=0, blogFileVo=null, latestCommentsList=null, verticalCatSeoURL=null, currentDate=09/23/2023, blogLink=null, authorName=SheSpeaksTeam, authorLognId=SheSpeaksTeam, authorAcctId=67580, vosTypeid=3, searchTestId=0, searchStatusId=0, searchAuthorType=0, authorBlogNumber=0, surveyData1=null, surveyData1Desc=null, surveyData2=null, surveyData2Desc=null, pullQuoteMemberId=null, filePath=null, fileName=null, vosType=0, subhead=null, offerSubhead=null, description=null, creationTime=null, authorFname=SheSpeaks, verticalCategoryId=null, sectionId=0, imageFileVO=FilesVO [fileId=38643, filePath=null, fileName=null, fileLength=0, fileWidth=0, createdBy=0, createByUser=null, creationTime=null, lastModifiedBy=0, lastModifiedByUser=null, lastModifiedTime=null, mimeType=null, fileRef=null, fileSize=0, extension=null, title=null, body=null, completeFilePath=/pages/img/redesign/blogs/threemain blog image_08172020112732.jpg, height=385, width=685, maxHeight=480, maxWidth=360, displayWidth=360, displayHeight=202, fileStatusId=0, searchKeyword=null, searchFlag=false, queryId=0, isExists=true], seoURL=Enter-the-ThreeMain-Giveaway-Win-a-Clean-Green-Starter-Kit, seoTitle=null, pullQuotesList=null, pullQuote=null, pullQuoteId=0, searchFlag=false, authorByLine=null, authorDesc=null, authorLink=null, authorFileVO=FilesVO [fileId=42371, filePath=null, fileName=null, fileLength=0, fileWidth=0, createdBy=0, createByUser=null, creationTime=null, lastModifiedBy=0, lastModifiedByUser=null, lastModifiedTime=null, mimeType=null, fileRef=null, fileSize=0, extension=null, title=null, body=null, completeFilePath=/pages/img/membersnaps/SheSpeaks_Logo_Symbol_Only_10182021080530.jpg, height=1777, width=1777, maxHeight=50, maxWidth=50, displayWidth=50, displayHeight=50, fileStatusId=0, searchKeyword=null, searchFlag=false, queryId=0, isExists=true], authorFileId=42371, authorType=0, storyImgFileVO=null, storyImgFileId=0, videoHtml=, authorImageFileId=0, authorImageFileVO=null, previousCategoryId=null, previousBlogStatusId=0, fromBlogDetails=0, blogCategoryName=Living, blogCategoryUrl=null, blogCategoryDesc=null, defaultImage=false, tags=null, optionIds=null, tagOptionId=null, tagId=null, tag=null, tagID=0, tagDetails=null, tagIds=null, testId=0, extBlogURL=null, extBlogStatus=0, bloggerSince=null, extBlogLimit=0, authorTestsList=[], blogURL=, blogName=, bloggerProfileId=0, sliderBlog=false, eventonHome=false, vosonHome=false, partyAndGiveawayDate=09/13/2020, imageCredit=null, pullQuoteMemId=null, offerSubHead=null, subHead=null, displayOrder=0,includeInGoogleSearch=false]
Aug 19, 2020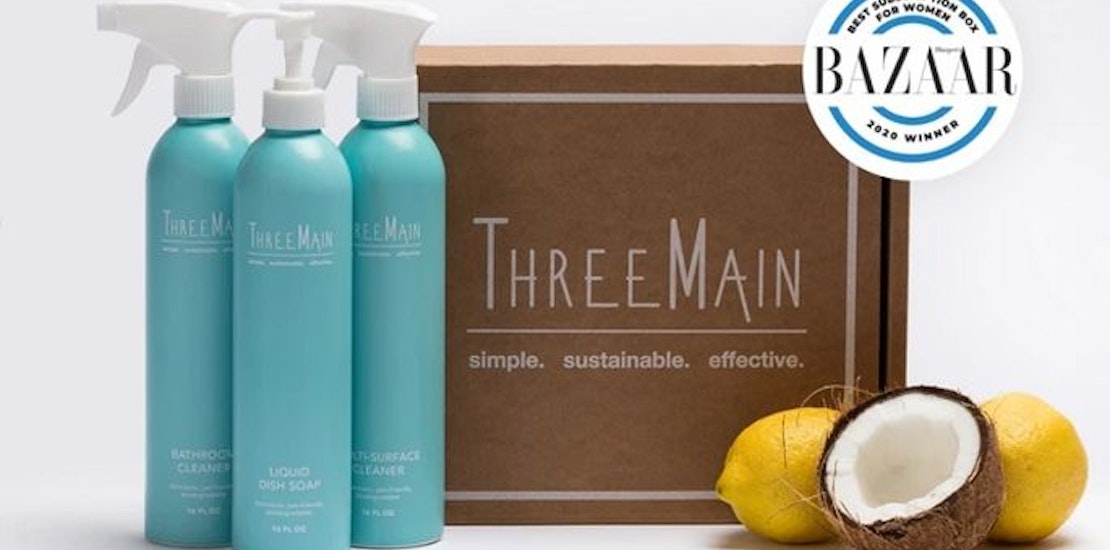 Members of the SheSpeaks community have been sampling non-toxic, eco-friendly household cleaning products from ThreeMain and sharing their opinions. JannL7 shared this feedback:

The Clean Green Starter Kit is awesome. I have been using it for a few weeks and I'm not missing my old cleaning products whatsoever. The scent is strong enough to get your house smelling fresh and clean but not overpowering enough to feel you're breathing in chemicals. I appreciate that it's pet friendly and that is cruelty free. Overall it's a great product because it actually cleans without all the drawbacks of most products.

ThreeMain products come in refillable, reusable aluminum bottles that are made in the USA. Best part? They work and smell great!

ThreeMain is Harper Bazaar's 2020 winner for Best Subscription Box for Women. The Clean Green Starter Kit has won the 2020 Health Magazine Best Soap for Moisturizing and Anti-Aging.
Now you have the chance to win a Clean Green Starter Kit + one-year subscription of refills! Enter below!
ThreeMain Giveaway
*One lucky contestant will be chosen at random to receive a ThreeMain CleanGreen Starter Kit + a one-year refill subscription, Giveaway is open through September 13, 2020 to U.S. residents at least 18 years of age. Entrants must be a member of SheSpeaks. If you are not a member, click here to join. Winner will be notified by email.
Update: Thanks to all who entered! Congrats to our winner, SheSpeaks member Kbillotto12.