Enter the Secret Clinical Strength Deodorant Giveaway #SecretClinicalAtWalmart

by
SheSpeaksTeam
is this the date @ED : BlogVO [categoryId=70165, blogId=145775, blogTitle=Enter the Secret Clinical Strength Deodorant Giveaway #SecretClinicalAtWalmart, publishingDate=September 22, 2020 12:00 AM, maxResponses=null, noOfComments=null, fileId=38806, blogClosingDate=null, blogCommentClosed=null, blogCategoryId=70165, queryId=0, blogCategoryIdIndex=0, sharedCategoriesList=null, blogStatusId=34, commentsClosedFlag=false, categoryIdForLog=0, blogModuleCategoryId=0, blogFileVo=null, latestCommentsList=null, verticalCatSeoURL=null, currentDate=01/20/2022, blogLink=null, authorName=SheSpeaksTeam, authorLognId=SheSpeaksTeam, authorAcctId=67580, vosTypeid=3, searchTestId=0, searchStatusId=0, searchAuthorType=0, authorBlogNumber=0, surveyData1=null, surveyData1Desc=null, surveyData2=null, surveyData2Desc=null, pullQuoteMemberId=null, filePath=null, fileName=null, vosType=0, subhead=null, offerSubhead=null, description=null, creationTime=null, authorFname=SheSpeaks, verticalCategoryId=null, sectionId=0, imageFileVO=FilesVO [fileId=38806, filePath=null, fileName=null, fileLength=0, fileWidth=0, createdBy=0, createByUser=null, creationTime=null, lastModifiedBy=0, lastModifiedByUser=null, lastModifiedTime=null, mimeType=null, fileRef=null, fileSize=0, extension=null, title=null, body=null, completeFilePath=/pages/img/redesign/blogs/secret_09292020101040.jpg, height=385, width=685, maxHeight=480, maxWidth=360, displayWidth=360, displayHeight=202, fileStatusId=0, searchKeyword=null, searchFlag=false, queryId=0, isExists=true], seoURL=Enter-the-Secret-Clinical-Strength-Deodorant-Giveaway-SecretClinicalAtWalmart, seoTitle=null, pullQuotesList=null, pullQuote=null, pullQuoteId=0, searchFlag=false, authorByLine=SheSpeaksTeam, authorDesc=Powered by women who love to share what's HOT in reviews, deals & recipes., authorLink=null, authorFileVO=FilesVO [fileId=42371, filePath=null, fileName=null, fileLength=0, fileWidth=0, createdBy=0, createByUser=null, creationTime=null, lastModifiedBy=0, lastModifiedByUser=null, lastModifiedTime=null, mimeType=null, fileRef=null, fileSize=0, extension=null, title=null, body=null, completeFilePath=/pages/img/membersnaps/SheSpeaks_Logo_Symbol_Only_10182021080530.jpg, height=1777, width=1777, maxHeight=50, maxWidth=50, displayWidth=50, displayHeight=50, fileStatusId=0, searchKeyword=null, searchFlag=false, queryId=0, isExists=true], authorFileId=42371, authorType=0, storyImgFileVO=null, storyImgFileId=0, videoHtml=, authorImageFileId=0, authorImageFileVO=null, previousCategoryId=null, previousBlogStatusId=0, fromBlogDetails=0, blogCategoryName=Living, blogCategoryUrl=null, blogCategoryDesc=null, defaultImage=false, tags=null, optionIds=null, tagOptionId=null, tagId=null, tag=null, tagID=0, tagDetails=null, tagIds=null, testId=0, extBlogURL=null, extBlogStatus=0, bloggerSince=null, extBlogLimit=0, authorTestsList=[], blogURL=, blogName=, bloggerProfileId=0, sliderBlog=false, eventonHome=false, vosonHome=false, partyAndGiveawayDate=09/30/2020, imageCredit=@simplyfalaksid, pullQuoteMemId=null, offerSubHead=null, subHead=null, displayOrder=0,includeInGoogleSearch=false]
Sep 22, 2020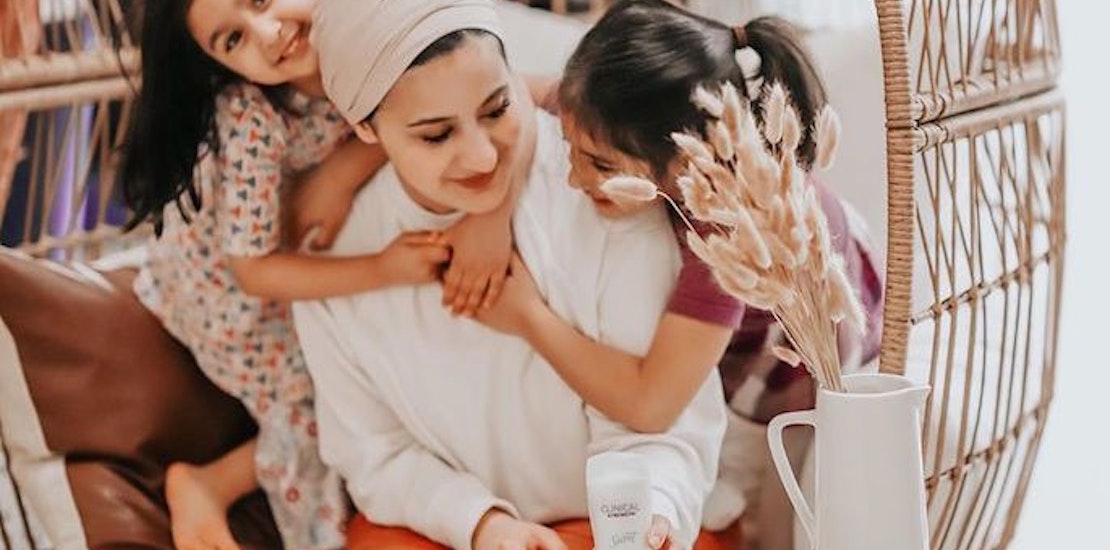 @simplyfalaksid
This year has been a stressful one for most women. Many of us have been juggling changes in routine (like having kids at home for virtual school) and there are more worries than usual, from the economy to health concerns. Have you been experiencing stress sweat more than usual? It's not just you!

We love everyday products that work even harder for us, and Secret Clinical Strength Deodorant does just that. Secret Clinical Strength lasts longer than most other deodorants. You put two clicks per underarm at night before bed, and that one application will last 48 hours! You don't need to reapply in the morning. Putting it on before bed also helps if you tend to sweat in the night (stress dreams, anyone?). Because Secret Clinical Strength Deodorant lasts longer, you don't have to use as much – which can save you trips to the store.

Click here to toss it in your cart at Walmart or look for Secret Clinical Strength Deodorant at Walmart stores.
We're giving you the chance to enter to win a 3-pack of Secret Clinical Strength deodorant and a $50 Walmart gift card.

#SecretClinicalAtWalmart Giveaway
*One lucky contestant will be chosen at random to receive a 3-pack of Secret Clinical Strength deodorant and a $50 Walmart gift card. Giveaway is open through September 30, 2020 to U.S. residents at least 18 years of age. Entrants must be a member of SheSpeaks. If you are not a member,
click here
to join. Winner will be notified by email.

Update: Thanks to all who entered! Congrats to our winner, SheSpeaks member stefaniegladden.