Easy Homemade Ice Cream Ideas + Giveaway

by
SheSpeaksTeam
is this the date @ED : BlogVO [categoryId=70164, blogId=146311, blogTitle=Easy Homemade Ice Cream Ideas + Giveaway, publishingDate=July 26, 2023 12:00 AM, maxResponses=null, noOfComments=null, fileId=48077, blogClosingDate=null, blogCommentClosed=null, blogCategoryId=70164, queryId=0, blogCategoryIdIndex=0, sharedCategoriesList=null, blogStatusId=34, commentsClosedFlag=false, categoryIdForLog=0, blogModuleCategoryId=0, blogFileVo=null, latestCommentsList=null, verticalCatSeoURL=null, currentDate=12/07/2023, blogLink=null, authorName=SheSpeaksTeam, authorLognId=SheSpeaksTeam, authorAcctId=67580, vosTypeid=3, searchTestId=0, searchStatusId=0, searchAuthorType=0, authorBlogNumber=0, surveyData1=null, surveyData1Desc=null, surveyData2=null, surveyData2Desc=null, pullQuoteMemberId=null, filePath=null, fileName=null, vosType=0, subhead=null, offerSubhead=null, description=null, creationTime=null, authorFname=SheSpeaks, verticalCategoryId=null, sectionId=0, imageFileVO=FilesVO [fileId=48077, filePath=null, fileName=null, fileLength=0, fileWidth=0, createdBy=0, createByUser=null, creationTime=null, lastModifiedBy=0, lastModifiedByUser=null, lastModifiedTime=null, mimeType=null, fileRef=null, fileSize=0, extension=null, title=null, body=null, completeFilePath=/pages/img/redesign/blogs/Blog Ice Cream Header_07162023165038.jpg, height=1260, width=2240, maxHeight=480, maxWidth=360, displayWidth=360, displayHeight=202, fileStatusId=0, searchKeyword=null, searchFlag=false, queryId=0, isExists=true], seoURL=Easy-to-Make-No-Churn-Ice-Cream-Ideas, seoTitle=null, pullQuotesList=null, pullQuote=null, pullQuoteId=0, searchFlag=false, authorByLine=null, authorDesc=null, authorLink=null, authorFileVO=FilesVO [fileId=42371, filePath=null, fileName=null, fileLength=0, fileWidth=0, createdBy=0, createByUser=null, creationTime=null, lastModifiedBy=0, lastModifiedByUser=null, lastModifiedTime=null, mimeType=null, fileRef=null, fileSize=0, extension=null, title=null, body=null, completeFilePath=/pages/img/membersnaps/SheSpeaks_Logo_Symbol_Only_10182021080530.jpg, height=1777, width=1777, maxHeight=50, maxWidth=50, displayWidth=50, displayHeight=50, fileStatusId=0, searchKeyword=null, searchFlag=false, queryId=0, isExists=true], authorFileId=42371, authorType=0, storyImgFileVO=null, storyImgFileId=0, videoHtml=, authorImageFileId=0, authorImageFileVO=null, previousCategoryId=null, previousBlogStatusId=0, fromBlogDetails=0, blogCategoryName=Food, blogCategoryUrl=null, blogCategoryDesc=null, defaultImage=false, tags=null, optionIds=null, tagOptionId=null, tagId=null, tag=null, tagID=0, tagDetails=null, tagIds=null, testId=0, extBlogURL=null, extBlogStatus=0, bloggerSince=null, extBlogLimit=0, authorTestsList=[], blogURL=, blogName=, bloggerProfileId=0, sliderBlog=false, eventonHome=false, vosonHome=true, partyAndGiveawayDate=08/21/2023, imageCredit=null, pullQuoteMemId=null, offerSubHead=, subHead=, displayOrder=0,includeInGoogleSearch=false]
Jul 26, 2023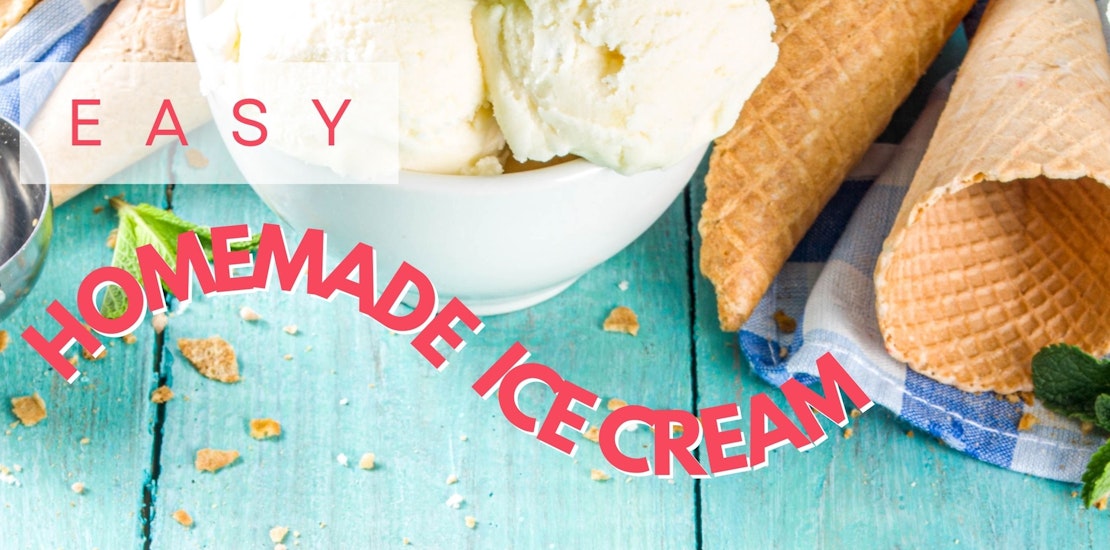 It's officially ice cream season and while there's nothing like a trip to your favorite ice cream place to pick out a scoop or two, it is equally as fun to make this sweet treat right at home! Luckily, it is so easy to whip up your favorite ice cream flavor with this simple homemade recipe - no machine required! Once you make your base, the possibilities for mix-ins and new flavors are ENDLESS.

We have tried this simple recipe out and it is the easiest way to make a batch of ice cream at home, resulting in surprisingly rich and creamy flavor!
Start with your base recipe, a creamy vanilla recipe. Amazingly, you only need THREE ingredients and you probably already have the supplies you need to make this right at home.
You'll need:
a big mixing bowl, a stand mixer or hand mixer and a freezer safe container (1 - 1.5 quart)
Ingredients:
1. Whipping Cream
2. Sweet Condensed Milk
3. Pure Vanilla Extract OR Vanilla Bean Paste
Steps:
1. Whip the cold cream with your electric stand or hand mixer until it has stiff peaks. This usually takes 3-4 minutes.
2. Lower the speed of your mixer and slowly add the vanilla and condensed milk. Mix on low until the mixture is combined - approximately 1-2 minutes.
3. Add the base to your freezer-safe container, spread evenly, and pop it in the freezer to set. Overnight is best, but it should be ready in about 5 hours.
It's that simple!
If you're feeling more adventurous than classic Vanilla, check out the ideas below for different flavor combinations. You might even think of some of your own ideas as you try this out and experiment with your favorite additions.
Flavor Variations:
One of the easiest ways to add flavors is to swirl in sauce before freezing: think Fudge, Caramel, Strawberry Puree, Peanut Butter, Lemon Curd to name a few!
Chocolate Variation: Whip in 1 cup of cocoa powder at Step 1.
Berry Combination: Stir in fresh fruit at step 1 - strawberries, blueberries and/or raspberries.
Birthday Cake: Stir in 1/4 cup of sprinkles at step 3. Fold in gently.
Coffee: Stir in 1-2 tbsp of instant espresso at Step 1.
Other toppings that can be mixed in at Step 3: chocolate chips, edible cookie dough bites, coconut, cookies, chopped or crushed candies. Note: Always remember to chop or fully crush candy since it will be hard once frozen.
And once summer ends, the fun doesn't need to stop as we head into fall! Pumpkin ice-cream anyone? Simply stir in pumpkin pie filling and nutmeg at step 1.
Want to try this recipe and some flavor combinations at home this summer? Enter below to win a $50 Grocery Gift Card to purchase all the ingredients and supplies you'll need to create this at home.
Homemade Ice Cream Giveaway
One lucky winner will be chosen at random to receive a grocery gift card - winner choice on retailer gift card. (valued at $50) Giveaway is open to U.S. residents 18 years or older. Enter through August 21, 2023. Winner will be chosen randomly and notified by email. Entrants must be a member of SheSpeaks. If you are not a member, click
here
to join.
Thanks to all who entered! Congrats to our winner SheSpeaks member gijeanie79.