Don't Miss Out: SheSpeaks Summer Splash

by
SheSpeaksTeam
is this the date @ED : BlogVO [categoryId=70163, blogId=146081, blogTitle=Don't Miss Out: SheSpeaks Summer Splash, publishingDate=July 27, 2022 12:00 AM, maxResponses=null, noOfComments=null, fileId=44584, blogClosingDate=null, blogCommentClosed=null, blogCategoryId=70163, queryId=0, blogCategoryIdIndex=0, sharedCategoriesList=null, blogStatusId=34, commentsClosedFlag=false, categoryIdForLog=0, blogModuleCategoryId=0, blogFileVo=null, latestCommentsList=null, verticalCatSeoURL=null, currentDate=12/10/2023, blogLink=null, authorName=SheSpeaksTeam, authorLognId=SheSpeaksTeam, authorAcctId=67580, vosTypeid=3, searchTestId=0, searchStatusId=0, searchAuthorType=0, authorBlogNumber=0, surveyData1=null, surveyData1Desc=null, surveyData2=null, surveyData2Desc=null, pullQuoteMemberId=null, filePath=null, fileName=null, vosType=0, subhead=null, offerSubhead=null, description=null, creationTime=null, authorFname=SheSpeaks, verticalCategoryId=null, sectionId=0, imageFileVO=FilesVO [fileId=44584, filePath=null, fileName=null, fileLength=0, fileWidth=0, createdBy=0, createByUser=null, creationTime=null, lastModifiedBy=0, lastModifiedByUser=null, lastModifiedTime=null, mimeType=null, fileRef=null, fileSize=0, extension=null, title=null, body=null, completeFilePath=/pages/img/redesign/blogs/Summer Splash Wk3 Program Header _07272022115946.jpg, height=326, width=580, maxHeight=480, maxWidth=360, displayWidth=360, displayHeight=202, fileStatusId=0, searchKeyword=null, searchFlag=false, queryId=0, isExists=true], seoURL=Don-t-Miss-Out-SheSpeaks-Summer-Splash, seoTitle=null, pullQuotesList=null, pullQuote=null, pullQuoteId=0, searchFlag=false, authorByLine=null, authorDesc=null, authorLink=null, authorFileVO=FilesVO [fileId=42371, filePath=null, fileName=null, fileLength=0, fileWidth=0, createdBy=0, createByUser=null, creationTime=null, lastModifiedBy=0, lastModifiedByUser=null, lastModifiedTime=null, mimeType=null, fileRef=null, fileSize=0, extension=null, title=null, body=null, completeFilePath=/pages/img/membersnaps/SheSpeaks_Logo_Symbol_Only_10182021080530.jpg, height=1777, width=1777, maxHeight=50, maxWidth=50, displayWidth=50, displayHeight=50, fileStatusId=0, searchKeyword=null, searchFlag=false, queryId=0, isExists=true], authorFileId=42371, authorType=0, storyImgFileVO=null, storyImgFileId=0, videoHtml=, authorImageFileId=0, authorImageFileVO=null, previousCategoryId=null, previousBlogStatusId=0, fromBlogDetails=0, blogCategoryName=Beauty & Fashion, blogCategoryUrl=null, blogCategoryDesc=null, defaultImage=false, tags=null, optionIds=null, tagOptionId=null, tagId=null, tag=null, tagID=0, tagDetails=null, tagIds=null, testId=0, extBlogURL=null, extBlogStatus=0, bloggerSince=null, extBlogLimit=0, authorTestsList=[], blogURL=, blogName=, bloggerProfileId=0, sliderBlog=false, eventonHome=false, vosonHome=false, partyAndGiveawayDate=07/31/2022, imageCredit=null, pullQuoteMemId=null, offerSubHead=, subHead=, displayOrder=0,includeInGoogleSearch=false]
Jul 27, 2022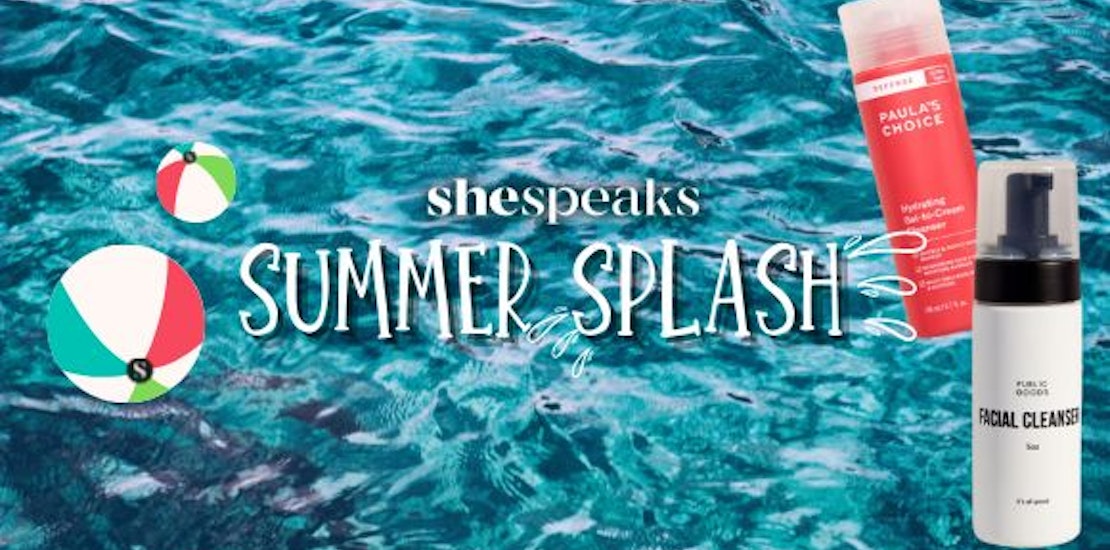 SheSpeaks' members are the best and we're thrilled you're here in this community. To celebrate you, our awesome members, we have launched another #SheSpeaksSummerSplash Giveaway! This week's prizes are super hot on TikTok and you get to pick which one you'd like to try. Fifteen people will win a bottle of a popular facial cleanser, your choice of Public Goods: Facial Cleanser 5 fl oz OR Paula's Choice: Hydrating Gel-to-Cream Cleanser 6.7 oz. These will leave your face looking fresh and feeling smooth!
While you're here, we hope you'll check out all the ways to enter below. Be sure to keep an eye on your email and our social channels for more fun prizes to come!


SheSpeaks Summer Splash Prize
Fifteen lucky participants will be chosen at random to receive a bottle of a popular facial cleanser, your choice (estimated value $8)! Giveaway is open to U.S. residents 18 years or older. Enter through July 31 2022. Winner will be chosen randomly and notified by email. Entrants must be a member of SheSpeaks. If you are not a member, click here to join.
Thanks to all who entered! Congrats to our winners SheSpeaks members: lynzerbean, Merm8d, mkfoltz, Cindetres, plong22, tlcfromtn, celtic94, stef42678, mmcheers, kuchick, onlinefeline09, nightwolf, ashagner, laceyandtristyn, and HeidiRider.