Don't Make a Rookie Mistake: Stock Up for the Big Game

by
SheSpeaksTeam
is this the date @ED : BlogVO [categoryId=70164, blogId=146226, blogTitle=Don't Make a Rookie Mistake: Stock Up for the Big Game, publishingDate=January 23, 2023 12:00 AM, maxResponses=null, noOfComments=null, fileId=46212, blogClosingDate=null, blogCommentClosed=null, blogCategoryId=70164, queryId=0, blogCategoryIdIndex=0, sharedCategoriesList=null, blogStatusId=34, commentsClosedFlag=false, categoryIdForLog=0, blogModuleCategoryId=0, blogFileVo=null, latestCommentsList=null, verticalCatSeoURL=null, currentDate=12/07/2023, blogLink=null, authorName=SheSpeaksTeam, authorLognId=SheSpeaksTeam, authorAcctId=67580, vosTypeid=3, searchTestId=0, searchStatusId=0, searchAuthorType=0, authorBlogNumber=0, surveyData1=null, surveyData1Desc=null, surveyData2=null, surveyData2Desc=null, pullQuoteMemberId=null, filePath=null, fileName=null, vosType=0, subhead=null, offerSubhead=null, description=null, creationTime=null, authorFname=SheSpeaks, verticalCategoryId=null, sectionId=0, imageFileVO=FilesVO [fileId=46212, filePath=null, fileName=null, fileLength=0, fileWidth=0, createdBy=0, createByUser=null, creationTime=null, lastModifiedBy=0, lastModifiedByUser=null, lastModifiedTime=null, mimeType=null, fileRef=null, fileSize=0, extension=null, title=null, body=null, completeFilePath=/pages/img/redesign/blogs/holiday tiktok corp blog_01112023132021.jpg, height=1260, width=2240, maxHeight=480, maxWidth=360, displayWidth=360, displayHeight=202, fileStatusId=0, searchKeyword=null, searchFlag=false, queryId=0, isExists=true], seoURL=Don-t-Make-a-Rookie-Mistake-Stock-Up-for-the-Super-Bowl, seoTitle=null, pullQuotesList=null, pullQuote=null, pullQuoteId=0, searchFlag=false, authorByLine=null, authorDesc=null, authorLink=null, authorFileVO=FilesVO [fileId=42371, filePath=null, fileName=null, fileLength=0, fileWidth=0, createdBy=0, createByUser=null, creationTime=null, lastModifiedBy=0, lastModifiedByUser=null, lastModifiedTime=null, mimeType=null, fileRef=null, fileSize=0, extension=null, title=null, body=null, completeFilePath=/pages/img/membersnaps/SheSpeaks_Logo_Symbol_Only_10182021080530.jpg, height=1777, width=1777, maxHeight=50, maxWidth=50, displayWidth=50, displayHeight=50, fileStatusId=0, searchKeyword=null, searchFlag=false, queryId=0, isExists=true], authorFileId=42371, authorType=0, storyImgFileVO=null, storyImgFileId=0, videoHtml=, authorImageFileId=0, authorImageFileVO=null, previousCategoryId=null, previousBlogStatusId=0, fromBlogDetails=0, blogCategoryName=Food, blogCategoryUrl=null, blogCategoryDesc=null, defaultImage=false, tags=null, optionIds=null, tagOptionId=null, tagId=null, tag=null, tagID=0, tagDetails=null, tagIds=null, testId=0, extBlogURL=null, extBlogStatus=0, bloggerSince=null, extBlogLimit=0, authorTestsList=[], blogURL=, blogName=, bloggerProfileId=0, sliderBlog=false, eventonHome=true, vosonHome=false, partyAndGiveawayDate=02/12/2023, imageCredit=null, pullQuoteMemId=null, offerSubHead=, subHead=, displayOrder=0,includeInGoogleSearch=false]
Jan 23, 2023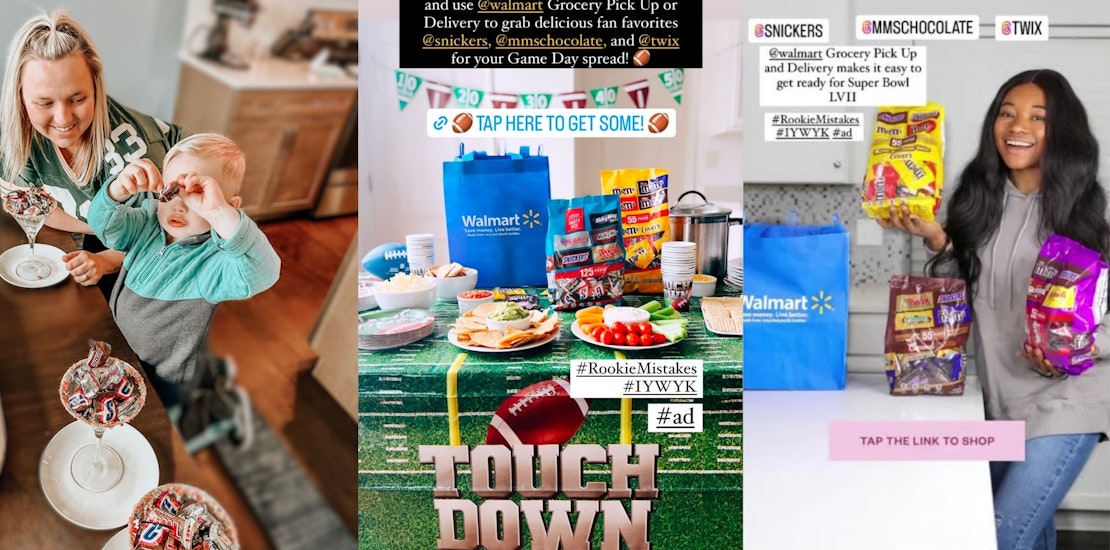 The Big Game is almost here - and whether you're in it for the commercials, the football, or the SNACKS, we know everyone wants to have a good time. If you're hosting, don't make a rookie mistake by forgetting the sweets for your spread. Keep the fans happy and stock up and save at Walmart. Click here to toss fan favorites SNICKERS®, TWIX® and M&M'S® products into your Walmart cart.

See how SheSpeaks influencers are getting game day ready this year:

Enter our giveaway below for a chance to win a $50 Walmart gift card.
Super Bowl Giveaway
One lucky winner will be chosen at random to receive a $50 Walmart gift card. This giveaway is open through February 12th. Giveaway is open to U.S. residents 18 years or older. Winner will be chosen randomly and notified by email. Winner must be a SheSpeaks member. If you are not a member, click here to join.
Thanks to all who entered! Congrats to our winner SheSpeaks member takgirl14.