Doing the Skin Care Shuffle

By
lorialcorn2006
Sep 10, 2011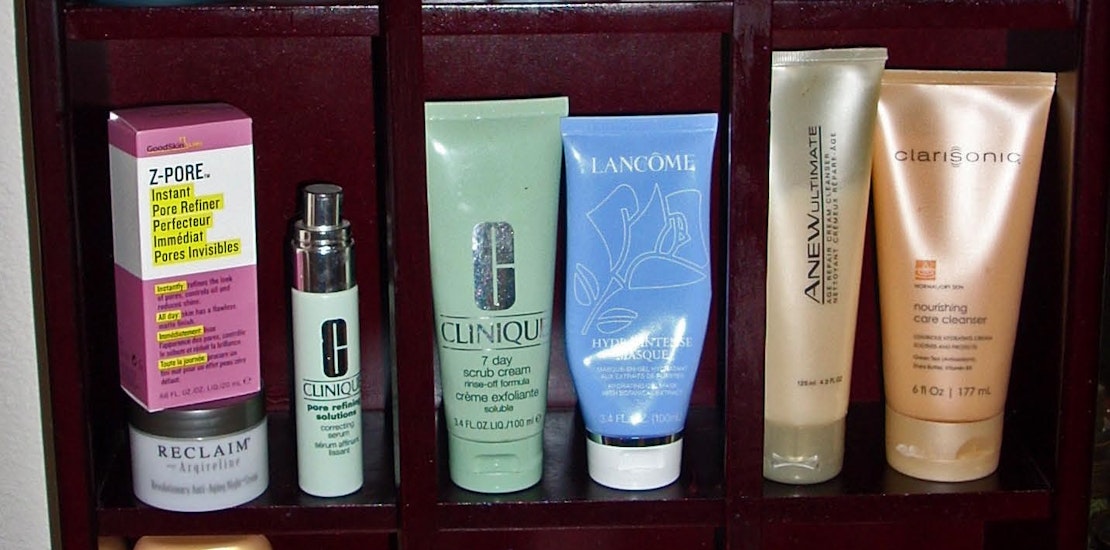 As you can see from the photo I took of my skincare curio I am fortunate enough to be able to try a lot of different anti aging products and these are my favorites. I am able to try a lot of anti aging products through my insider groups and through my blog.
I am a firm believer in taking care of the skin you have no matter what your age is. I have found out some surprising things about skin care and want to share some things I have learned about it with you.
I follow a skin care routine for day and night religiously, being 51 I'm not after to look younger but rather to look good for my age.
sometimes its hard having the discipline to keep up with it but as I always say take the time or time will take it.
First - And this is not new- its very important to have a good SPF in your day creams a lot come with 15 but 30 or more is better. As we all know sun damage is what will age you more than anything. I am 51 and have spent a lot of time in my youth tanning, now I have sun damage and try to stay out of the sun as much as possible in Florida. I use a few nice products to help me and always look for a higher SPF with helioplex. Some nice ones are Neutrogena liquid sunblock 70 and Aveeno active naturals with Southernwood SPF 30. always make sure you have one that says UVA and UVB sunscreen.
The Second thing that may surprise you is that its been my experience that Like hair care your skin can seem to get use to a moisturizer.
We all know we need to change up our shampoos every once in a while to continue to get good results from them. I have found this to be the case with moisturizers for both day and night that are use for a extended period of time. After a while it seems they stop working as well as they did before.
I have found that if you change them up every once in a while you will get better results. I found this out through trial and error. I was loyal to some products but after using them for a log while, they just seemed to stop working as well. I had changed to something different and found my skin responded well to the change. Now this is not to say you cant again use your favorite, but rather that you change it up to use something new for a time. Than after the switch go back to your favorite and you will see it once again performing to expectations.
I usually switch between 3 products about every 8 weeks or so. This maintains the level of results I like to see, and I do not get that tired skin look as much.
Exfoliation and Retinols
Believe it or not, not everyone can use a retinol product and get the same results others get with it. Some of us with dry skin will find that retinol will make our skin feel tighter and that when we smile our expression lines will be way more pronounced. Retinol can cause flaking and pealing and end up making you feeling your makeup is not making you look younger but older. Personally I think Retinols are better for those areas of the face that are more oil prone. In my case my whole face is very dry so if I do use a Retinol product its on my neck or around my forehead.

Exfoliating is great, and you can get some awesome results by using a gadget like the Clarisonic, or even the new Olay gadget. I love the Clarisonic but not everyone can afford one in this economy and they are pricey. I would not have been able to afford one myself either but was gifted one through an insiders group. Using a washcloth and a good scrub will go a long way in keeping your skin smooth. I really like philosophies the micro delivery microderm exfoliate wash it works very well and there are many others that are nice too like the Avon ultimate age repair cleanser (for a more creamy exfoliating experience) and Cliniques 7 day scrub.

Supplements can really help too. I really like Resveratrol to keep skin looking radiant and you can get a nice one thats inexpensive through puritans pride as they are usually running sales for by 2 get 3 free or BOGOs all through the year. Collagen is also good and I take one cap a day. for me collagen loss is a big problem and the caps help combat it nicely.

Healthy diet and lots of water are essential and I also drink a lot of tea.

All of this I call my skin care shuffle because its like a challenge to me to try and look my best without getting invasive cosmetic procedures that make you end up looking to plastic or expressionless. As always for me my goal is not to look 30 but rather look nice for being in my 50s. Like anything worthwhile it takes commitment and practice for results to show.
What is your skin care shuffle?