Doctor Mom Takes the Sting Out of Shots

By
SheSpeaksTeam
Nov 04, 2014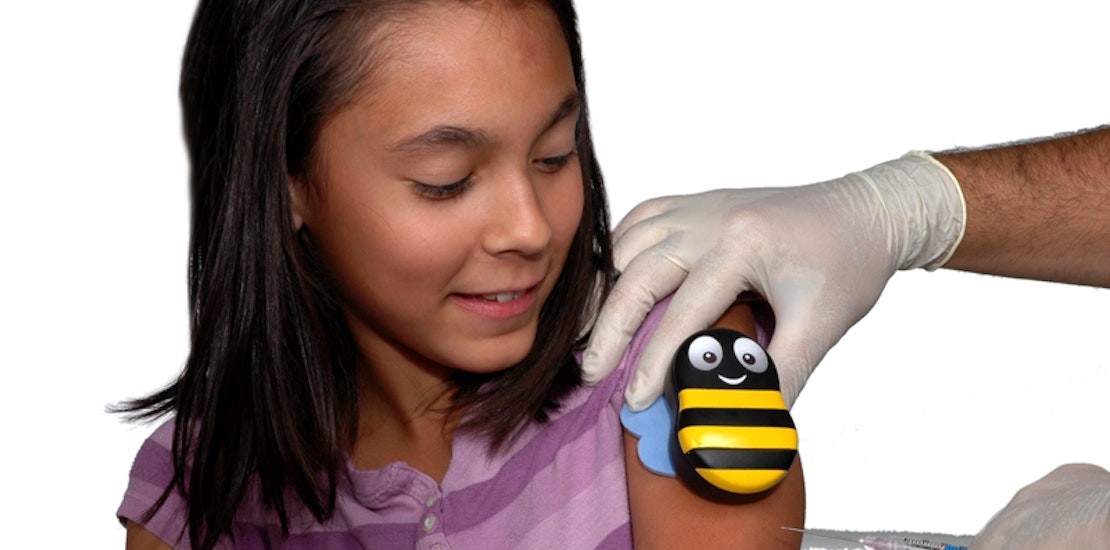 All the worries and tears our kids go through when preparing for a shot at the doctor can be heart breaking. We know how important vaccines are and how the sting of a shot just lasts for a second, but all of that logic easily gets lost on a four year old that's developed a real fear of the doctor.
Aside from holding their hand, there's not a whole lot we can do to get our little ones through these tough moments. That is, until now. Enter Buzzy, one mom's answer to dulling the pain of shots with a quick application of ice and good vibrations. USA Today reports about Dr. Amy Baxter's creation called Buzzy. The little device looks like a cute little honey bee and works as a physiological pain blocker by using high-frequency vibration and a cold pack to help numb the pain.
Dr. Baxter came up with the idea after going through the painful process with her four year old son who after years of routine vaccinations had developed a fear of shots. She offered everything from numbing cream to special toys, but her son couldn't get over the fear. She explains how his fear made her feel saying, "If I was so disempowered that I couldn't even intervene and say hold on a second, or wait or this is how we're going to do this, what can any parent do."
The way the device works is, Buzzy is placed on the child's arm (or wherever the shot will be given) for about 30 seconds before the vaccination is administered. The high-frequency vibrations and cold pack help to temporarily desensitize the nerves to dull the sting of the shot. Buzzy has not only been a success in Dr. Baxter's home, but almost 50,000 have sold so far after the mom set up shop in her own basement.
What do you think of the device this mom came up with to help dull the pain of shots?
Do you have a hard time with your little ones at the doctor? Would you be willing to give Buzzy a try?