New Podcast Episode & Giveaway

by
SheSpeaksTeam
is this the date @ED : BlogVO [categoryId=70163, blogId=145912, blogTitle=New Podcast Episode & Giveaway, publishingDate=October 08, 2021 12:00 AM, maxResponses=null, noOfComments=null, fileId=42303, blogClosingDate=null, blogCommentClosed=null, blogCategoryId=70163, queryId=0, blogCategoryIdIndex=0, sharedCategoriesList=null, blogStatusId=34, commentsClosedFlag=false, categoryIdForLog=0, blogModuleCategoryId=0, blogFileVo=null, latestCommentsList=null, verticalCatSeoURL=null, currentDate=10/28/2021, blogLink=null, authorName=SheSpeaksTeam, authorLognId=SheSpeaksTeam, authorAcctId=67580, vosTypeid=3, searchTestId=0, searchStatusId=0, searchAuthorType=0, authorBlogNumber=0, surveyData1=null, surveyData1Desc=null, surveyData2=null, surveyData2Desc=null, pullQuoteMemberId=null, filePath=null, fileName=null, vosType=0, subhead=null, offerSubhead=null, description=null, creationTime=null, authorFname=SheSpeaks, verticalCategoryId=null, sectionId=0, imageFileVO=FilesVO [fileId=42303, filePath=null, fileName=null, fileLength=0, fileWidth=0, createdBy=0, createByUser=null, creationTime=null, lastModifiedBy=0, lastModifiedByUser=null, lastModifiedTime=null, mimeType=null, fileRef=null, fileSize=0, extension=null, title=null, body=null, completeFilePath=/pages/img/redesign/blogs/Summer Time Background Facebook Cover (1)_10082021164044.jpg, height=385, width=685, maxHeight=480, maxWidth=360, displayWidth=360, displayHeight=202, fileStatusId=0, searchKeyword=null, searchFlag=false, queryId=0, isExists=true], seoURL=Divya-Gugnani-Wander-Beauty-Podcast, seoTitle=null, pullQuotesList=null, pullQuote=, pullQuoteId=1386, searchFlag=false, authorByLine=SheSpeaksTeam, authorDesc=Powered by women who love to share what's HOT in reviews, deals & recipes., authorLink=null, authorFileVO=FilesVO [fileId=42371, filePath=null, fileName=null, fileLength=0, fileWidth=0, createdBy=0, createByUser=null, creationTime=null, lastModifiedBy=0, lastModifiedByUser=null, lastModifiedTime=null, mimeType=null, fileRef=null, fileSize=0, extension=null, title=null, body=null, completeFilePath=/pages/img/membersnaps/SheSpeaks_Logo_Symbol_Only_10182021080530.jpg, height=1777, width=1777, maxHeight=50, maxWidth=50, displayWidth=50, displayHeight=50, fileStatusId=0, searchKeyword=null, searchFlag=false, queryId=0, isExists=true], authorFileId=42371, authorType=0, storyImgFileVO=null, storyImgFileId=0, videoHtml=, authorImageFileId=0, authorImageFileVO=null, previousCategoryId=null, previousBlogStatusId=0, fromBlogDetails=0, blogCategoryName=Beauty & Fashion, blogCategoryUrl=null, blogCategoryDesc=null, defaultImage=false, tags=null, optionIds=null, tagOptionId=null, tagId=null, tag=null, tagID=0, tagDetails=null, tagIds=null, testId=0, extBlogURL=null, extBlogStatus=0, bloggerSince=null, extBlogLimit=0, authorTestsList=[], blogURL=, blogName=, bloggerProfileId=0, sliderBlog=false, eventonHome=false, vosonHome=true, partyAndGiveawayDate=10/30/2021, imageCredit=null, pullQuoteMemId=, offerSubHead=, subHead=, displayOrder=0]
Oct 08, 2021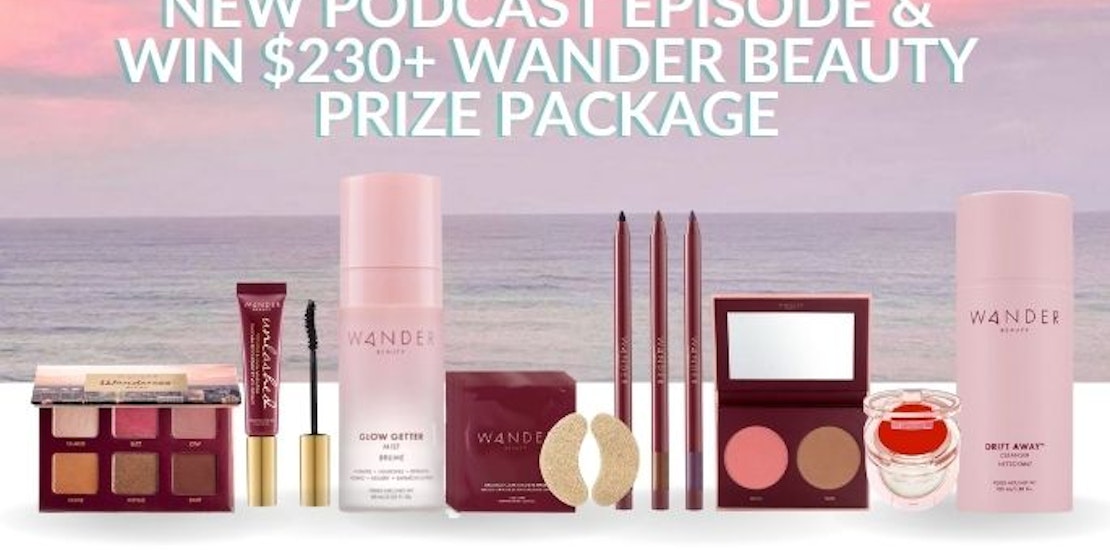 In our latest podcast episode, we spoke to Divya Gugnani, the Co-Founder & CEO of the travel-inspired and cruelty-free beauty brand, Wander Beauty. As a trailblazing entrepreneur, Divya's journey is nothing short of inspiring. You will hear how she succeeds as a business owner and investor while advocating for other entrepreneurs around her.
Read on to see how you can win a Wander Beauty Prize Package worth over $230! Listen & enter to win below!

Learn more about Divya's Journey by listening to the podcast!
Episode Highlights
[7:42] How to take your ideas and business to the next level.
[11:44] Discover the two biggest skills you need to be a successful entrepreneur.
[29:47] Listen to hear about the beauty of positivity.
[30:29] The importance of self-care.
We're giving away a Wander Beauty Prize package! The products include:
Drift Away Cleanser
Wanderess Rush Eyeshadow Palette
Double Date Lip and Cheek (Be Mine/Swipe)
Trip For Two Blush and Bronzer Duo (Mai Tai/Tahiti)
Unlashed Volume and Curl Mascara
Skyliner Automatic Gel Eyeliner (Jet Black, Tan Line, Napa Nights)
Baggage Claim Eye Mask Packettes x2
Glow Getter Mist
Enter below!
Podcast Giveaway: Wander Beauty
One participant will be chosen at random to win a Wander Beauty prize package worth approximately $235. This giveaway is open through October 30th to U.S. residents at least 18 years of age. Entrants must be a member of SheSpeaks. If you are not a member, click here to join. The winner will be notified by email.