Craft a Life You Love & WIN a Crafty Chica Goodie Box ($100 Value)

by
SheSpeaksTeam
is this the date @ED : BlogVO [categoryId=70165, blogId=145894, blogTitle=Craft a Life You Love & WIN a Crafty Chica Goodie Box ($100 Value) , publishingDate=August 16, 2021 12:00 AM, maxResponses=null, noOfComments=null, fileId=41321, blogClosingDate=null, blogCommentClosed=null, blogCategoryId=70165, queryId=0, blogCategoryIdIndex=0, sharedCategoriesList=null, blogStatusId=34, commentsClosedFlag=false, categoryIdForLog=0, blogModuleCategoryId=0, blogFileVo=null, latestCommentsList=null, verticalCatSeoURL=null, currentDate=02/02/2023, blogLink=null, authorName=SheSpeaksTeam, authorLognId=SheSpeaksTeam, authorAcctId=67580, vosTypeid=3, searchTestId=0, searchStatusId=0, searchAuthorType=0, authorBlogNumber=0, surveyData1=null, surveyData1Desc=null, surveyData2=null, surveyData2Desc=null, pullQuoteMemberId=null, filePath=null, fileName=null, vosType=0, subhead=null, offerSubhead=null, description=null, creationTime=null, authorFname=SheSpeaks, verticalCategoryId=null, sectionId=0, imageFileVO=FilesVO [fileId=41321, filePath=null, fileName=null, fileLength=0, fileWidth=0, createdBy=0, createByUser=null, creationTime=null, lastModifiedBy=0, lastModifiedByUser=null, lastModifiedTime=null, mimeType=null, fileRef=null, fileSize=0, extension=null, title=null, body=null, completeFilePath=/pages/img/redesign/blogs/Add a heading (3)_08162021024026.jpg, height=385, width=685, maxHeight=480, maxWidth=360, displayWidth=360, displayHeight=202, fileStatusId=0, searchKeyword=null, searchFlag=false, queryId=0, isExists=true], seoURL=Crafting-a-Life-You-Love-with-Kathy-Cano-Murillo, seoTitle=null, pullQuotesList=null, pullQuote=null, pullQuoteId=0, searchFlag=false, authorByLine=null, authorDesc=null, authorLink=null, authorFileVO=FilesVO [fileId=42371, filePath=null, fileName=null, fileLength=0, fileWidth=0, createdBy=0, createByUser=null, creationTime=null, lastModifiedBy=0, lastModifiedByUser=null, lastModifiedTime=null, mimeType=null, fileRef=null, fileSize=0, extension=null, title=null, body=null, completeFilePath=/pages/img/membersnaps/SheSpeaks_Logo_Symbol_Only_10182021080530.jpg, height=1777, width=1777, maxHeight=50, maxWidth=50, displayWidth=50, displayHeight=50, fileStatusId=0, searchKeyword=null, searchFlag=false, queryId=0, isExists=true], authorFileId=42371, authorType=0, storyImgFileVO=null, storyImgFileId=0, videoHtml=, authorImageFileId=0, authorImageFileVO=null, previousCategoryId=null, previousBlogStatusId=0, fromBlogDetails=0, blogCategoryName=Living, blogCategoryUrl=null, blogCategoryDesc=null, defaultImage=false, tags=null, optionIds=null, tagOptionId=null, tagId=null, tag=null, tagID=0, tagDetails=null, tagIds=null, testId=0, extBlogURL=null, extBlogStatus=0, bloggerSince=null, extBlogLimit=0, authorTestsList=[], blogURL=, blogName=, bloggerProfileId=0, sliderBlog=false, eventonHome=false, vosonHome=false, partyAndGiveawayDate=09/13/2021, imageCredit=null, pullQuoteMemId=null, offerSubHead=null, subHead=null, displayOrder=0,includeInGoogleSearch=false]
Aug 16, 2021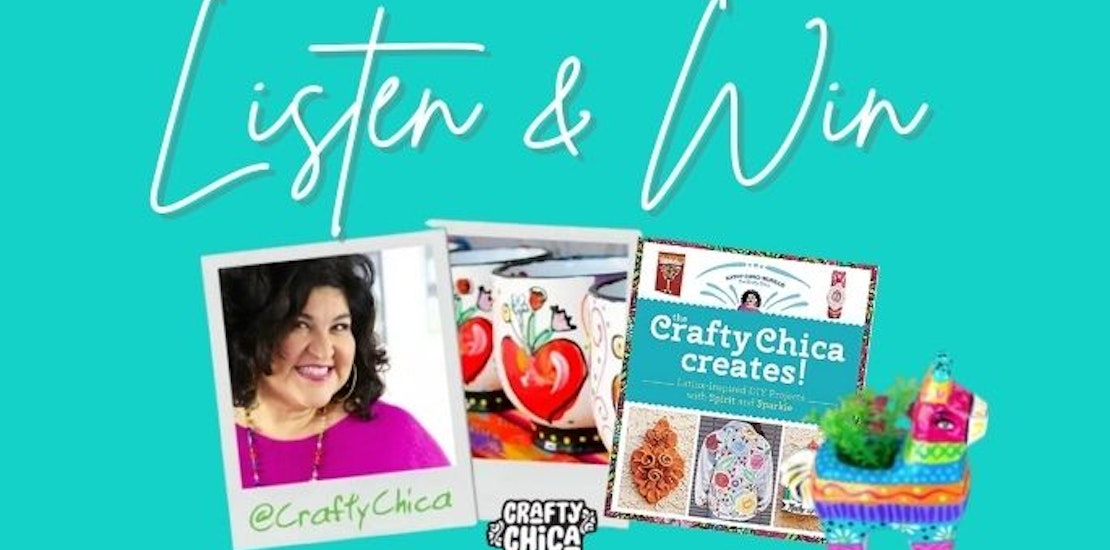 You don't have to love art, crafts, or DIY to appreciate everything that Kathy Cano-Murillo has accomplished. Kathy is a multi-talented artist and entrepreneur who has been inspiring her audience for twenty years! She has already achieved an incredible amount in her career. And after listening to the conversation we had with Kathy on the podcast, you'll agree she's just getting started.

Kathy has made her mark on the world of crafting and creativity. She has had a product line in Michael's, a crafting paper line sold on HSN and she has a currrent greeting card line. Later this year, she has a fabric line debuting and a new book!
Read on to see how you can enter to WIN a Craft Chica Goodie Box, which includes SURPRISE Crafty Chica items and a copy of Kathy's upcoming book, to be released in November. (Value ~$100)
In this episode:
[4:04] - Hear Kathy discuss what kind of mindset you need for success.
[6:35] - Why surrounding yourself with the right people is so important.
[9:30] - Kathy gives advice for aspiring artists.
[18:09] Hear Kathy describe her greatest accomplishment.

How to Enter:
Listen to the episode above to hear the keyword and come back here to enter the keyword in the gleam widget below. Kathy and her amazing team will put together a $100 value Crafty Chica Goodie Box for the winner!
Podcast Giveaway: Kathy Cano-Murillo - Crafty Chica
One lucky participant will be chosen at random to win a Crafty Chica Goodie Box, including a copy of Kathy's new book, Crafty Chica Creates! and other SURPRISE items from Crafty Chica (~$100 Value). This giveaway is open through Sept 12th to U.S. residents at least 18 years of age. Entrants must be a member of SheSpeaks. If you are not a member, click here to join. Winner will be notified by email.