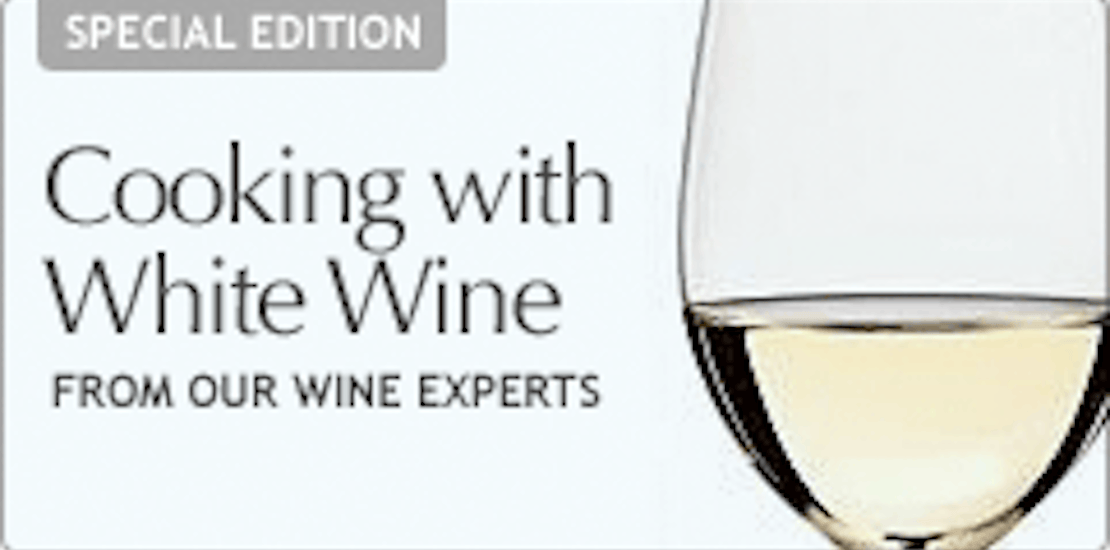 Don't just drink white wine; cook with it. That's right: I'm talking about your white wine. Add a splish here and a splash there to the various dishes you whip up, and watch (and taste) as you enliven the flavors in the dish. But don't just use any old white. And don't just add it at any old time. Below are essential details that will ensure the food you cook with wine doesn't drown in the wine, but thrive in it.

First of all, never, ever use cooking wine. In fact, stay away from any wine you wouldn't drink, for it will affect the flavor of the dish in a negative way, to say the least. The bottles you will find on supermarket shelves tend to be harsh and unbalanced (either too salty or too sweet), and the acidity and astringency will only intensify with cooking. What you want is a balanced wine.

The type of wine you use is important, and should reflect the main flavors of the dish - or at least the flavors you are trying to play up. For example, the buttery, often rich flavors in Chardonnay augment the richness and buttery character of a cream sauce, just as a crisp Sauvignon Blanc enhances a tangy chicken piccata. Although using a crisp white in a cream sauce will not damage the sauce, it will taste different from one made with a creamier variety. In short, the flavors inherent in a varietal (from citrus, to apple, to grass, to oak, and so on) will characterize the dish's flavor.

Timing is another key when cooking with wine. Because alcohol can potentially give a dish harsh flavors, WHEN you add wine to a dish matters. Alcohol's harshness is softened during the simple act of heating and cooking wine; as the alcohol evaporates (although never completely as long as there is liquid of some sort in the pan), the harsh flavors of the alcohol disappear. At the same time, the characteristic flavors of the wine intensify and deepen beautifully. Therefore, it is wise to reduce wine first, and then add other ingredients to complete the sauce. Adding wine at the end of the cooking process is not recommended, unless you want pure wine taste in the sauce.

Techniques abound when it comes to cooking with wine, and other than sautéing and marinating, cooks can macerate (soaking meat in a liquid in order to soften it), deglaze (dissolving the remaining morsels of roasted or sautéed food in a pot or pan by adding and heating liquid), simmer (cooking gently or remaining at or just below the boiling point), and poach (cooking in a simmering liquid). And what to cook with white wine? Stick with fish, chicken, veal, cream sauces, olive oil pasta sauces - and stay away from the red meat. But you probably already knew that, didn't you?

Now stop reading, and start cooking with that bottle of white wine you've been wanting to try - and of course pour yourself a glass while you read over the recipe.